Gas prices never seem to stop dropping. Right about when one thinks they cannot go lower, even in the summer, they drop to new lows. So surviving in this environment takes some fantastic management.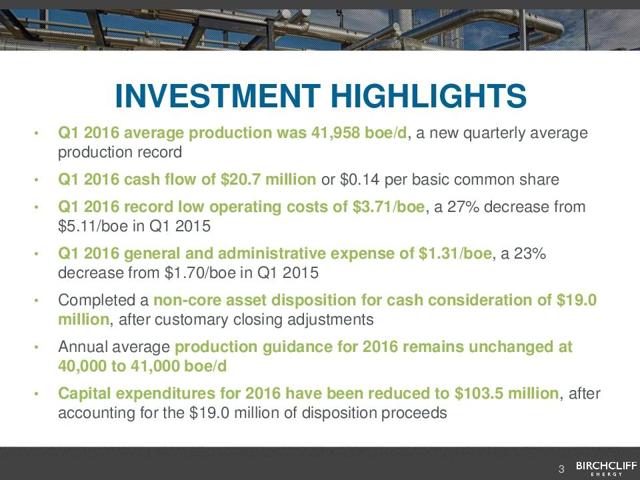 Click to enlarge
Source: Birchcliff Energy May, 2016, Corporate Presentation
Here is a company management that attempts to keep pace with the dropping gas prices. One of the things about the top notch management of Birchcliff Energy, Ltd., (OTCPK:BIREF) is that the operating part of the company did not quite make the cash flow guidelines. Costs are unbelievably low and progress was fantastic, but selling prices dropped also. Since this was probably anticipated there was a non-core sale that added to cash flow so the company had the cash that was needed. Even though the proceeds initially went to pay down the credit line, there is adequate room for the company to operate using the credit line this year. So in effect, the company doubled its cash flow in the first quarter (including the non-core sale) and therefore met (exceeded) corporate goals. Investors can expect similar events in the future until a satisfactory cash flow is established. These extra measures will be taken to keep the company on sound financial footing.
This is one of the few companies in the industry to increase the value of its reserves from the previous year. The net present value of reserves on slide 31 (for the May, 2016 investor presentation) went from C$3.044 billion to C$3.120 billion. That is quite an accomplishment even though the increase was small. Many companies saw the value of their reserves decrease as much as 50% and more. It did help that this company's production was mostly gas. The decrease in gas prices (so far) has not resulted in nearly as significantly large writeoffs as the decrease in oil prices.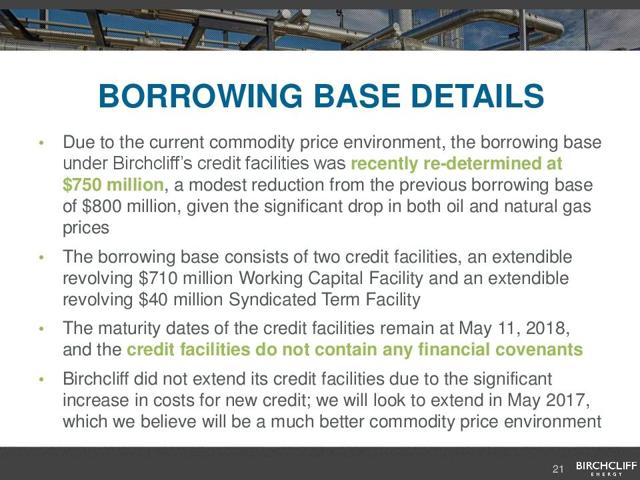 Click to enlarge
Source: Birchcliff Energy May, 2016, Corporate Presentation
This company management attempted to extend the credit line as it has in the past. The credit line matures in two years and frankly one would hope at some point this company would issue bonds to give the company a more dependable debt structure. Bankers tend to get nervous at industry market bottoms, and this company as too much at stake to allow nervous bankers to risk the company's future liquidity. However, the banks did show a lot of faith in the accomplishments of this company management by giving the company a credit line with no covenants. While the credit line did not get extended at current terms, two years should be enough time to properly deal with the credit situation. So while the failure to extend the credit line is a concern, it is not a critical concern at this point. The decreasing operating cash flow probably increased enough ratios to put the company in a higher risk category. This is something that management hopes will change with higher commodity pricing in a year or so.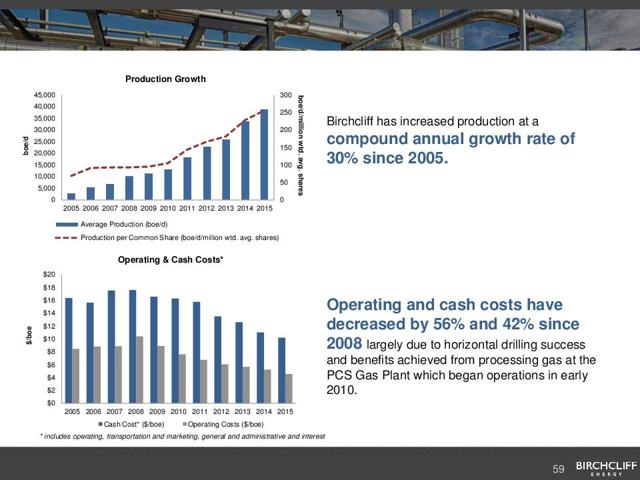 Click to enlarge
Source: Birchcliff Energy May, 2016, Corporate Presentation
Not only has Birchcliff Energy shown growth over the last several years, the company will increase production this year. While the increase to the guided amount will be less than 10%, it is still growth. Interestingly, the company has already beaten the guided amount for 2016. With production improvements still projected (and management beating its goal there also), production could still climb more than guidance even with some minor asset sales.
More importantly, this company is demonstrating that it is a growth company by growing in good years and bad. Management has been able to grow production in the past at a fantastic rate usually only seen in Silicon Valley. While the current commodity pricing will limit growth this year (and profits), this is a cyclical industry. Companies such as this at (what has to be near) the industry bottom should command the attention of the investor because a basket of companies like this one should provide the investor with an above average return over the next five years.
A few years back, this company had lots of fans. Those fans were gushing what a bargain this company was when commodity prices were so much higher than they are now. Typically, the market will project above average margins to increase at cycle tops, and below average margins to worsen at industry bottoms. Now all those fans are gone, and the silence is deafening. That is a sign that the value investor should be investigating this company for investment purposes. This management has kept up with the dropping commodity prices much better than many of its peers. The company still has positive cash flow, and the relatively solid backing of its bankers. The costs here are unbelievably low and management is continuing to decrease those costs to record low levels. When it comes to value, the true value investor buys low and sells high. In practice, most manage to do the opposite. The signs of value are there though. Commodity pricing is low and the market assumes that the price of gas will never rise again. There is a lot of pessimism priced into this stock compared to a few years back. That is a prime indicator of a cyclical low in gas pricing (as well as industry low). This management has a very good chance to widen the cash flow margin and return the company to profitability through cost cutting as many of its competitors file for bankruptcy or severely curtail their operations to survive. That is another sign there might be value here. The catalyst for a stock price increase could be immediate such as the company becoming an acquisition candidate or it could happen more slowly due to increased operational improvements over the next year (or few years) combined with commodity price stabilization or rallies.
While there will be some increase in debt in the first quarter, management has indicated there will be no increase in borrowing for the rest of the year. In the first slide, management indicated a decrease in operating as well as general and administrative costs of more than 20%. Plus there are objectives to continue decreasing costs significantly all year. So if gas prices stabilize at recent levels, the company cash flow should show quarterly improvements this fiscal year. Given that usually gas prices are seasonally weak in the summer and climb in the fall, the cash flow increase outlook is actually pretty good for the rest of the fiscal year quarters. That is a very remarkable achievement that few gas companies will accomplish. There are many competitors with no cash flow in the current environment.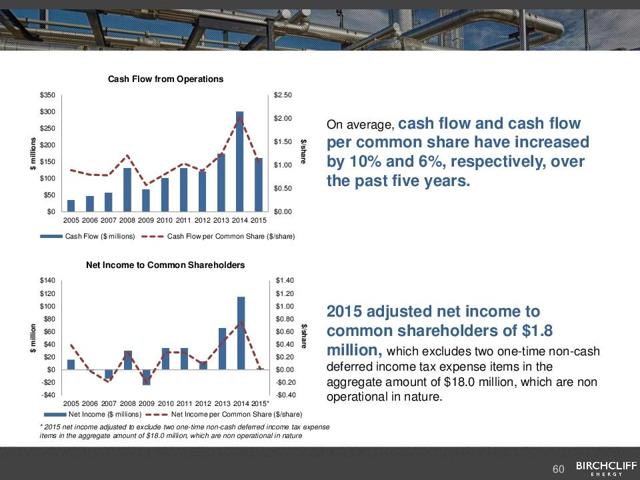 Click to enlarge
Source: Birchcliff Energy May, 2016, Corporate Presentation
The cash flow increase comes from a combination of growth and production improvements. The cash flow margin, when compared using revenue, has actually tightened quite a bit. Still, the idea that the company shows cash flow growth in any way is impressive, especially using the five year comparison. There have been a number of companies filing for bankruptcy, as the trend continues and the financially weak companies cease production (or if the properties are sold, the inefficient wells are shut down and abandoned) the supply picture should improve to the point where gas pricing improves. Plus world economies are expected to grow and that should increase the demand for natural gas.
So far, the decreasing capital budgets across the industry have not helped the supply picture nearly as much as anticipated due to production improvements. But the continuing decrease in capital investment across the industry is bullish for gas prices. As the ability to export gas to markets that are willing to pay more for the gas grows, this should also help increase gas prices. So management's hope that gas prices improve a year from now is reasonable, although management is working hard to decrease costs in case that scenario does not unfold. While there is a risk that gas prices could decrease more and management could fail to decrease costs sufficiently, that scenario appears unlikely.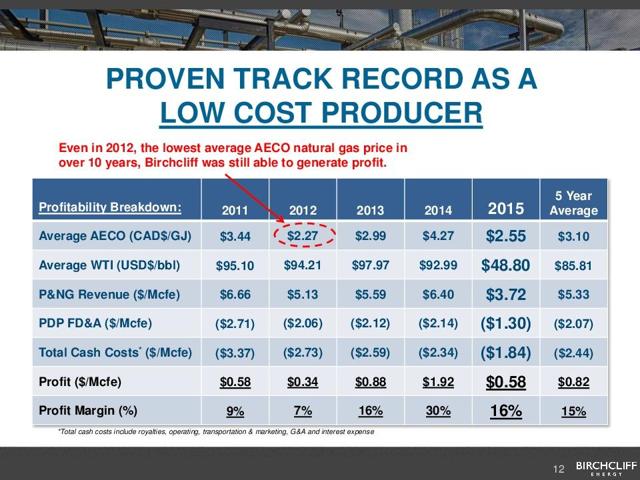 Click to enlarge
Source: Birchcliff Energy May, 2016, Corporate Presentation
Management has a track record of making money by using the cash costs for calculating purposes even in the worst part of an industry downturn. Now admittedly this chart is forward looking, whereas accounting charges tend to be historical. In particular the finding development and acquisition costs are current, whereas depreciation is a mixture of past costs. The depreciation costs may have to be adjusted or written off if the assumptions used to project the costs are inaccurate or change materially. Not only are lower commodity prices affecting the allocation assumptions, but sharply improved operating results are lowering the acceptable cost structure as well. Both of these are leading to changing accounting assumptions. Older assets may no longer last as long as previously assumed which leads to larger non-cash charges and writeoffs. There may be some operating costs that are allocated, and adjusting those allocations when future events do not meet expectations is another way that accounting costs may differ from the slide above. But the slide is a very good indication of costs going forward. It is probably more accurate than using accounting costs when industry operating results are changing both significantly and rapidly.
The market is so pessimistic about the gas industry, that really not much value is assigned to the company's potential. Last year the company actually had an average cash flow margin, but the prices of both gas and oil were severely depressed. If prices were to rally somewhat and the company continues to cut costs, the cash flow should return to about C$40 million a month. The company does want to grow production to 100,000 BOEPD. Conservatively that would raise the cash flow to at least C$100 million per quarter. The company was growing fast enough to reach that goal in less than three years. But the lower commodity pricing has slowed the growth. Therefore achieving that figure in five years could be a reasonable assumption as the inefficient production should be shut down this year. Therefore faster growth should resume by the end of next year. With a current market capitalization of C$836 million and debt of C$650 million, the ratio of those two combined divided by that estimated future cash flow is less than 4:1. For a company with the growth history of this company and the low cost structure, that ratio is pretty impressive.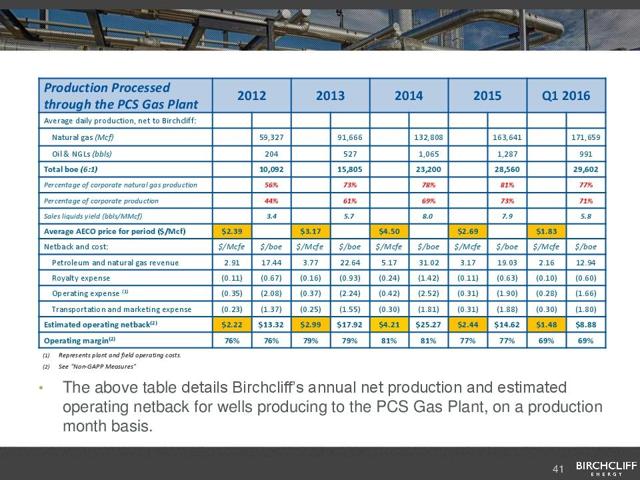 Click to enlarge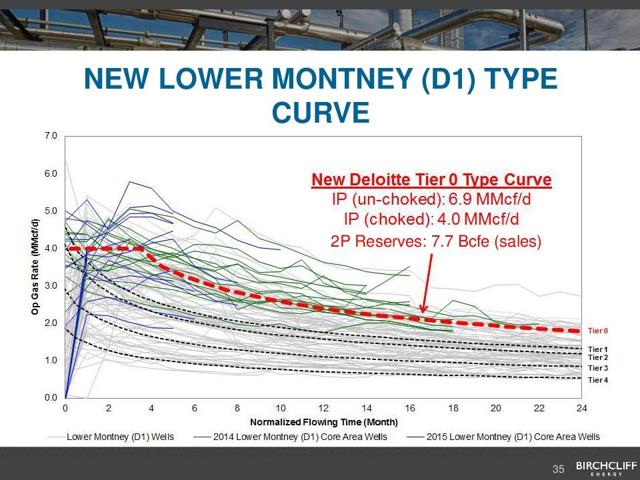 Click to enlarge
Source: Birchcliff Energy May, 2016, Corporate Presentation
Sometimes it is a wonder how some companies have a lower interest rate than others. This company showed first quarter cash flow at a little better than C$20 million. With long term debt outstanding on the bank credit line of about C$650 million not including the working capital deficit. The long term debt to cash flow ratio is approximately 8:1. That is not the kind of ratio that normally is accompanied by a two year bank credit line with no covenants.
Now admittedly, management has some goals to improve cash flow through cost reductions and there is some seasonality to earnings. In fact, the first quarter should have been a relatively strong quarter with the weaker seasonal quarters being the second and third quarters. But this company can demonstrate some very solid cost reductions, that many of its competitors cannot.
In the first slide, the company is showing a reduction in gas plant processing costs. Management has plans to hook up more wells to the gas plant system which should further reduce costs. Since the gas plant just completed an expansion and has some available capacity, the capital costs to increase production of the plant should be relatively low. While there are some future capital plans to construct another gas plant and system in another location, that proposal has been put off until commodity prices improve. Still the company can demonstrate significant cost reductions with minimal capital investment based upon the historical improvements already demonstrated. Any further gas plant operational improvements will be extra "icing on the cake".
The second slide shows operational well improvements that have already occurred and have caused the reserve appraiser to adjust the reserve assumptions going forward. The production decline rate has dropped for several year now, meaning there is more production at many stages of the well life than in the corresponding older wells. New wells appear to be beating those assumptions, but the assumption improvement (by the appraiser) could very much lead to cost reductions that the bank will accept going forward. Banks tend to look at cash costs rather than accounting costs, though they use both, because the cash flow really determines the safety of the loan.
This kind of concrete, continuing and historical, and verifiable improvements are the kinds of accomplishments that place this company in a lower risk category than the initial ratios would suggest. Nonetheless, the banks were unwilling to extend the credit line without increasing the interest rate, so the company needs to bring its ratios in line either by showing improved operating results or from sustained rallying commodity prices. Otherwise there is a more restrictive and costly bank line in the company's future. There is an excellent chance, based upon management's track record that at least one of those will happen. The banks appear to agree as the borrowing base only decreased by C$50 million (with no covenants).
Summary
A batch of companies such as this one should show above average returns over the next five years and beyond. As had been noted before, a major shareholder that now owns more than 20% of the shares outstanding purchased 2,000,000 shares around December. While that purchase appears to be showing a profit, clearly that shareholder has purchased the shares for a much longer timeframe (and probably plans to double or triple his money). Buying low and selling high is very difficult in practice, yet here is a major shareholder attempting to do just that. Long term investors should investigate to see if this company matches their long term goals also. Right now, on a cash flow basis, the company is a little expensive, but if margins return to their usual average over the next year or so, the company continues growing moderately (10% a year to start and then accelerates the growth rate towards historical norms), the cash flow could easily double (and more), making this stock a bargain right now. Management has goals to more than double production to 100,000 BOED. While those goals are superseded by other goals for the time being, production is still growing and management clearly aims to more than double production over the next five year period. At that point, should that goal be achieved, this stock would provide a truly speculative return. All this is needed is for industry conditions to move back to average and this company will excel.
Management should stabilize the company finances by selling bonds when the market opportunity arises. The bonds will probably carry a higher interest rate. But the bonds do not have the periodic credit line redetermination that the company goes through. This company could have a liquidity crises if the banks ever decide to decrease the borrowing base more than management expects. That risk would be substantially decreased with bonds. The bank credit line use should be limited to about C$200 million. This amount could easily be refinanced with alternative lenders if the need arises. Such a move to obtaining a longer term loan (through bonds or otherwise) would be positive for the stock market price.
Disclaimer: I am not an investment advisor and this is not a recommendation to buy or sell a security. Investors are recommended to read all of the company's filings and press releases as well as do their own research to determine if the company fits their own investment objectives and risk portfolios.
Disclosure: I/we have no positions in any stocks mentioned, and no plans to initiate any positions within the next 72 hours.
I wrote this article myself, and it expresses my own opinions. I am not receiving compensation for it (other than from Seeking Alpha). I have no business relationship with any company whose stock is mentioned in this article.
Editor's Note: This article discusses one or more securities that do not trade on a major U.S. exchange. Please be aware of the risks associated with these stocks.