OI Brazil (NYSE:OIBR) reported Q1 2016 results last week.
Net revenues from Brazilian operations declined 4.4% Y/Y, and this is the good news - at least compared to TIM Brasil's (NYSE:TSU) -15% Y/Y, Nextel's (NASDAQ:NIHD) -6% Y/Y on a same currency basis, and Telefonica Brasil's (VIV) -13% Y/Y. América Móvil's (NYSE:AMX) Brazilian operations performed just a bit better than OI, with a less than 1% decline on a Y/Y basis.
Unfortunately, OI's unsustainable debt load forces us to ignore most operational metrics in this article, to concentrate on a few, selected financial ones: and the situation doesn't look rosy at all.
$OIBR in two charts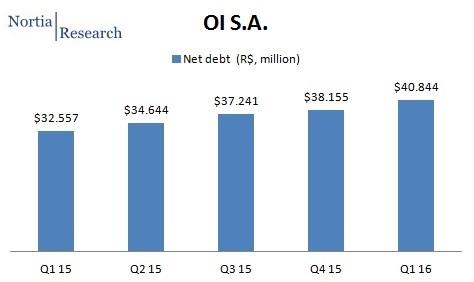 Net debt increased 7% on quarterly basis, and 25% Y/Y.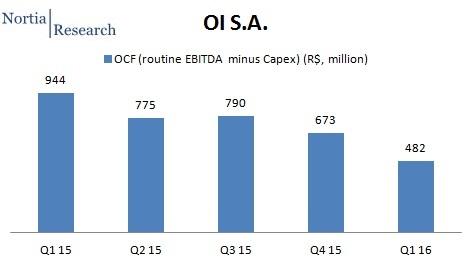 OCF confirmed the downtrend we've already highlighted when analyzing Q4 2015 results, and settled below R$ 500 million ($ 140 million) for the quarter.
To avoid reducing this analysis to just two metrics, let's also have a quick look at routine EBITDA and CapEx spending.
Routine EBITDA margins were under pressure in Q1, compared to last year, but performed better than in 2014: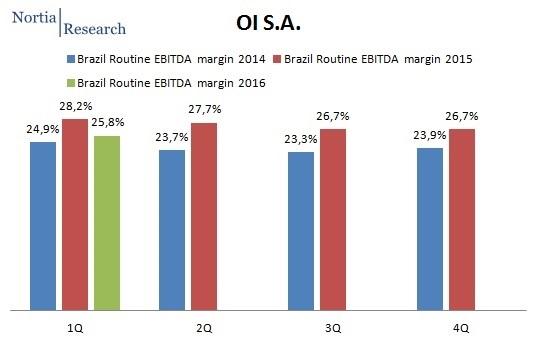 If we examine OI's routine EBITDA performance on a Y/Y basis, we notice a down trend, leading to a negative performance in Q1 2016: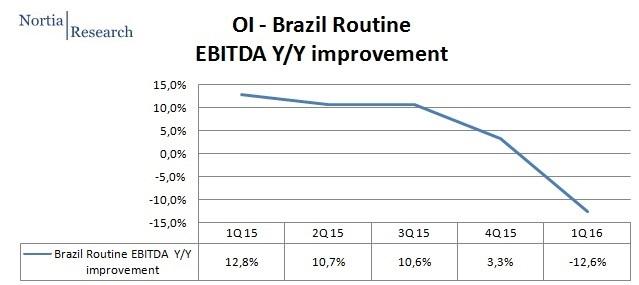 After a strong decline in 2015, CapEx is back to 2014 levels in Q1 2016: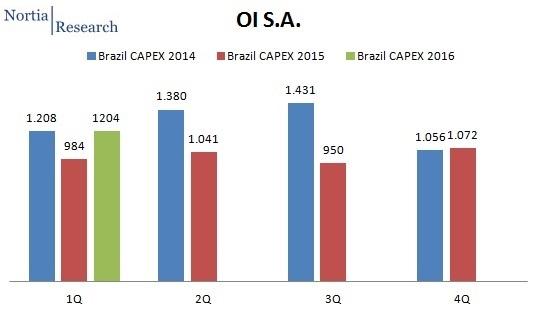 As UBS highlighted commenting on Q1 2016 results:
leverage (total debt divided by 12-month trailing EBITDA), an indication of financial flexibility, kept going up and reached 6.5x as of March 2016 versus 5.9x in December 2015 and 2.9x in December 2014. Furthermore, the cash balance that provides Oi with some cushion is quickly fading away. Cash on hand as of March 2016 came in at approximately USD 2.4bn, down almost USD 1.9bn from around USD 4.2bn in December 2015.
Here is CreditSight post Q1 commentary:
With cost cutting no longer sufficient to offset revenue pressure and hefty use of cash in 1Q16, Oi is fast approaching a restructuring in which we see bondholders as having a weak negotiating position.
Some lenders heading for the exit door
In Q1, financial institutions reduced their total exposure to OI from R$ 17.5 billion (roughly $ 5 billion) on December 31, 2015, to R$ 13.8 billion (roughly $ 4 billion) at Q1 2016 end. (link, pg. 51)
And the bad news may not be over (same link, pg. 53):
Our export credit facility guaranteed by EKN contained a requirement that we prepay all outstanding amounts in the event that our credit rating was downgraded below Ba2 by Moody's or BB by Fitch. As a result of the actions by these rating agencies, we were required to prepay the outstanding principal amount under this export credit agreement of R$202 million (roughly $ 57 million) in April 2016.
Will the grasshopper keep dancing the winter away?
OI's key financial metrics performance and the above mentioned reductions in financing clearly demonstrate that the company's situation is unsustainable going forward - unless OI can soon find an unlikely cash infusion from the outside, or embraces a debt restructuring.
We see some key strategic decisions taken by management, like the increase in CapEx spending in the last quarter, as a proof that the company intends to keep its commitment to servicing its customers, but not necessarily its creditors.
In his famous fable, Aesop did not contemplate the possibility that the grasshopper wouldn't need to beg for food from the ants when winter comes, as it put itself in the privileged position of just being able to refuse to return it to its legitimate owners.
Bad jokes apart, we see a restructuring as imminent. Management gave a clear hint of its intentions during the conference call:
"We intend to complete the debt restructuring as quickly as we can. And we believe the negotiations [with Moelis] will best facilitate the restructuring in a timely manner.
Add a couple of deadlines to the list…
Just in case they were not enough, you may now add a couple of additional deadlines to the previous long list we compiled:
Reuters: Brazil Telecom company Oi SA said on Friday it is making its best efforts to meet a new, May 17 deadline to file the 20-F formulary to the U.S. Securities and Exchange Commission (SEC). International companies with shares trading in the U.S. could be subject to clauses such as early repayment of debt if it fails to file documents required by the SEC on time.
Bloomberg: Aurelius Capital Management LP is stepping up its fight with Oi SA, claiming a unit of the Brazilian phone giant will potentially be in default if it doesn't fix breaches of its debt covenants by May 29.
Bottom line
We see OI's restructuring as now imminent. Our crystal ball still sees an equity for debt swap as the most likely outcome, with some cash as a potential sweetener to the deal.
We believe that OI's (and legacy Portugal Telecom's) bonds include in their current valuation the risk that the company will not be able to proceed with an orderly restructuring, and the fear that negotiations could collapse and/or the company may stumble into a road bump that might lead to the Brazilian bankruptcy court.
Unless you like taking a gamble, we still believe that sitting on the sideline is the safest investment you can do if you do not own any securities, yet. There may be some value to unlock in OI's restructuring that patient investors might benefit from, once some risks and uncertainties are removed and a better analysis of the NewCo will be possible.
Disclosure: I/we have no positions in any stocks mentioned, and no plans to initiate any positions within the next 72 hours.
I wrote this article myself, and it expresses my own opinions. I am not receiving compensation for it (other than from Seeking Alpha). I have no business relationship with any company whose stock is mentioned in this article.
Editor's Note: This article covers one or more stocks trading at less than $1 per share and/or with less than a $100 million market cap. Please be aware of the risks associated with these stocks.