I wrote an article titled "AT&T: Some Are Starting To See The Future" in early April 2016, and since that article was posted AT&T's (NYSE:T) stock price went up ~3% while the S&P 500 was up only ~1%. On a YTD basis, AT&T shares have greatly outperformed the broader market by a wide margin (more on this below).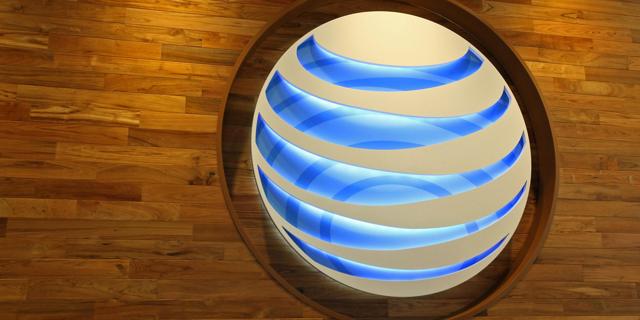 Click to enlarge
(Image Source)
Within the article linked above, I described the benefits that AT&T has already been experiencing from the DirecTV acquisition and I predicted that the company would report better-than-expected Q1 2016 earnings. The company did just that, as AT&T reported an impressive 4% earnings beat. The company reported adjusted EPS of $0.72 compared to the consensus estimate of $0.69, and the Q1 2016 EPS figure was ~11% higher than the adjusted EPS reported in same quarter in the prior year.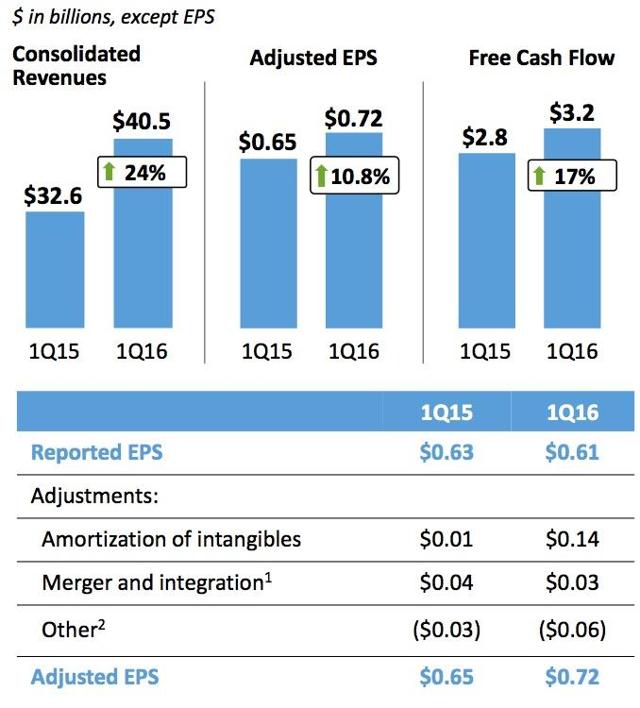 Click to enlarge
(Q1 2016 Earnings Presentation)
On the top-line revenue front, the significant YoY increase of 24% (from $32.6b to $40.5b) was largely a result of the DirecTV acquisition. There was a lot to like about the Q1 2016 results but there were also several areas that management will need to focus on, and improve upon, in the quarters ahead. Most notably, AT&T's free cash flow ("FCF") and increasing debt balance are two areas that I will be watching throughout 2016 and 2017, as both metrics are currently areas of concern to my investment thesis. These two metrics have the potential to dramatically change my thoughts on AT&T being considered a great long-term investment.
Free Cash Flow, Improving But Not As Rosy Of A Picture As Some Might Think
There was a large group of contributors on SA that used to, let me stress used to, express their concern over the sustainability of AT&T's growing dividend, but the company has pretty much already put this concern to bed by reporting improving FCF metrics since closing on the DirecTV acquisition. However, the FCF picture is not as rosy as one might think.
After reviewing one of the company's Q1 2016 supplemental reports, the Reconciliation of Free Cash Flows, there are several metrics that I wanted to highlight for the SA community.
Three Months Ended March 31, 2015 and 2016
Free Cash Flow Analysis
2015
% of Net Cash
2016
% of Net Cash
Period Chg (%)
Net cash provided by operating activities
6,738
100%
7,900
100%
17%
Less: Construction and capital expenditures
(3,971)
59%
(4,669)
59%
18%
Free Cash Flow
2,767
41%
3,231
41%
17%
Dividends paid
(2,434)
(2,947)
21%
Free Cash Flow After Dividends
333
284
(15)%
FCF Dividend Payout Ratio
88%
91%
4%
Highlights from the table:
The net cash provided by operating activities and the FCF increased by 17% and 18%, respectively.
But, CapEx increased by 18% and the dividends paid increased by over 20%.
The FCF Dividend Payout Ratio increased by 4%, and the ratio is now back above 90%.
The headlines to many articles have been that AT&T was able to greatly improve its FCF, but the story slightly changes if you dig a little deeper into the numbers. The FCF indeed increased by 17% but there are other figures, CapEx and dividends paid, that increased by even greater percentages. The FCF numbers are not as impressive if you factor in the dividends that were paid, as the dividends paid increased by over 20% (now slightly below $3b).
The FCF picture is simply not as impressive as what I expected to see, but this is not enough to be considered a major concern, yet.
Increasing Debt Balance, A Concern But Not A Significant One
Everyone that follows me here on SA knows that I believe that the DirecTV acquisition was a game-changing purchase for AT&T, over the long-term, but the acquisition also forced AT&T to significantly increase its debt balance.
In order to further analyze the debt balance, I created the table below with data from the company's supplemental reports, Net-Debt-to-Adjusted-EBITDA Ratio, for both Q1 2016 and Q1 2015.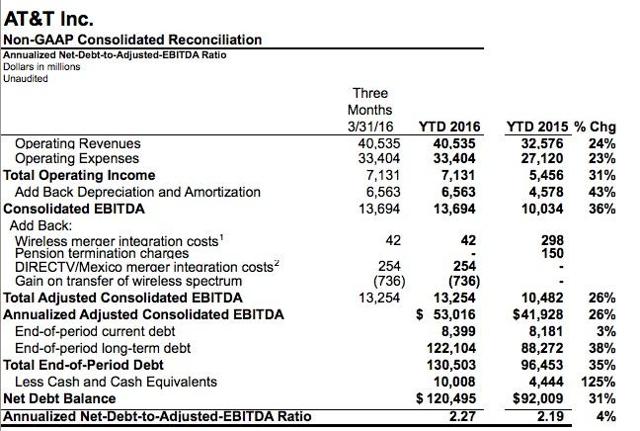 Click to enlarge
Observations from the table:
The total end-of-period debt and the net debt balances increased by 35% and 31%, respectively.
The cash and cash equivalents balance increased by well over 100%.
The annualized net-debt-to-adjusted-EBITDA ratio only increased by 4%, but the total net debt balance is now over $120b.
AT&T's debt rating has been negatively impacted by the fact that the company has been taking on additional debt, and AT&T's current debt outlook is negative per Moody's. The large (and increasing) debt balance is something that AT&T will have to manage over the next few quarters/years, especially since the company is heavily investing in its business (i.e. international expansion), but the debt balance should not keep investors up at night. Remember, companies in the telecom industry are known for having large debt balances.
Bottom Line
Overall, AT&T's Q1 2016 results were very impressive. To start, the company was able to significantly improving its top- and bottom-line numbers. Furthermore, the DirecTV acquisition is already providing plenty of benefits to AT&T's improving operating metrics. It is encouraging to see AT&T improve operating metrics almost across the board, but, on the other hand, the FCF metrics and the increasing debt balance are areas of concern. To clarify, I have no plans to exit my core AT&T position, but I also have no plans to add to my position either. For full disclosure, I trimmed the AT&T position in my R.I.P. portfolio when the stock price hit the mid-$39 range.
AT&T shares have greatly outperformed the broader market on a YTD basis, as T shares are up ~15% while the S&P 500 is up only ~4%, but I still believe that AT&T shares have the opportunity to outperform the market throughout 2016. The FCF metrics and increasing debt balance are not yet significant concerns, in my mind, but they both need to be improved upon by the company throughout 2016/2017.
If you found this article to be informative and would like to hear more about this company, or any other company that I analyze, please consider hitting the "Follow" button above.
Disclaimer: This article is not a recommendation to buy or sell any stock mentioned. These are only my personal opinions. Every investor must do his/her own due diligence before making any investment decision.
Disclosure: I am/we are long T.
I wrote this article myself, and it expresses my own opinions. I am not receiving compensation for it (other than from Seeking Alpha). I have no business relationship with any company whose stock is mentioned in this article.