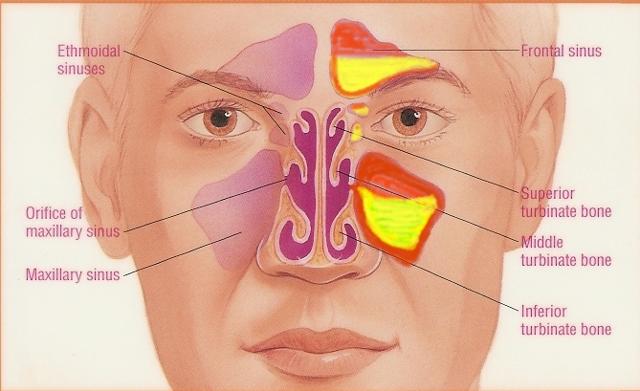 Click to enlarge
Entellus Medical, Inc. (NASDAQ:ENTL):
I would like to think I have the nose for sniffing out only good stocks. However, that would be an unworthy presumption on my part. So let me suggest in this article a company that might benefit those suffering from maladies of their nasal passage and at the same time grow their net worth by owning their stock.
Chronic Sinusitis:
This is a condition best described as the patient suffering from facial pain or pressure, nasal obstruction or blockage, nasal discharge or purulence in nasal cavity, and fever. This medical condition is one of the most prevalent conditions that we humans suffer.
Based on Centers for Disease Control and Prevention - CDC - with their data that was updated in February 2016:
*29.4 million people in the U.S. suffer from this condition.
* 12.3% of adults are diagnosed with this condition.
* 11.7 million visits are made to physician offices with a primary diagnosis of chronic sinusitis.
* It is estimated that each year, there is a direct treatment cost of $3.4-5 billion spent on treating this condition.
*Chronic sinusitis is the fifth most common disease treated with antibiotics
Entellus Medical, Inc.:
Instead of looking at treating this increasing medical condition with antibiotics, my article will address a company that has the potential of having a better solution for this condition, and others that impact our nasal cavities. We all know our frequent use of antibiotics is a growing trend, resulting in germs developing immunity and resistance from this over-use of antibiotics. This alone should grow the market for what Entellus is doing to address this condition.
Some of the key products that Entellus already has on the market are:
*XprESS. A family of products for opening obstructed or narrowed nasal drainage pathways by means of trans-nasal balloon sinus dilation.
*They also have a host of tools that illuminate our sinus cavities in various areas of our nasal passage.
*FocESS Sinuscopes that allow physicians endoscopic visualization during various nasal procedures.
*Maxillary Seeker, a tool that allows the physician to find the correct angle for access to the maxillary ostia (this is the largest sinus in the body and has three recesses)
*MiniFESS is a family of surgical tools used by ENT physicians.
*A wide variety of ancillary products used by ENT physicians, such as XeroGel used for packing the nose after nasal surgery.
The good news is that a large number of these items are consumable. This will provide a constant revenue source to Entellus for resupplying to the ENT doctors. Also, it should be noted that Entellus isn't relying on their current products as they have a very robust R&D effort. In 2015, they spent more than $5M in seeking a new and improved product for the market. They are currently spending nearly 10% of revenues for this effort, and this is critical for the future growth.
Why Invest in a Medical Device Company:
This could be the hottest area of mergers and acquisitions in the medical arena. In 2014, the medical device industry had the all-time record high in terms of deal valuations. In total, there were 96 such deals announced. Some of these deals were small, but then we saw the $42.9 billion take out by Medtronic (NYSE:MDT) for Covidien. This made the combined two companies now being the world's largest medical device company.
The merger and acquisitions in 2015, saw a small drop in the number of deals. However, in recent days, we have seen major activity starting to unfold in 2016. Abbott (NYSE:ABT) has made a $30 billion offer for St. Jude Medical (NYSE:STJ). In the past, we have seen most activity taking place by one medical device company taking over another medical device company. Many of the big pharmaceutical companies are seeing their major drugs going off patent, subjecting them to declining revenues that have to be replaced.
It is my opinion that we will see them looking for the most compatible medical venues being this new source of income. The deal by Abbott could be the start of this type of effort by large pharmaceutical companies. What better than medical device makers being the source for replenishing revenue streams that have declined for profitable drugs that are now being offered as cheaper generics?
One unique thing about the medical device market, one only has to look in the metropolitan area of Minneapolis, Minnesota to find the largest concentration of such companies. In fact, on November 18th, 2014, I wrote one of my first articles for SA about a medical device company located in the area. The article was titled - Vascular Solutions: Solutions and Prosecutions-Choose Sides. The CEO had been indicted only a few days before, and my due diligence was that this was a simple case of misguided justice brought on by a competitor wanting to harm the company.
At the time of my article, the stock was trading at $24.48. As I'm writing this new article, the stock has appreciated by about 60%. It appears that my due diligence based opinion was born out by the judge hearing the case. The witness that ended up proving the defendant not being guilty of the charge, was the person who made the accusation in the first place. The CEO never had to call one witness for his defense. The plaintiff's testimony was all that was needed to provide the resolution of the charges.
My point being the medical device industry plays a vital part in our medical care system. The need for new methods of treating many diseases can be impacted by surgical devices used in a variety of medical maladies we suffer from. It is my opinion, our nose conditions play a major role in our wellness. With growing environmental issues impacting our breathing, and our antibiotics losing effectiveness, chronic sinusitis is a growth area for new medical treatment options.
Why Entellus:
Entellus is a fairly new player in this arena. The company was founded in 2006, and is located in Plymouth, Minnesota. They have their own direct sales team in the United States and in the United Kingdom. They also have distributors of their product in other major areas of the world.
Entellus went public with their IPO on January 29th, 2015, when they issued 4,603,580 shares at the offering price of $17.00. In the interim trading, the stock traded as high as $27.98. However, with the overall swoon of medical stocks in the fall of 2015, and still until the writing of this article, Entellus has been impacted by this event to some degree. However, the stock is only down from the IPO price by less than $1.00. I consider this a remarkable accomplishment in the current environment for medical stocks.
Entellus wasn't the first company to develop the balloon catheter for treating chronic sinusitis. However, Entellus was the first and now leading company wanting to develop the tools and methodology for bringing the use of this technique from the hospital operating room into the physician's office. Due to the economics generated by this approach, third party insurance payers were eager to come on board and provide coverage for this procedure. ENTs certainly like this opportunity for treating their patients in their office as this allowed for another billing opportunity.
Sinuses Dilated

2016 Medicare National Average Payment Rates

Office Balloon

Hospital

In ASC

%FESS Cost More

Sinus Dilation

Hospital & ASC

Maxillary

$3,356

$7,980

$5,075

138% & 51%

Maxillary+Frontal

$4,987

$11,830

$7,574

137%&51%

Maxillary+Frontal+Sphenoid

$6,590

$15,323

$9,715

133%&47%
The above shown chart clearly indicates the huge savings afforded to the patient by being able to have this procedure done in their doctor's office, as opposed to a hospital or ambulatory surgical center - ASC. Entellus conducted at least 7 clinical studies with multi-year follow-ups with their patients. The results have shown the safety and success that can be achieved by allowing the physicians having the tools and training for doing this procedure in their offices.
The major third party payers were anxious to cover this less expensive cost structure, where the end results for the patient were also positive. The patients benefited when they had 10-20% co-payment coverage where their out-of-pocket expense would also be much less than having the procedure done in the hospital or ASC setting.
Growing Revenue Trend:
Entellus Medical Revenue Data:

Annual Revenue-2012

$17.6M

Annual Revenue-2013

$32.5M

85%

Annual Revenue-2014

$48.8M

50%

Annual Revenue-2015

$61.6M

26%

Projected Revenue-2016 Range of $73Mto$77M

Projected Growth in Percentage: 19%-25%
In the last three years, Entellus has more than tripled their revenue growth. In the current year (2016), they have provided projections for revenues being up in the range of 19-25%. The year has started in a very positive manner. The recently reported 1st quarter results reflected that revenues were $16,902,000.00, up 25% when compared to the same quarterly results in 2015.
Issues for Further Consideration:
In the short time that Entellus has been an operational company, they have never achieved a profitable level of operation. However, the key metric of revenue growth is certainly evident with the last three years showing phenomenal increases. It is my opinion, with the apparent business model for gaining market share by increasing the marketing and R&D efforts, they are on the right track in achieving a profitable level of operation.
Entellus has a debt level of $20 million. However, it appears they are capable of managing this debt obligation without any undue stress on their balance sheet. However, for any company, the ultimate desire is them being debt free from any long-term debt obligations.
Entellus is subject to the normal FDA obligations that are in place. This means safety in manufacturing their product and the expense of submitting future new products through the costly FDA approval process. At this point in their history, as an operational company, they have an impressive track record for their dealings with the FDA.
Entellus has competition from major players in the market. Those like J&J (NYSE:JNJ) and Medtronic being examples. However, the fact the Entellus approach for concentrating on their products being used in non-hospital and ASC facilities seem to be working in their favor. This is exemplified in their recent 4th quarter report where their revenue growth across the spectrum was approaching an even balance over hospitals vs. in-office procedures. Revenues from in-office procedures was 56% of total revenue. But the point is simple - Entellus has competition in their market place, but they are gaining market share at a nice incremental capture rate.
Nice to Know Factoid:
Earlier in the article, I mentioned the growing M&A activity in the area of medical device companies. It is my opinion such events will continue to increase. Therefore, it's nice to see who serves as the Chairman of the Board for Entellus. A man with a proven track record in the medical device arena and the skills for negotiating M&A endeavors.
"Brian E. Farley has served as a member of our board of directors since November 2008 and as the Chairman of the Board since November 2014, including as Executive Chairman from April 2015 to January 2016. He also served as our President from March 2010 to November 2014 and as our Chief Executive Officer from March 2010 to April 2015. Prior to joining us, Mr. Farley was employed at VNUS Medical Technologies, Inc. starting in 1995 and served as President and Chief Executive Officer of VNUS from January 1996 to June 2009 when VNUS was sold to Covidien Ltd. Prior to joining VNUS, Mr. Farley was employed from 1981 to 1995 at Guidant Corporation, in the Medical Device Division of Eli Lilly and Company, and in Lilly Research Labs in a variety of research and development, clinical research and business development leadership positions. Since November 2009, Mr. Farley has served as a director of Neuronetics, Inc., a private medical device company, including as Chairman of the Board from June 2011 to July 2014 and again since December 2014. Mr. Farley has also served on the board of directors of DFINE, Inc., a private medical device company, as well as its compensation committee, since March 2012. Mr. Farley holds both a B.S. in Engineering with an emphasis in Biomedical Engineering and an M.S. in Electrical Engineering from Purdue University."
Conclusions:
Entellus is in a growing area of medical needs. They have been able to show their products can and have gained market share in the products they offer. The executive team for the company has extensive backgrounds in the market they are competing in.
Entellus is investing in their future. They are spending about 10% of their revenue on R&D. Creating new products and updating older products is critical for their continued growth.
Also, Entellus is expanding their work force in order to meet their growth objectives. This includes new sales staff to continue expanding their contact and training of new physicians adopting their products for their office facilities.
Employees on Staff:

End of 2010:

47

End of 2014:

114

End of 2015:

250
In the current environment for medical stocks, we have seen the Nasdaq Biotech Index (NBI) was down -24.98% YTD, and the smaller-cap S&P Biotechnology Select Industry Index (SPSIBI) was down -28.28% YTD. The Nasdaq Composite Index (NCI) closed down -5.79% YTD. During this same period of time, Entellus's stock has declined by only $0.69, or a drop of 4%.
It is my desire my article will be used as a starting point for those interested in companies operating in the medical field. In my opinion, this area of investing still offers the best opportunity for growing one's investment portfolio. However, when investing in this area, one needs to undertake strong and in depth due diligence being applied to your specific investment criteria. We each have our own preferences and limits to how we invest our funds. Should you have further interest in the stock, I would suggest reviewing their most recent Annual Report. There you will find an extensive amount of helpful information.
Entellus is not a trading stock. This is a stock for buying and holding, assuming the aforementioned business model continues to follow the current level of accretive results, as they seek becoming a profitable company. Anyone wanting to buy the stock, they should do it with a clearly defined bid for what they are willing to pay for the stock. The outstanding shares and float in this stock is very small. Thus, one sees the daily trading volume being fairly subdued - on average, the daily volume is less than 50,000 shares.
As with any stock , one should expect the share price vacillating up and down. However, one should monitor to see that the revenue growth maintains the current level of momentum. Any change in the growth pattern should require investors taking the time to review the causation for this happening. Looking at the long term should be one of your major criteria for owning the stock, and in my opinion, the current price could be a great entry price for establishing a holding in their stock.
Good luck with your future investing decisions!
Disclosure: I am/we are long ENTL.
I wrote this article myself, and it expresses my own opinions. I am not receiving compensation for it (other than from Seeking Alpha). I have no business relationship with any company whose stock is mentioned in this article.