For many, it may seem that the worst of China's debt crisis has passed. Compared to January this year, and various points throughout the summer and fall of 2015, U.S., European, and Chinese markets (among others) have been relatively stable, and able to recover from the worst lows. Yet while China's debt crisis may slowly be fading from the memory of some investors, the risks remain real.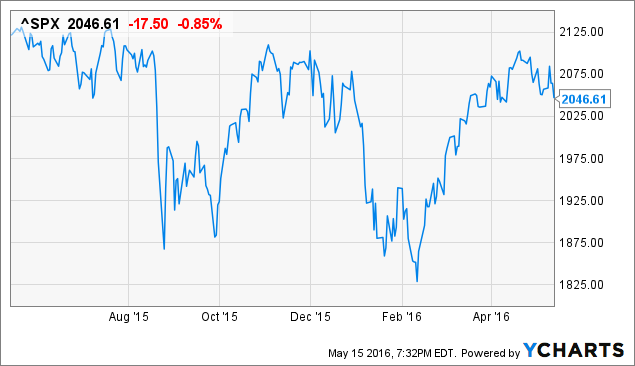 (The sharp downturns in American stocks in August, October, and January/February were linked to turbulence in China)
Back in April, the IMF went as far as to issue a warning that China now poses a threat to the global economy as part of its Global Financial Stability Report. For American and European investors who may wonder if problems in China could come to roost at home, the IMF as well as other experts have noted that China is closely integrated into the global economy. Foreign banks have lent money to Chinese companies, foreign companies have invested huge amounts of money in China, among other things.
The Debt that keeps on rising
China knows it has a debt problem. The world knows it has a debt problem. And yet, debt levels have continued to climb. At the start of 2007, before the global financial crisis, debt-to-GDP levels were only 148%. Back in July of 2014, China's debt-to-GDP ratio breached 200%. Now, debt levels have risen to 237%, fueled by a recent increase in lending as the Chinese government tries to prop of the economy. Debt levels have now reached $25 trillion, including both domestic and foreign lending.
As the below chart illustrates, China's debt levels have now met or exceeded the crisis points reached by other countries, such as Japan and the United States.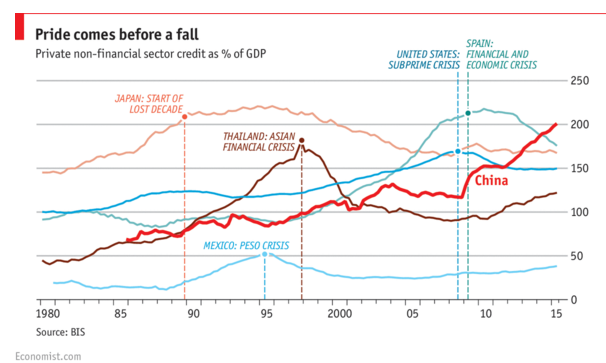 It should be noted that such debt levels are roughly on par with both the Eurozone and the United States. For developing countries, however, these debt levels are far higher. It should also be noted, however, that many analysts are doubting these official numbers. Macquarie Research has pegged debt levels at 350% (as of April) and McKinsey estimated debt levels at 282% as of February, 2015. If debt levels have really reached such proportions, then investors have plenty of reason to worry.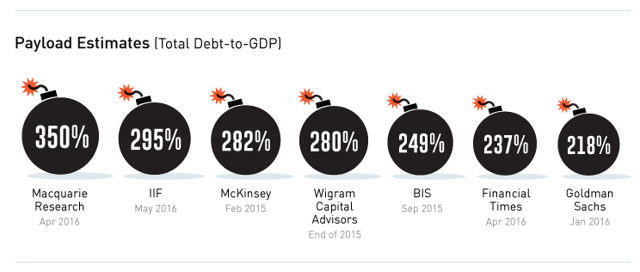 Click to enlarge
Debt isn't a problem unless people and companies are no longer able to repay it. If a large number of borrowers find themselves unable to pay, the risk of a bubble popping suddenly becomes very high. Unfortunately, economic indicators have been cooling over the past several weeks.
Further, the Chinese government's prescribed solutions so far has been to encourage more lending and borrowing, allowing debt levels to inflate further. This may simply not be sustainable over the long run.
Economic indicators cooling
So long as China's economy continues to record strong growth, there is some hope (however slim) that the provided momentum will be able to stave off the debt bomb while the government and market sort themselves out. Recent indicators suggest, however, that China's economy is failing to meet already tempered expectations.
In April, the official non-manufacturing PMI released by the National Bureau of Statistics fell to 55.3, from 55.8. Further, the manufacturing PMI fell to 50.1, down from 50.2. This suggests that the manufacturing sector is just barely managing to hold ground. With much of China's economy still linked directly to the government, it's also impossible to rule out the possibility that the government is inflating numbers through overproduction/over-purchasing. If said accusations are true, than China may be close to spinning out of control with the economy running only on fumes.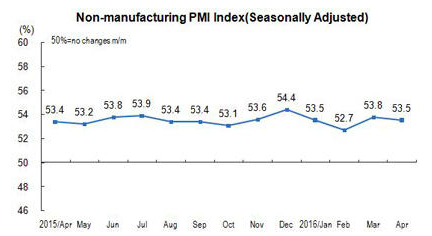 Meanwhile, other growth indicators have failed to meet relatively high expectations (given the circumstances). China's industrial output rose by only 6% in April (yoy), down from 6.8% the year before. Retail sales, which has become an "engine of hope" of sorts, grew by only 10.1% in April, down from 10.5% a month prior. On their own, these declines are not overly worrisome; however, if they hint at a deeper underlying loss of momentum, it could spell trouble.
Meanwhile, the Chinese economy expanded by only 6.7% in the first quarter of this year, the lowest rates since the Great Recession. While this growth rate may seem strong to people in say the U.S. or Europe, China is starting from a much lower point. Even these growth rates are questionable as many suspect that the government is padding the numbers.
So Will The Music Stop?
It's hard to determine with certainty when the Chinese debt bubble will deflate, but unless the Chinese government starts focusing on less debt-centric solutions, or the global economy suddenly enjoys a strong growth spurt (unlikely), China's debt will most likely sour in the not-so-distant future.
One of the challenges with the debt bubble in China is the strength of the central government, and its efforts so far to encourage debt and lending. The Chinese government will be able to push debt levels beyond what markets themselves would be willing to bear. In the long run, this will simply make the coming bubble pop worse.
The strength of China's government also reduces the risk that the debt bomb will explode in the immediate future. Most likely, the government will be able to kick the can down the road right up until the point that avoiding the bubble popping will be all but impossible. Unfortunately, this means that any crash will likely be even bigger than if it were to pop tomorrow.
Even investors who have generally eschewed global markets and indicators need to start watching economic indicators in China, including (especially?) those from respected non-government sources. Most likely, the bubble pop will be foreshadowed by a sharp decline in economic indicators. As long as the economy continues to expand at moderate rates, people will remain confident enough to sustain the bubble, at least for a time.
Another thing investors need to watch is the continued accumulation of debt. At some point, debt levels may simply become too high to ignore even if the economy does continue to expand. Unless China quickly weans itself off its debt binge, avoiding a crash may become impossible.
Disclosure: I/we have no positions in any stocks mentioned, and no plans to initiate any positions within the next 72 hours.
I wrote this article myself, and it expresses my own opinions. I am not receiving compensation for it (other than from Seeking Alpha). I have no business relationship with any company whose stock is mentioned in this article.