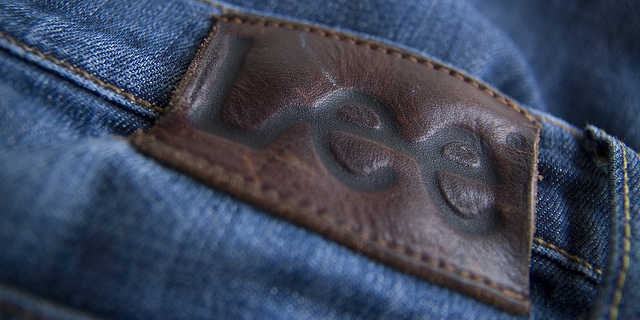 VF Corp (NYSE:VFC) has interested me for some time. Yet since I opened a position in Burberry (OTCPK:BURBY) I have held back opening a further position in the notoriously fickle apparel industry.
Despite this, VF Corp has consistently sat on my watchlist. Its sheer diversity of high-quality and remarkably revenue-robust brands from The North face to Eagle Creek and beyond make it a very appealing play: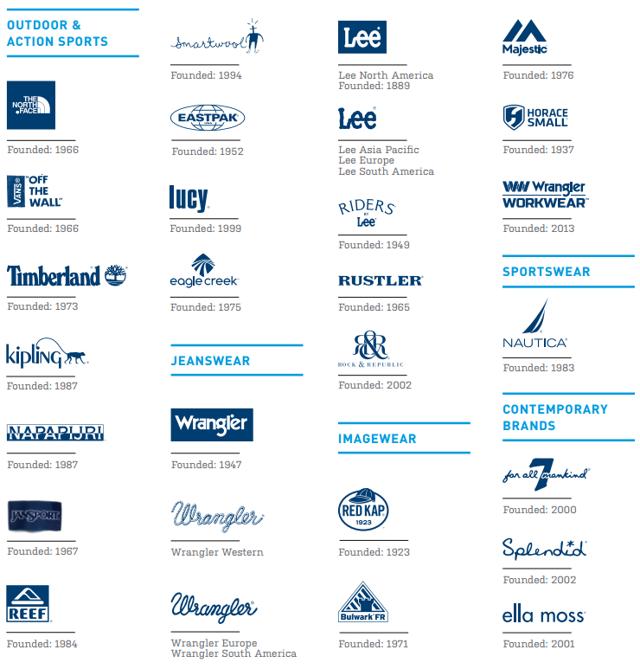 Click to enlarge
Yet recently the company has seen its share price drop sharply as concerns about the consumer environment grow: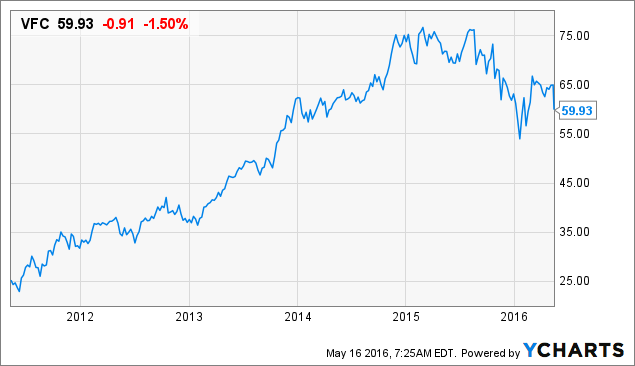 So has this made the company so attractively priced that it is hard to resist? I'll take a look here by applying three valuation methods to VF Corp to see what fair value we come out with. Let's get started.
1: Dividend Yield
First is the matter of the dividend yield. The dividend has more than doubled since 2011 from $0.65 to $1.33. VF Corp's valuation has kept the yield quite low, however, over this period: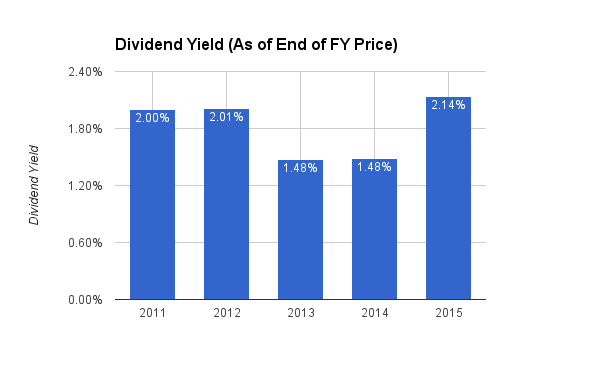 This delivers an average yield over this period of 1.82%. At the moment, therefore, with a historic yield of 2.22% VF Corp looks pretty good value: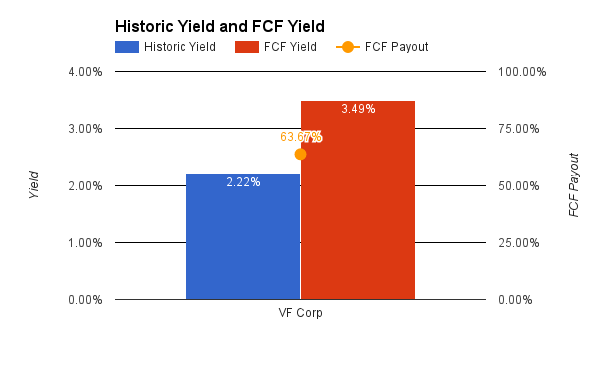 Assuming the yield would head back down to VF Corp's historic average of 1.82% on the $1.33 historic dividend we would have a fair value share price of $72.97.
Yet, of course, we are more interested in future dividends. Analysts expect a dividend of $1.48 in the year coming. Applying the same historic yield to this dividend would suggest a future dividend fair value of $81.20.
Based on these calculations, therefore, VF Corp is currently trading significantly under its current share price.
2: PE ratio
So what about its PE valuation? Well, VF Corp has seen its PE ratio increase significantly in recent years: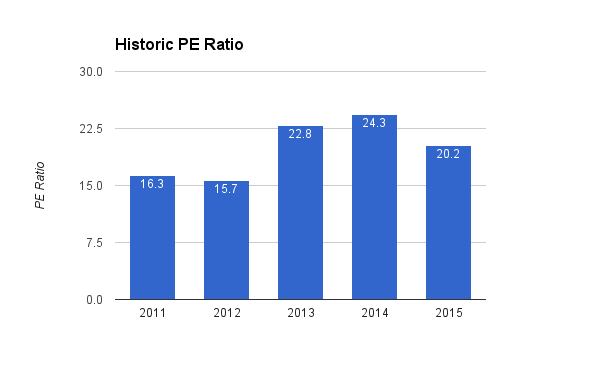 This provides an average PE ratio over this period of 19.9. In order to ascertain my fair value from this. I take the analyst EPS predictions for the next two years ($3.24 and $3.66) and then average them. Multiplying this figure by the historic PE ratio gives us a fair value figure of $68.50. Finally I adjust by the amount of cash held on their books. Doing so produces a $70.72 fair value price.
Again, this suggest that VF Corp is trading below its fair value.
3: EV/FCF ratio
Finally we come up against the enterprise value to free cash flow ratio. VF Corp has seen some erratic EV/FCF ratios: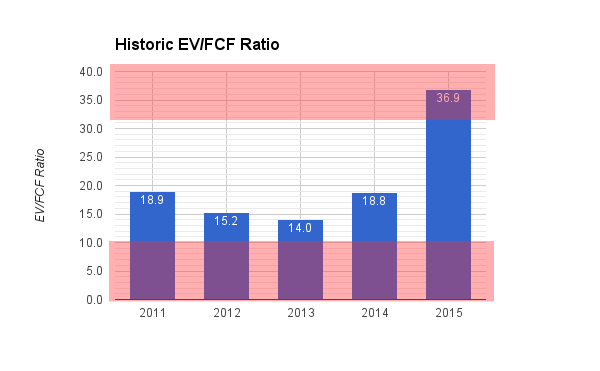 The basic average comes out at 20.7. However, I correct this for outliers. I define outliers as any figure more than 1.5 times or less than 0.5 times the basic average. In the above case, we set 2015's 36.9 EV/FCF ratio for falling outside this range. The new adjusted average therefore emerges as 16.7.
I will use this 16.7 as my fair value EV/FCF figure. This I then multiply using my predicted FCF per share figure. I calculate my predicted FCF figure by using a weighted historic FCF/Revenue figures ( see my previous article for more detail on how). Using this gives me predicted FCF figures of $1037 and $1117 million. Averaging these and multiplying by the EV/FCF fair value figure provides us with a fair value of $42.17.
This was derived using a fair value FCF/Revenue ratio of 8.03%. This may seem a little generous in light of the fact that last year the company produced a ratio of just 7.21%. Yet as the recent Q1 2016 results showed the company saw a free cash flow of -$182 million in 2016 compared to -$434 million in 2015, I don't think this is unreasonable.
Indeed, I suspect this is quite conservative. This is especially true as VF Corp's five year average FCF/Revenue ratio has been at the much higher 9.69% mark (above 10% if you exclude last year when pension contributions, in particular, pulled down operating cash flow).
If we take this still comparatively conservative 9.69% figure as our fair FCF/Revenue ratio we get new FCF predictions of $1251 and $1348 million this year and next. In turn this would suggest a fair value of $50.89.
All told, however, it suggests that VF Corp is actually trading above its current fair value price even assuming a return to strong FCF conversion.
Conclusion
This is a tough valuation review. VF Corp was actually undervalued according to two of the three valuation methods. Put these together and the average share price would suggest that, right now, you can pick the company up at a modest bargain: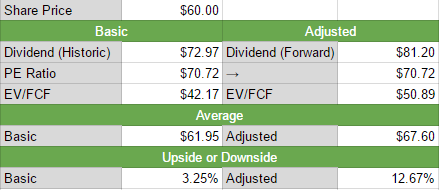 Clearly, however, the EV/FCF valuation stands out prominently. Even assuming strong FCF generation in the next two years (which I do see as likely) we only get a FCF fair value of $50.89 which is nearly 16% below the current share price.
In this circumstance, I'd argue that averaging the basic and adjusted fair value figures may be a good idea. This would provide a fair value figure of $64.77 which is about 8% above the current share price. This does not feel unreasonable even when faced by the apparent FCF overvaluation. With EPS expected to grow at over 9% a year over the next two years and the dividend to grow nearly 12% over the same period it still seems a great business to add to the dividend growth corner of your portfolio.
Excluding the early-2016 market plummet, the last time VF Corp traded under the $60 mark was back at this time two years ago. It may well, therefore, be the perfect time to try VF Corp on for size.
Notes
Unless otherwise stated, all graphs and the calculations contained within were produced by the author. Creative Commons image reproduced from Flickr user incendios.
Disclosure: I am/we are long BURBY.
I wrote this article myself, and it expresses my own opinions. I am not receiving compensation for it (other than from Seeking Alpha). I have no business relationship with any company whose stock is mentioned in this article.