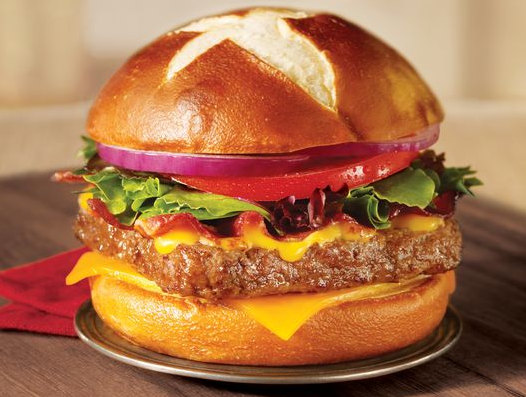 I've been bearish on fast food chain Wendy's (NYSE:WEN) has it has been undergoing its transformation in recent quarters. The company has been busy remodeling its restaurants and its image in addition to a franchising plan that will see just 5% of the chain company-owned by the end of the year. Analysts and investors have been very bullish on WEN's initiatives and have assigned the stock a lofty multiple and while I don't disagree on the company's fundamental success, I do take issue with the price one must pay for the right to own it. And after Q1 earnings, it seems I'm no longer the only one with doubts.
As a note, I'll be using some charts from Simply Wall St.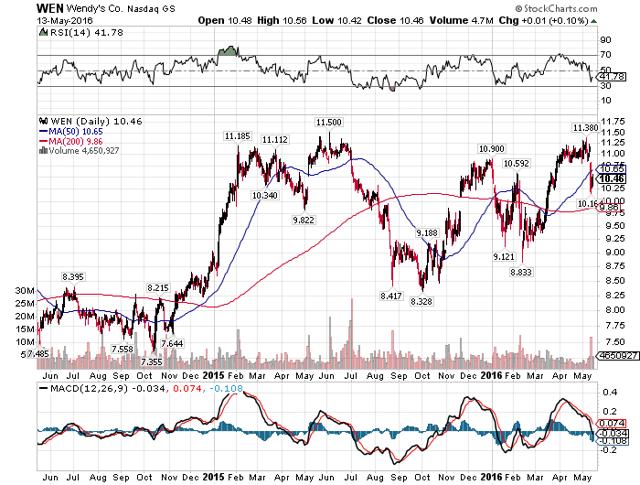 Click to enlarge
WEN has been producing lower total revenue since it began its franchising initiative, so revenue growth isn't a particularly relevant metric at the moment. Beginning next year we'll get some use out of it, but for now, it's all about profitability for WEN as we see the impact of its franchising efforts.
Here's the thing about Wendy's I am concerned with: Its franchising effort is going well, but on an absolute basis, the company stands to make less money now than it did before. The math is simple; collecting fees from franchisees is a very high-margin business, but the dollars are small. That means all of the higher-flying profitability metrics the company provides in the press release really don't mean anything. Margins moving higher is a great thing. but as WEN shares remain elevated, decreasing absolute profitability is a big problem.
Yes, SSS were up 3.6% in North America; a very strong showing to be sure. And I love the menu innovation the company has shown in recent years as it executes on its 4 for 4 promotion and brings in things like pretzel buns for its sandwiches. Wendy's has done a nice job of getting people in the door and it deserves credit for that. But I have to think those things are making money for its franchisees more so than the holding company.
Despite the fact that the company posted a $9.6 million one-time lease buyout gain, net income was still $2.1 million lower in Q1 than last year's comparable quarter. That's the problem with the heavy franchising model; margins are higher but the revenue base is so small in comparison it is almost impossible to replicate the same level of absolute profits. So either the stock's multiple needs to move higher — for no reason — or shares must come down. I bet you can guess which one I believe will happen.
This is what I'm referring to: This chart shows the company's expected revenue growth (or lack thereof) for the next few years.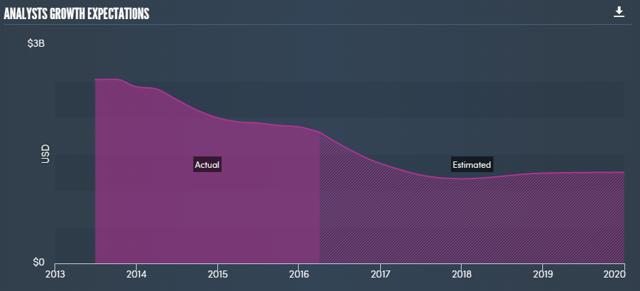 Click to enlarge
The franchising model means revenue levels may never return to their former peak because it takes several franchise units to equal one company-owned store in terms of revenue. We can see that even after the top line stabilizes, analysts have WEN producing basically flat revenue even in the out years. That's a problem for the valuation.
But, curiously, flat revenue isn't deterring analysts from thinking WEN's profits will shoot into the stratosphere.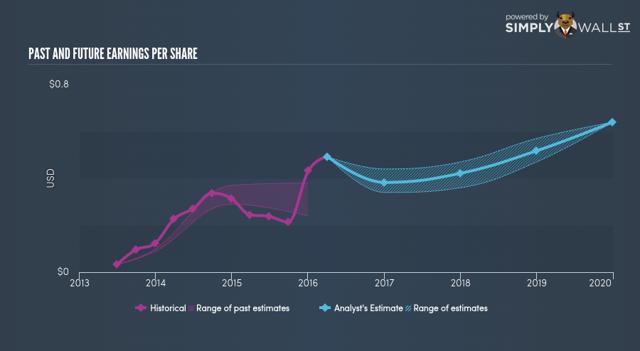 Click to enlarge
After the hiccup this year thanks to the franchising effort, WEN's EPS is expected to move substantially higher into 2019, where it is supposed to hit 64 cents. That is almost double this year's estimate and while I don't doubt WEN's margins will move higher over that time as the franchising model matures, its overall level of profits will be lower than it otherwise would be just like it was in Q1.
Now, WEN is buying back a lot of stock as part of its franchising efforts and the float is being reduced at a fairly rapid rate. WEN bought back $48 million of shares in Q1 and while that rate is pedestrian, it is on the back of $1 billion in repurchases last year. In addition, WEN has $308 million left on its 2016 authorization, good for more than 10% of the float at current prices. That will provide a significant source of EPS growth irrespective of what the business does and that is certainly bullish. In fact, that is the only source of EPS growth Wendy's is going to have for the next year or two as its franchise initiative matures.
The thing is that despite the necessarily lower earnings level WEN is going to produce, it is trading for 28 times this year's earnings. In fact, even if we use EPS estimates for three years from now, the stock is still expensive. With the bulk of the company's buybacks already complete and revenue leveling off, there are no significant EPS growth levers left for WEN to pull to grow itself into that kind of valuation.
I won't argue that WEN is moving forward in a big way with its menu innovations because it is. But that isn't enough when it is losing a significant chunk of its revenue base to franchising and when the vast majority of its buybacks have already been used. For me, there is a very clear downside bias at these levels because I think investors are hoping for levels of profitability that simply aren't realistic for the franchise-heavy version of Wendy's that is to come.
Disclosure: I am/we are short WEN.
I wrote this article myself, and it expresses my own opinions. I am not receiving compensation for it (other than from Seeking Alpha). I have no business relationship with any company whose stock is mentioned in this article.