Overview
Century Aluminum (NASDAQ:CENX) is a global producer of primary aluminum and operates aluminum reduction facilities in the US and Iceland. They produce standard and value-added primary aluminum products.
They also own and operate a carbon anode production facility located in the Netherlands and have a 40% stake in Baise Hoahai Carbon, a joint venture that owns and operates a carbon anode and cathode facility located in China. Carbon anodes are used to produce primary aluminum and these two facilities provide carbon anodes for their facility in Iceland.
The company fully owns three facilities in the US and one in Iceland. Their Iceland plant is currently going through an expansion project that will substantially increase its production capacity. The company also bought out the remaining half of their facility in Mt. Holly, South Carolina, in 2015, meaning that they now own 100% of all four of their facilities. The company's facilities have an annual capacity of 1013 tonnes.
Pricing and Customers
Century's product, primary aluminum, is a widely used commodity throughout every part of the world and its price is determined by the London Metal Exchange, with some extra delivery premiums.
As a result, the business's performance over the course of a year is often determined by the price of aluminum on the Exchange, which obviously fluctuates from time to time. It's up to the company to deal with such fluctuations and continue on.
The company sells 96% of its product to Glencore (OTCPK:GLNCY), which resells to end users. Glencore pays whatever price the LME has set, plus the Midwest regional delivery premium, for all aluminum produced in Century's American facilities. It has also agreed to buy all of the Icelandic facility's product through 2017.
Earnings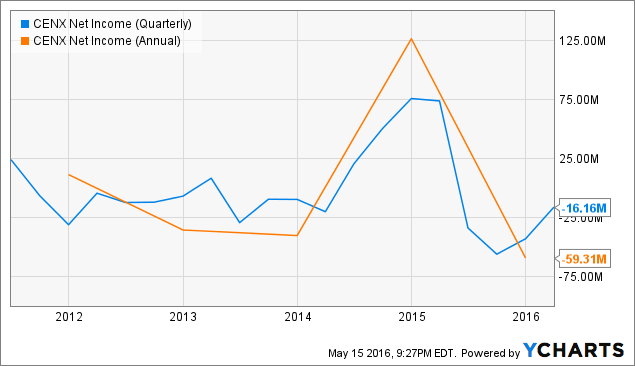 CENX Net Income (Quarterly) data by YCharts
It's obvious from the earnings chart above that Century's earnings have tumbled since the end of 2014. The underlying story behind this has to do with aluminum prices around the world.
For more than a decade, China has been a major producer of aluminum, and the aluminum industry employs many Chinese workers. However, global demand for aluminum has been slightly lower for the past few years. However, China hasn't adjusted its production to respond to this change in demand. This, combined with the fact that its domestic demand for aluminum had decreased meant that it flooded the international markets with aluminum it shouldn't have created and that no one was willing to buy. Aluminum prices hit a multi-year low. As a result, aluminum prices have decreased drastically, which has negatively affected Century.
They sell the vast majority of their production to Glencore, which also has a major stake in the company and is thus invested in Century's success. The decrease in net income, then, is not a result of poor management of bad business practices. It's a result of the price of the underlying product being sold.
Century - like many other companies, including GE (NYSE:GE), whose CEO has publicly criticized China's production - has been negatively affected by the drastic decrease in prices, especially in 2015, when prices were drastically lower than in previous years. Century was also affected by its production costs. It has set purchasing prices for alumina, a good it uses in its production, but the decrease in prices meant that it was essentially selling some aluminum at a loss.
The Future of Aluminum
Aluminum prices are not going to get back any time soon, to where they were a number of years ago.
China and Russia signed an accord in December of last year where it promised to curtail production as a result of world aluminum prices. This was a step in the right direction. Investors can also find solace in the fact that this news came after China realized that it was producing so much aluminum and flooding the market to such a great extent that most of its own aluminum producers were operating at a loss. This essentially means aluminum prices hit rock-bottom last year, and will increase this year.
The accord does allow China a bit of wiggle room in case prices rally, but its power is limited - both by the accord and the state of its own manufacturing.
Century, aside from benefiting from likely higher aluminum prices, will also not have to suffer the compounded effect of fixed production costs that hurt the business. The signs point to this year being better for the company than last year was.
Book Value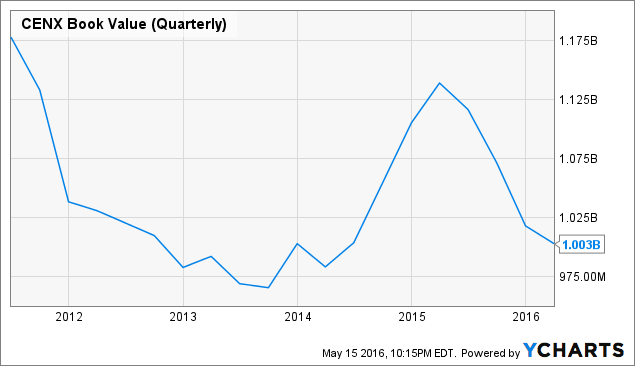 CENX Book Value (Quarterly) data by YCharts
Investors also have to take a very quick look at the company's book value, which is over 1 billion dollars. Although it has declined in the past year as a result of the decrease in aluminum prices, the company is still selling at a book value of about .29, which is extremely low for a business that is so commodities-based.
It's also important to keep in mind that although aluminum prices have been low, Century has continued to invest money into a new facility and its production and production capacity continue to grow steadily. The company shipped 600 thousand tonnes of aluminum in 2011, but shipped over 900 thousand tonnes of aluminum last year, which adds to total asset value and earnings.
The Hidden Value in Glencore
Glencore owns about 47% of Century. Century, then, is basically nothing more than a subsidiary of Glencore. One of Century's directors is actually an employee of Glencore.
This fact has two positives: First, there's really no reason to be worried about the fact that Century sells 96% of its production to one company, as I previously mentioned. Second, Glencore obviously has a vested interest in Century, so the company - and thus the shareholders - have some leverage and can expect more safety heading into the future.
Century, with a market capitalization of less than $600 million, is a relatively small corporation, but the fact that it's nestled beneath the wings of a giant, wealthy corporation is something investors can breathe easy about.
Verdict
I bought shares of Century over the summer of 2015. I felt that was just a victim of excess aluminum supply and will rebound soon after the laws of supply and demand go to work on the aluminum markets and prices stabilize. Overall, the trade has been great. It's turned a healthy profit - albeit one that has been cut down over the past few weeks.
I wanted to revisit the stock to determine if I should cash out or stay in.
In my opinion, it's a stock that Ben Graham would call a "cigar-butt" investment. Finding it is similar to finding a cigar-butt on the sidewalk. It might be a bit dirty and small, but it's cheap and it still has a few puffs left in it. Century isn't an unbelievable company with an unbelievable business model and an unbelievable management, but it's a cheap company that is selling at a discount.
Overall, I think Century remains a solid investment. It's already selling at a large discount to book value and aluminum prices are set to increase over the course of the year. I think investors can find room to make a healthy profit over the course of the next year or two.
Disclosure: I am/we are long CENX.
I wrote this article myself, and it expresses my own opinions. I am not receiving compensation for it (other than from Seeking Alpha). I have no business relationship with any company whose stock is mentioned in this article.
Editor's Note: This article covers one or more stocks trading at less than $1 per share and/or with less than a $100 million market cap. Please be aware of the risks associated with these stocks.