As I was flipping through recent big bank earnings reports and investor calls, there was one theme that stood out to me : "What is your bank's exposure to funded and unfunded oil & gas loans and how impactful could this be. How bad could the worst case scenario be?"
This was in the back of my mind as I received and began to review Main Street (NYSE:MAIN) annual meeting materials and 10-K. One of the most useful and informative sections of the annual report is a company's discussion of relevant risk factors, generally at the beginning of the report. As I reviewed MAIN's filing, one risk factor jumped off the page to me:
Continuation of the current decline in oil and natural gas prices for a prolonged period of time could have a material adverse effect on us.

A prolonged continuation of the current decline in oil and natural gas prices would adversely affect the credit quality of our debt investments and the underlying operating performance of our equity investments in energy-related businesses and in geographic areas which are more sensitive to the health of the oil and gas industries. A decrease in credit quality and the operating performance would, in turn, negatively affect the fair value of these investments, which would consequently negatively affect our net asset value. Should the current decline in oil and natural gas prices persist, it is likely that the ability of these investments to satisfy financial or operating covenants imposed by us or other lenders will be adversely affected, thereby negatively impacting their financial condition and their ability to satisfy their debt service and other obligations to us. Likewise, should the current decline in oil and natural gas prices persist, it is likely that our energy-related portfolio companies' and other affected companies' cash flow and profit generating capacities would also be adversely affected thereby negatively impacting their ability to pay us dividends or distributions on our equity investments.
Considering their warning, I decided to dig deeper MAIN's oil & gas exposure and the performance of their investments. MAIN had filed their Q1 2016 10-Q report at the time of writing, so the data I have included in this article is sourced from that report rather than the 10-K that sparked my original question.
MAIN provides investors with a nice table that buckets their investments by industry exposure in Note C of their quarterly report. There are two tables presented, one bucketed according to cost and one bucketed according to fair value. I have converged the tables below and presented in graphical form.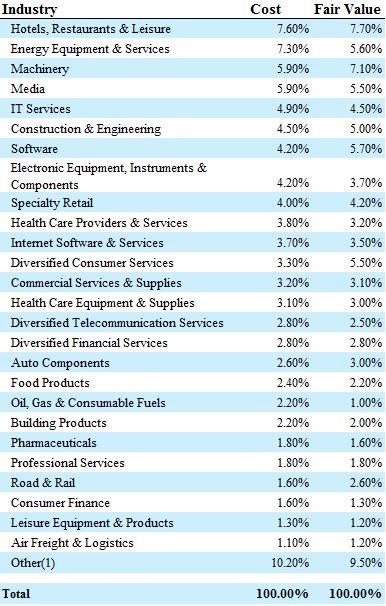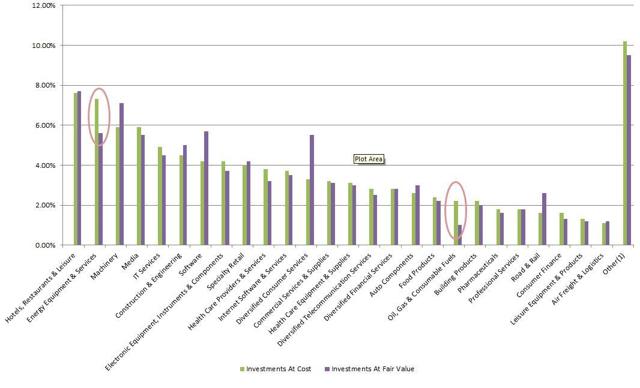 Click to enlarge
As highlighted above, MAIN street has two industry buckets specifically for oil & gas, Energy Equipment and Services ("EES") comprising 7.30% of total assets at cost and Oil, Gas & Consumable Fuels ("OGCF") making up 2.20% of assets at cost. I've highlighted the sectors in the graph as well to see the variation between their cost and fair value weights. Though the weights of EES and OGCF cannot be assessed in a vacuum, it is clear these sectors are underperforming for MAIN which is not surprising given the tumult in the sector. To estimate back of the napkin performance for EES and OGCF, I have recalculated the investment buckets below and compared to the 2 year performance of related industry ETFs (oil & gas peak to current commodity downcycle):

Click to enlarge
Energy Equipment & Services
The analysis above indicates MAIN's investments in the EES sector have outperformed the S&P Oil & Gas Equipment & Services ETF (NYSEARCA:XES) through the current downcycle. Taking a closer look at MAIN's EES portfolio, the balance of the underperformance vs cost can be sourced to MAIN's affiliate investment in Rocaceia, LLC (Quality Lease and Rental Holdings, LLC). MAIN's nearly $33 MM investment in secured debt ($30 MM) and preferred member units ($3MM) are marked at $0.3 MM as of 3/31/2016. The investment is on non-accrual status and is in Chapter 11 bankruptcy according to footnotes. Backing out the Rocaceia investment from the analysis above, MAIN's EES investments are marked above cost and have vastly outperformed the market.
Oil, Gas and Consumable Fuels
MAIN's investments in the OGCS sector have performed at the market when comparing the analysis results to the S&P Oil & Gas Exploration & Production ETF (NYSEARCA:XOP). Virtually all of the underperformance can be found in MAIN's Non-Control/Non-Affiliate portfolio. The primary culprits are in the table below.

Click to enlarge
MAIN's non-control E&P investments are of surprisingly low quality and the performance follows accordingly. Further, the collection of primarily second lien and unsecured debt is not consistent with MAIN's overall portfolio, which is heavily first lien. The saving grace here is that the investments are all debt instruments which would have priority in restructurings. Unfortunately, recovery is not always possible. LINN (NASDAQ:LINE)(NASDAQ:LNCO) energy's recent bankruptcy and restructuring plan has seen both unsecured AND second lien holders completely wiped out and converted to equity.

Click to enlarge
Broadening The Scope
The analysis thus far has been focused on MAIN's own energy industry buckets and classifications, however, other industry buckets may have significant exposure to the oil & gas sector but do not fall under the EES or OGCS classifications noted above. For instance, MAIN's investment in LF Manufacturing is described as "Manufacturer of Fiberglass Products" with direct end users in the oil & gas sector, in addition to agriculture, industrial, and aquaculture customers.
MAIN's Q1 2016 earnings call did see one question about ancillary exposure to oil & gas, though the question focused more on businesses that had customers who were employed by oil & gas companies, or regional risk, rather than businesses that had direct customers in the oil & gas space.
I took a dive through MAIN's investment disclosures, considering the company description provided by MAIN and researching the portfolio investment's websites for indications of exposure to the oil & gas sector, and created the table below divided into MAIN's Control, Affiliate, and Non-Control sections. The amount of exposure for each portfolio investment may vary and there may be some outside of my list that may deserve consideration, but this constitutes my best estimate.
Control Investments

Click to enlarge
MAIN's control investments with a level of oil & gas exposure make up approximately 28% of total control investments cost and 22% of fair value, which I would consider considerable exposure. MAIN is known in the BDC market as having a top of the line management team which evident as MAIN's control investments are marked at 44% above cost. MAIN's investments with oil & gas exposure are no different, marked at 13% above fair value in their latest filing.
Affiliate Investments

Click to enlarge
MAIN's affiliate investments with sector exposure are approximately 27% of the total affiliate investments cost and 19% of fair value; r a similar level of exposure as control investments. The disparity between affiliate cost and fair value is heavily impacted by the Rocaceia bankruptcy. Backing Rocaceia out, MAIN's affiliate investments with oil & gas exposure would be marked at 6% above cost, which compares to 13% above cost for MAIN's overall affiliate investments.
Non-Control/Non-Affiliate Investments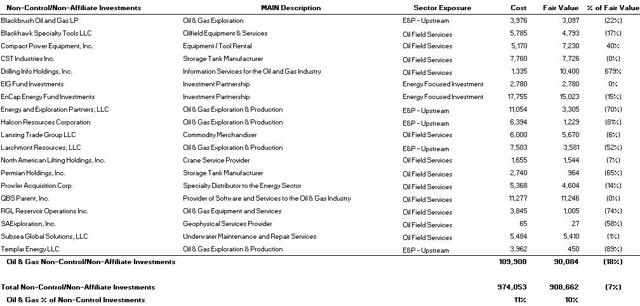 Click to enlarge
MAIN's non-control investments with sector exposure are approximately 11% of total affiliate investments at cost and 10% of fair value. Oil & gas weighted investments are less impactful to the group in total, but their performance has not been stellar. MAIN's E&P investments mentioned above are the primary source of the underperformance and mute the impact of some great successes such as Compact Power Equipment and Drilling Info Holdings.
Conclusion
Based on the analysis above, MAIN appears to have a large amount of exposure to the ailing oil & gas industry, whether directly or indirectly, making up about 18% of portfolio investments at cost and 15% of portfolio investments at fair value. But as the old adage goes, "it is not a loss until you sell it". MAIN street has a highly experienced and talented management team that has done a good job of selecting and guiding its control and affiliate investments with oil & gas exposure through the current industry downcycle.
Though the future of commodity prices is uncertain, the cyclical nature of the industry would forecast that prices will rise at some point in the future. MAIN's investments with oil & gas exposure are currently marked at 11% below cost despite a peak to current drop in oil prices of nearly 60% and are broadly outperforming the industry ETFs through the downcycle. MAIN's collection of sturdy energy investments stand to benefit greatly if or when oil & gas prices rebound.
Despite the industry exposure, MAIN is an overall well-diversified, internally managed investment vehicle that has proven itself to hold value even through the 2008 recession. Though the stated risks related to their energy holdings do exist, I believe MAIN has assembled a portfolio that can stand up to the pressures currently plaguing the industry. My personal views of MAIN as a viable long-term investment have not changed as a result of this analysis.
Disclosure: I am/we are long MAIN.
I wrote this article myself, and it expresses my own opinions. I am not receiving compensation for it (other than from Seeking Alpha). I have no business relationship with any company whose stock is mentioned in this article.