Masters of The Universe: Smart Money is Leaving Their Orbit
We are seeing a confluence of fund outflows from hedge funds and corporate bank private wealth/asset management units, which is occurring in concert with the fastest pullout from equity markets since 2011. Bank of America reported that US $44 billion fled markets in the past 5 weeks alone. This was likely influenced by a dismal 1Q corporate earnings season.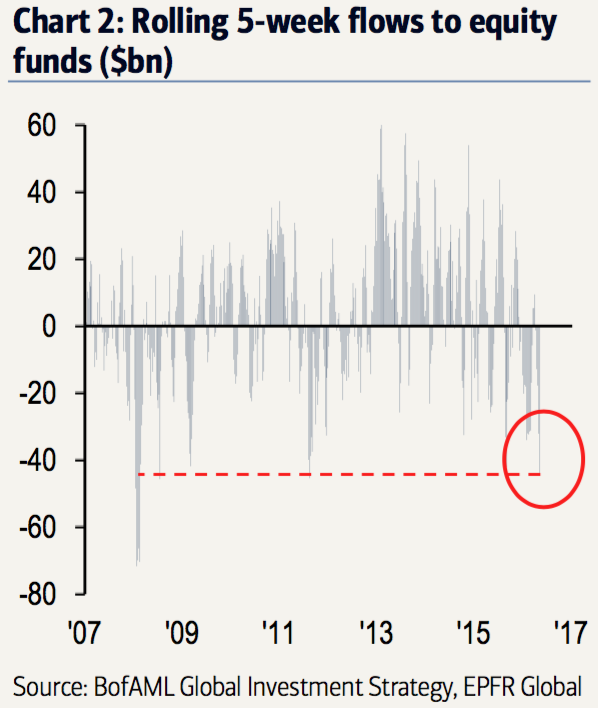 Roughly a quarter of this outflow went to safe havens in the form of bonds (US $3.5 billion), precious metals ($1.0 billion), and money market funds ($10 billion). With real interest rates in negative territory and treasury yields falling, we assess this pivot to safe haven assets to be a meaningful risk-off signal from markets.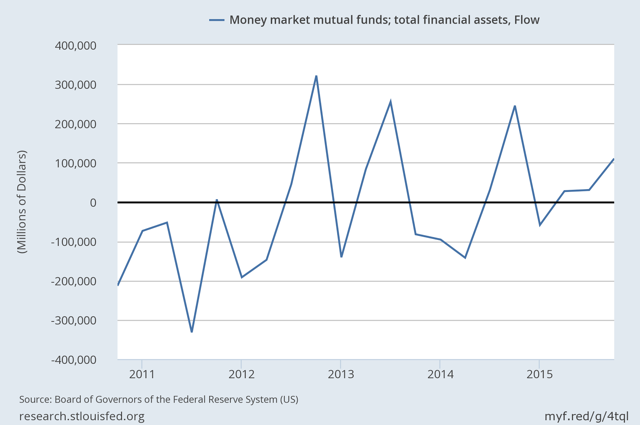 Further, over US $15 billion was pulled from hedge funds in 1Q 2016 alone. This is the biggest outflow since 2Q 2009 and illustrates investor discontent due in large part to underperformance (relative to index funds) from hedge funds headed by industry leading managers such as John Paulson, Bill Ackman, and Paul Tudor Jones.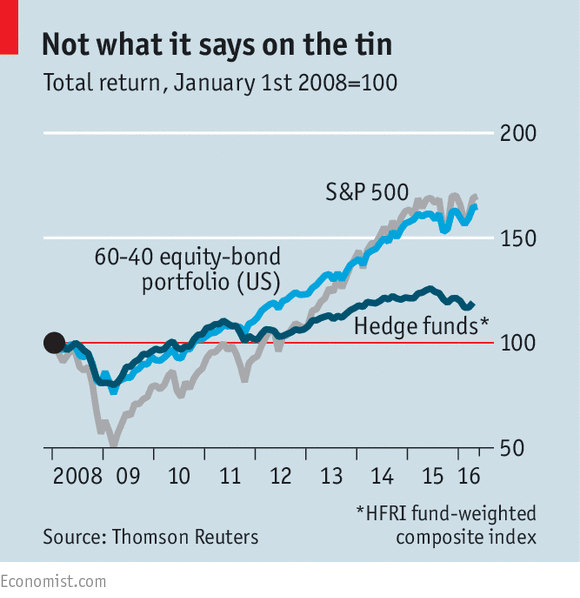 Institutional withdrawals from hedge funds by notable clients such as MetLife (NYSE: MET), AIG (NYSE: AIG), California Public Employees' Retirement System, Illinois State Board of Investment, and New York City Employee Retirement Systems are all signs that smart, prudent institutional investors are moving toward the exits. Paying premium fees without premium returns is hard to justify to institutional investors, especially for hedge fund managers finding it increasingly difficult to defend their reputation as the smartest guys in the room.
Private Wealth Management Trips in The Public Investing Square
Fund outflows from hedge funds do not seem to be making their way to the more staid private wealth management units at large corporate banks. HSBC (NYSE: HSBC) reported a nearly US $500M profit decline in its 2016 1Q private wealth management business. Similarly, UBS (NYSE: UBS), the world's largest private wealth manager, revealed its YoY wealth management profits were down nearly 25% in 1Q 2016. UBS also indicated nearly US $6 billion in net outflows from its asset management business during its 1Q 2016 earnings call. Although Morgan Stanley (NYSE: MS) trumpeted the success of its private wealth management business in its 1Q 2016 earnings, it still saw YoY profit declines.
Similar to hedge funds, the above examples indicate that private wealth and asset management units at global banks are also experiencing fund outflows and reduced YoY profitability. We interpret this to be the start of a broader problem for the money management industry (private wealth and hedge funds) as unsated investor demand for risk-adjusted returns will continue to push customers to exit with cash in hand.
The Weather Vane of The 1% Shows a Storm is Coming
A recent study titled "Who Sold During the Crash of 2008-9? Evidence from Tax-Return Data on Daily Sales of Stock" from the University of Michigan analyzed IRS tax returns to determine whether there was a correlation between wealth and the rate at which investors exited equities in 2008-2009. The study revealed data suggesting top income groups were responsible for a disproportionate amount of selling during adverse market events, such as the collapse of Lehman Brothers. The study controlled for the fact that wealthy investors hold more stock than less wealthy investors.
Assuming that the majority of customers for hedge funds and private wealth/asset management units are the wealthiest 1% of the population, we can conclude that the 1% has begun its flight from the market, albeit in a more orderly fashion than the 2008-2009 run for the exits.
While the current trend may be lacking a Lehman-esque catalyst to date, the simultaneous occurrence of outflows from the stock market, hedge funds and bank private wealth/asset management units suggest that the smart money is starting to leave the market in favor of low-risk, defensive positions. As the below graph illustrates, financial business are flowing into treasury securities despite falling yields. Even some hedge funds are fleeing to gold, which ironically is the same thing their former customers are doing, just less the industry standard 2 and 20 fee structure.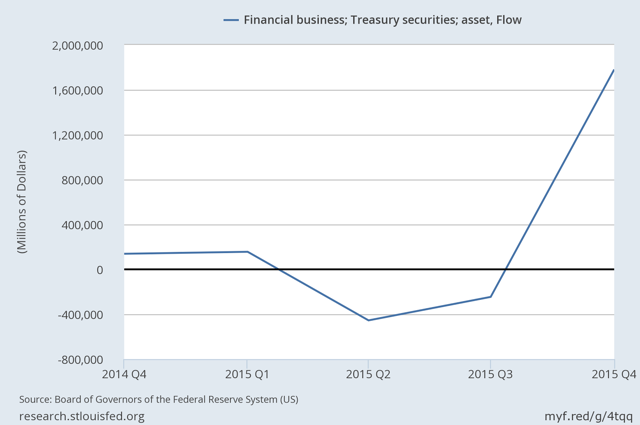 Our Take: Smart Money Has Sold The Markets; Outflows Will Intensify
It is notable that financial industry demand for US treasuries is increasing despite falling yields. While we understand a natural correlation exists between these data sets, this trend viewed in the context of broader outflows and business contraction occurring simultaneously at hedge fund, corporate bank private wealth management units, and the broader equity markets, indicate a strong risk-off sentiment is starting to take hold. The market's recent pivot to money market accounts and defensive asset classes suggests a barren landscape ahead for those searching for risk-adjusted yield.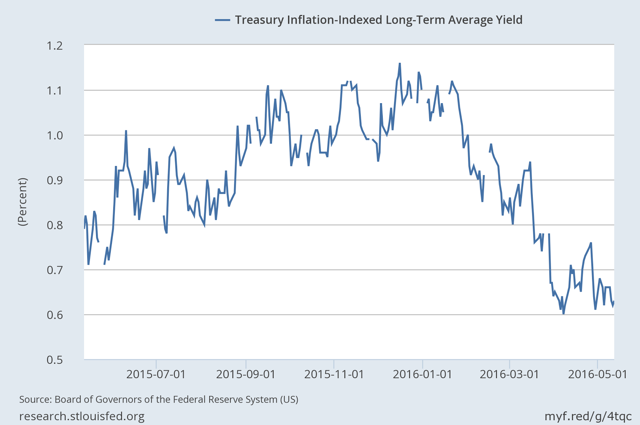 As noted above, if history proves to be a guide, we assess this may be the beginning of the smart money (wealthiest 1%) heading for market exits and we expect the flight to safety to intensify for the remainder of 2016.
Disclosure: I/we have no positions in any stocks mentioned, and no plans to initiate any positions within the next 72 hours.
I wrote this article myself, and it expresses my own opinions. I am not receiving compensation for it (other than from Seeking Alpha). I have no business relationship with any company whose stock is mentioned in this article.
Additional disclosure: This article is for informational purposes only.