Cisco Systems (NASDAQ:CSCO), the legendary data networking company that was one of the growth giants of the 1990s, reports its fiscal Q3 '16 financial results after the close on Wednesday, May 18, 2016.
Consensus expectations per Thomson Reuters are for $0.55 in earnings per share on $11.97 billion in revenue for expected year-over-year growth of 2% and -1%. (I could not find a gross margin estimate for Cisco -- last quarter's gross margin was 63.77%, the best print since April 2011.)
If the preview was stopped there for readers, that tells you most of what you need to know, given the longer-term expected growth in revenue and EPS.
Valuation compelling, catalyst unknown:
The one frustration with value investing is that readers and investors can get a compelling valuation, but often have to wait for a catalyst to drive earnings and revenue growth or P/E expansion.
With Microsoft, the catalyst came with the ValueAct stake, and the appointment of Satya Nadella as CEO.
Cisco got some attention when Chuck Robbins was appointed the new CEO and John Chambers assumed the Chairman role, so it is probably a little early to evaluate Chuck's influence.
However there is no question that Cisco's value is pretty compelling, at 10(x) subdued earnings growth for an expected 5% average EPS growth over the next three years, and 6(x) cash-flow ex-cash. 6(x) cash-flow and 7(x) free-cash-flow (both "ex-cash") might not be the rock-bottom valuation that many deep value investors like to see but for Cisco and technology, it is a cheap valuation.
Cisco's dividend yield is 4% as of this writing today. The Board just increased their annual dividend from $0.84 to $1.04.
The one wrinkle around Cisco's cash-flow and free-cash-flow valuation is that while free-cash-flow has doubled from roughly $5.2 billion to $11.1 billion in the last 8 quarters, a lot of it is due to declining capex, which has fallen from $7.3 billion to $2.67 billion as of Jan 31 '16.
Typically when I calculate "capex" for companies, I include acquisitions and Cisco has been a serial acquirer of a lot of small bolt-on technology companies over the last 16 years with not a lot of revenue growth to show for it. Even venture capitalists know that all you need is one out of 100 investments to hit a whopper and it makes up for a lot of misses, but while Cisco has been acquiring a lot of smaller companies, cash-flow growth has been pretty stable.
Where this seems to hurt Cisco is the stock option incentive calculation and insider selling by Cisco shareholders (presumably from companies acquired for stock).
Since the April '13 quarter, here is the 4-quarter trailing stock sales and ISO sales and the percentage of the share repurchase program that was required to absorb the shares):
TTM stk sales
TTM share repo

% insider sales absorbed

of share repurchase plan

1/16 q2
$1,555
$4,503
35%
10/15 q1
$2,048
$4,104
50%
7/15 q4
$2,016
$4,324
47%
4/15 q3
$2,438
$4,959
49%
1/15 q2
$2,232
$5,700
39%
10/14 q1
$1,816
$8,716
21%
7/14 q4
$1,907
$9,184
21%
4/14 q3
$3,198
$9,184
35%
1/14 q2
$3,523
$7,809
45%
10/13 q1
$3,665
$4,349
84%
7/13 q4
$3,338
$2,773
120%
4/13 q3
$1,193
$3,406
35%
Source: quarterly earnings reports, 10-Qs
TTM - trailing 12 months, same as 4-qtr trailing
stk sales is all insider selling of shares and ISOs
dollars in millions
Trailing-twelve months or 4-quarter trailing is used to smooth the numbers and eliminate lumpy quarters.
The point of all this is that for the last 3 years, the insider selling is absorbing an ENORMOUS amount of the free-cash-flow generated by Cisco.
I also wonder if this will ever stop.
You would think that since all the stock acquisitions haven't really moved the revenue needle after 15 years, maybe they should stop doing dilutive deals and let the share repurchase program actually help investors ?
The above table is exactly why ISO's and stock options are so roundly hated by diligent investors.
Since January '13, Cisco has bought back roughly $18 billion in outstanding shares, and -- using the above table -- an average of 50% or $9 billion of those buybacks were used to offset insider selling.
If that $9 billion used to offset selling (using an average of $25 per share) would have been used as a straight reduction of outstanding shares, the result would be a share count today of 4.737 billion shares rather than the 5.097 billion as of Jan '16, which would have been an additional $0.05 or a nickel per share in higher EPS by my math.
(Readers weigh in if $0.05 a quarter or a $0.20 a year in EPS matters that much for Cisco.)
Conclusion: Cisco remains more value-trap than value today, although like anything else in the stock market, the world is constantly evolving. What breaks Cisco out of this trading range, I can't speculate on. For those income-oriented investors the 4% dividend yield is decent and probably better than more corporate bond yields, so patient investors do get rewarded.
Readers will likely give their thoughts on the share repo and the insider selling, but maybe the better question is whether Cisco should be doing stock acquisitions, which seem to drive little overall revenue growth.
Morningstar values Cisco near $27, while my own model is closer to $24-$25, or roughly putting the stock at "fair value" given where it is trading today.
One client owns the stock from a purchase in 1997, with a cost basis near $9.50 per share from January 1998.
Technical analysis: Here is the longer-term chart of Cisco:
The trick to trading Cisco the last 16 years has been to sell the high $20s, $30 area, and buy the low $20s, like last quarter.
Until the stock breaks this range, that has been the game plan.
Technicians who are looking at this narrowing wedge on the chart, probably expect the stock to break out above $30 at some point.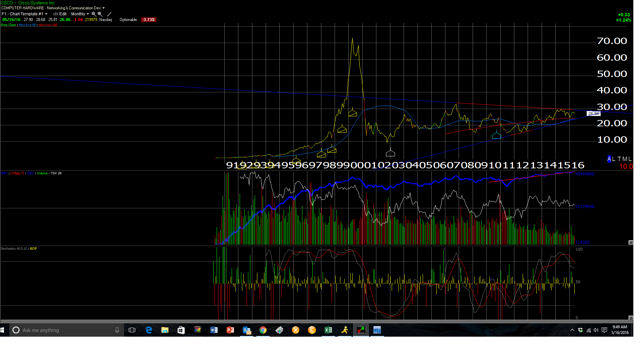 Click to enlarge
Disclosure: I am/we are long MSFT, CSCO.
I wrote this article myself, and it expresses my own opinions. I am not receiving compensation for it (other than from Seeking Alpha). I have no business relationship with any company whose stock is mentioned in this article.