In a presentation made at the Ira-Sohn Investment Conference in 2015, Bill Ackman of Pershing Square Capital Management introduced the concept of an acquisition platform business.
These rare companies execute ongoing value-enhancing acquisitions and exhibit shareholder-friendly capital allocation, delivering outsized shareholder returns as a result. Ackman gave the example of Jarden Corporation (NYSE:JAH), a consumer products platform, which, through periodic shareholder-value focused acquisitions, delivered a 43x return over a period of 14 years. Because platform value is not a tangible asset, it is often hidden, and undervalued by the market, allowing these companies to remain undervalued as they compound shareholder value.
Glu Mobile (NASDAQ:GLUU) is a prime example of a platform acquisition company, which is currently priced at a negative platform value, despite its track record of accretive acquisitions. In my opinion, Glu is an unequaled opportunity for long-term investors, as it moves to become the premier platform for mobile game studios.
A History of Value-Creating Acquisitions
Glu Mobile is engaged in the business of acquiring mobile app games and their development teams, and trying to enhance their value.
After a well-timed IPO in early 2007, Glu Mobile entered the mobile game development space with an acquisition of Chinese mobile game producer MIG Information Technology Co. ("MIG"). In September 2007, Glu Mobile announced the launch of its first mobile game developed by that studio, Asteroids.
The next three years was a quiet period for the company as it scrambled to deal with severe operating losses in its legacy business during the recession, and the stock reached a low of 0.25/share. The company barely survived by selling stock to raise cash. In 2010, Niccolo de Masi came on board as CEO, and embarked on a strategy to grow the mobile game business using value-creating acquisitions.
Right now, its top franchises by revenue were all developed by acquired development teams, including:
Kim Kardashian: Hollywood (2015 Revenue - $71.8 Million)
Developed by Blammo Games, purchased in 2011 for $4.6 million (as 1 million shares of stock), plus performance-based bonuses up to 3.3 million shares.
Diner/Cooking Dash (2015 Revenue - $21.9 Million)
Developed by PlayFirst, purchased in April 2014 for $12 million all-stock deal, plus $3.5 million of assumed debt.
Racing Rivals (2015 Revenue - $40.0 Million)
Developed by Cie Games, purchased in August 2014 for $100 million in a 70/30 stock/cash deal.
Management has made several smaller acquisitions over the years, including Griptonite Games. Although it is difficult to quantify their impact, overall company revenues suggest high returns on investment.
Examining Management's Deal Track Record
Blammo Games and PlayFirst were resounding successes, delivering revenues many times in excess of their purchase prices.
Management may have overpaid for Racing Rivals with a price of 2.5x 2015 revenue, as the mobile games market began to heat up in September 2014 (for a myriad of reasons, including Microsoft's (NASDAQ:MSFT) $2.5 billion purchase of Minecraft). However, using the company's inflated stock (over $5 at the time) to fund 70% of the purchase price made the deal more palatable for shareholders over the long term. Racing Rivals appears to be simply an average deal in a series of good ones. Glu paid a premium to purchase the market leader in the racing games segment, with a proven monetization capability, which should continue to provide value for many years.
Glu made one poor acquisition, GameSpy Technology, in Q3 2012. The division was later shuttered in 2014. While the transaction price was not disclosed, financial statements suggest the outlay was under $7 million.
Glu's most recent investment in $7.5 million of convertible notes in QuizUp creator Plain Vanilla (along with an option to acquire) is difficult to evaluate as the valuation was not disclosed. However, the development of an NBC show around the game is promising. Given that the company had previously raised ~$30 million, I expect the purchase price to be $60-100 million, in which case, it would make sense to exercise the option only if the game can be successfully monetized.
Glu's Platform
In his presentation, Ackman lays out several keys to an acquisition company's success (pages 12-13). Glu Mobile credibly fits the framework of a successful platform business. According to Ackman, the following factors distinguish a successful platform model from a poor one:
Has a competitive advantage in cost structure or strategy.
Gluu's efficient scale allows for centralized functions and lower costs over smaller studios.
The company's strategy of adding celebrity co-branding to its games is a non-replicable competitive advantage, as Glu typically signs five-year celebrity contracts, and is the first to market with this strategy.
Does not rely on overvalued equity as an acquisition currency.
While true for the Racing Rivals acquisition, Glu Mobile today has $159 million in cash on the balance sheet, thanks to Tencent's (OTCPK:TCEHY) 2015 investment. This frees Glu from relying on the capital markets for acquisition financing.
Focus on shareholder value creation not reported in GAAP earnings.
Arguably, the company could benefit from a less fickle shareholder base, which has resulted in substantial stock volatility. But with negligible GAAP earnings to begin with, management is free to focus on long-term value creation.
The acquisition market is not competitive.
Glu Mobile's primary competitors for deals are venture capital investors hoping for the next Minecraft or CandyCrush, but venture capital competition is falling off in an increasingly difficult market. Glu's targets are too small to be of interest to EA (NASDAQ:EA), Activision (NASDAQ:ATVI), Zynga (NASDAQ:ZNGA), and others.
Glu exists in a market sweet spot, where small, bolt-on acquisitions can move the needle for the company, and can be integrated into its international distribution infrastructure.
Capital allocation and acquisitions are a core competency and a significant focus of senior management and the board.
De Masi's capital allocator mentality is apparent in the way he discusses acquisition strategy. From the Q1 2016 earnings transcript: "Our industry is in the process of what we believe will be 24 months of considerable consolidation. Venture capital for gaming startups has dried up, leaving a handful of larger operating companies including Glu as increasingly the only capital providers. As a result of this phenomenon, and we've been cautious about consummating large M&A opportunities in the short-term, as we believe the prices may come down further."
Does not overpay for acquisitions to generate growth.
De Masi's Q1 earnings call comments about waiting for prices to come down in the current market, the company's past history of acquisitions, as well as a the structure of the QuizUp deal (an option rather than outright purchase) suggests that management is sensitive about price paid.
Management must be able to successfully integrate and achieve cost synergies.
Judging from the execution problems (buggy releases) which plagued Katy Perry in 2015 and Kendall & Kylie in 2016, this area seems to need the most work. De Masi seems more a capital allocator than an operator, preferring to delegate management of operations to Nick Earl, President of Studios, and Tim Wilson, CTO (hired October 2015). The recent hire of Tim Wilson may be a step forward for studio execution, but has not had enough time to show results.
Large relative size of the market opportunity.
App store revenue in the Android and iOS app marketplaces is growing by 30% annually. Mobile advertising spend is rising just as fast (~20% of Glu's revenue comes from advertising). Tencent's motivation for acquiring 14.6% of Glu at near the stock's peak value of $7/share in Q3 2015 was access to this growth market.
Valuation/Margin of Safety
At $215 million of revenue (the low end of the company's conservative guidance range for 2016), the company is free cash flow positive. Subtracting $170 million (Q2 2016 guidance for cash balance) from the market cap implies that Glu's current franchises are worth around $140 million (under 0.6x price to sales). This is far below any reasonable multiple for mobile game franchises, and what the properties would be worth in sale or on a discounted cash flow basis.
Backing out the cash position of Zynga in a similar way, for example, results in a multiple of 1.5x revenue for ZNGA's operating business, and that is for an online gaming business with revenue in long-term decline.
Some recent notable mobile app acquisitions have come in at much higher multiples:
1. Microsoft - Mojang ($2.5 Billion - 6x revenue)
2. Activision - King Digital (BATS:KING) ($5.9 Billion - 3x revenue)
3. Glu Mobile - Cie Games ($100 Million - 2.5x 2015 revenue)
Glu's app franchises are profitable standalone assets. Backing out $10 million from the $70 million R&D budget or from the SG&A budget (representing R&D spend for startup costs of new franchises, or spending on corporate HQ), that $10 million flows directly to the bottom line and give these franchises an 8% FCF yield.
Glu's properties, therefore, are on sale for a value price. They would sell in a fire sale for at least 1.0x revenue, or at approximately $200M, an increase of 43% from today's implied price.
Are the shares discounting the value of cash on the balance sheet? This implies that management will squander the cash and the company deserves a negative platform value. This seems wrong given Glu's past history of acquisitions. In fact, the cash may have an extremely positive return when deployed in an accretive acquisition strategy, as Glu Mobile has done in the past.
The Tencent Put
Further enhancing margin of safety is major shareholder Tencent Holdings, the largest and most successful mobile gaming company in the world, with a 21.4% stake in Glu. Investors today can benefit from Tencent's due diligence, with the opportunity to buy in at 70% discount of TCEHY's original purchase price (by enterprise value), and into a company with a much stronger balance sheet.
In February, Tencent demonstrated it was willing to purchase more shares as the price dipped into the $2-3 range. Tencent has too much money at stake to let Glu Mobile fail repeatedly through poor execution or making poor acquisitions. Tencent's stake could be a prelude to a takeover or provide a base for shareholder activism, including management changes, should results continue to disappoint.
Mispricing - How Did We Get Here?
Unrealistic expectations for the company, followed by selling from short-term-oriented shareholders and short-sellers, have pushed Glu's stock price far below its value. In June 2014, it seemed that Glu had achieved business-altering success in Kim Kardashian: Hollywood, and soon Glu had unveiled a new strategy of celebrity partnerships designed to replicate the success of KKH. The company seemed to be firing on all cylinders, and future earnings from announced celebrity partnerships were baked into the valuation. In Q2 2015, the stock received an investment by Tencent Holdings and the stock briefly peaked at $7/share.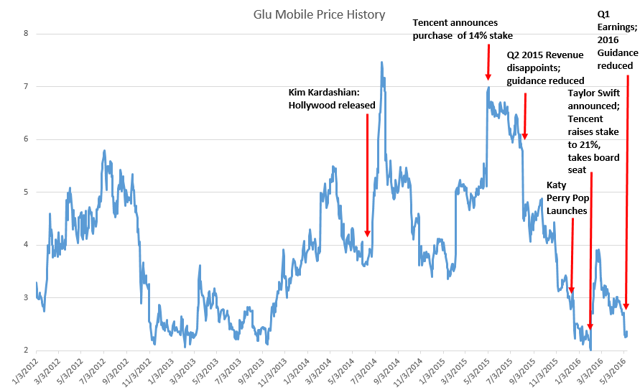 However, in Q3-Q4 2015, KKH revenue began to shrink. In Q4, the company released its first major celebrity game since KKH, Katy Perry Pop. This release fell absolutely flat, with minimal downloads, a buggy release, and poor customer retention. This was followed by a lackluster release of the Kendall & Kylie Jenner game in February 2016, which posted solid download numbers (~9m), but disappointing revenues. This threw expectations for a "celebrity annuity" out the window, and bulls capitulated, sending the share price plunging back to $2. In March, the stock price rallied almost to $4 on the announcement of a game with music star Taylor Swift, but the stock quickly fell back to under $2.50 after announcing disappointing guidance for 2016. The current price is an overreaction to missed expectations, and ignores the underlying value of Glu Mobile's businesses and acquisition platform.
Upcoming Catalysts
2016's release cycle is one of the most robust Glu Mobile has ever had:
Britney Spears American Dream: May 21st 2016
Gordon Ramsay Dash: June 2016
WeFire/Frontline Rivals: Mid-2016 (Can be considered a new franchise - Sustained top 10 grossing ranking in China and other territories in Asia)
Nicki Minaj: Q3 2016
Taylor Swift: Q4 2016
TBA Game: Q4 2016
New celebrities signed but not announced (300M+ social media followers) - important as big announcements could have a positive effect on the stock, as Taylor Swift announcement did in February.
Gordon Ramsay's game, which is going to rely on the time-tested Diner Dash model, strikes me as a great opportunity. Additionally, WeFire could be Glu's biggest hit ever if success in Asia can translate to Western markets. This game is a shooter with social aspects.
WeFire (click to enlarge)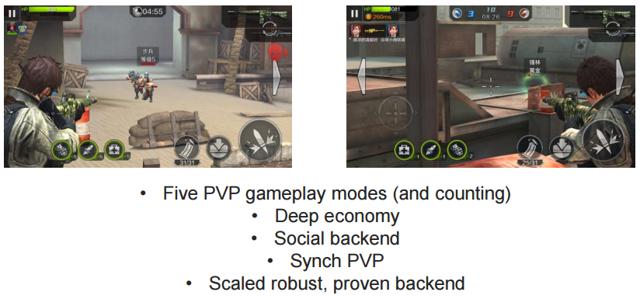 Tencent or another player may also launch a bid to acquire the company, given Glu Mobile's successful franchises and spurred by the extremely low valuation, not to mention the possible synergies of consolidating Glu's SG&A. Glu is perhaps the only pure player in the mobile games space with any scale, and its celebrity partnerships may been seen as strategic assets to the right buyer.
Conclusion
Any price below $3 per share is an attractive entry point for the stock, which would value the operating business at around 1.1x revenue and the cash at par. The backing of Tencent Holdings, as well as an incredibly low valuation of under 0.6x enterprise value to revenue, protects investors on the downside.
If any one of the upcoming release cycle is a hit, the stock should quickly rebound as confidence in the stock is restored. However, Glu's opportunity is much larger than a short-term turnaround. Glu is a unique pure-play on the rapidly growing mobile games industry, with significant opportunities to grow incrementally through acquisition. Glu Mobile may be an unequaled opportunity for long-term investors, as it moves to become the premier platform for mobile game studios.
Disclosure: I am/we are long GLUU.
I wrote this article myself, and it expresses my own opinions. I am not receiving compensation for it (other than from Seeking Alpha). I have no business relationship with any company whose stock is mentioned in this article.
Additional disclosure: Postings on this site are my own and do not necessarily represent my employer's positions, strategies, or opinions.