For a little while now we have wanted to get a piece of Starbucks (NASDAQ:SBUX), but always felt it was riding a little too high than what could be considered a decent entry point. But the almost 11% drop in its share price during the last 6 months has given us now the opportunity to get a piece at what we deem to be a great price.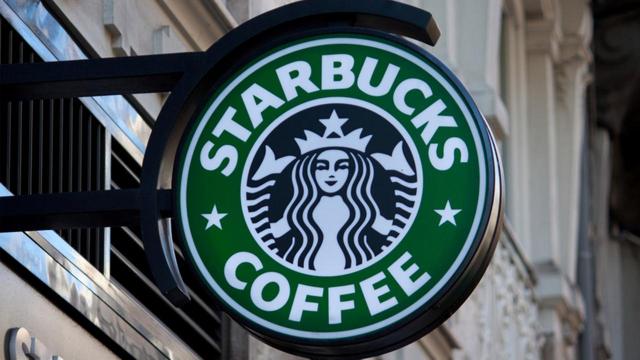 Click to enlarge
We feel the drop in Starbucks' share price has created a great entry point, especially those willing to hold onto the stock for a few years at least. There are few companies that command such loyalty and repeat visits from customers as Starbucks. This has been the case in the past, it is the case today, and we expect it to still be the case years into the future considering the strong appeal it has with younger demographics.
Starbucks may have 23,921 stores worldwide, but it still has a long way to go in our opinion. China will of course take focus, but there are opportunities across the world for everybody's favorite coffee shop. Starbucks has stated its plan is to open 500 stores per year in China for the next five years. This is on top of the 2,000+ stores it already has in the nation spread across almost every single province. As the China-Asia Pacific segment currently contributes $2.4 billion, this level of growth should be a big boost to the segment.
Although economic data in China has been less than impressive in recent months, Howard Schultz has stated that he has no concerns. After a trip to China earlier this year he stated that he was more bullish than ever. He believes Starbucks will have an addressable market of over 600 million consumers in six years time as the Chinese middle class continues its rise. Some investors may wonder what is next, though. China still has a huge amount of growth left in it, but it cannot grow forever. When it becomes saturated the company will have to look elsewhere for growth.
For this reason, we believe the South African expansion is a great move and one filled with a lot of promise. There are over 200 McDonald's (NYSE:MCD) stores in South Africa, and we see no reason why Starbucks couldn't grow to that size in the country. While this will be a boost to the company's growth in the short to mid-term, it is the coffee behemoth's positioning in the region that excites us most. When growth in Asia starts to slow, Africa could well be the next big market that fuels growth through to 2030 and beyond. As you can see below, Ernst Young forecasts strong GDP growth in much of Africa which should result in long-term opportunities for companies such as Starbucks and McDonald's.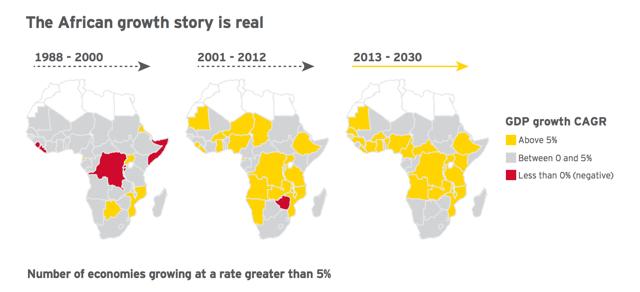 Click to enlarge
(Source: ey.com)
This is a very optimistic view on how things will unfold and we have to acknowledge that there are of course a lot of different ways in which the African story could go. We see a huge amount of potential in the continent, but for that potential to be realised a lot of hard work, reforms, and peace treaties will have to be undertaken by governments. Which is far easier said than done. But if it is done, we feel it is fair to say that companies like Starbucks could benefit greatly.
Finally, another reason we feel Starbucks is a great long-term investment is its dividend. In our eyes Starbucks is a growth stock today, but we expect when its growth does eventually slow (far into the future) we would expect it to become a key dividend payer. By investing at this point and holding for the ultra long-term, income investors will have unthinkably strong yields on their original investment.
But what makes today's price a good price? Considering its long-term growth prospects and above average same-store sales, we believe a price-to-earnings of 33 is more than justifiable.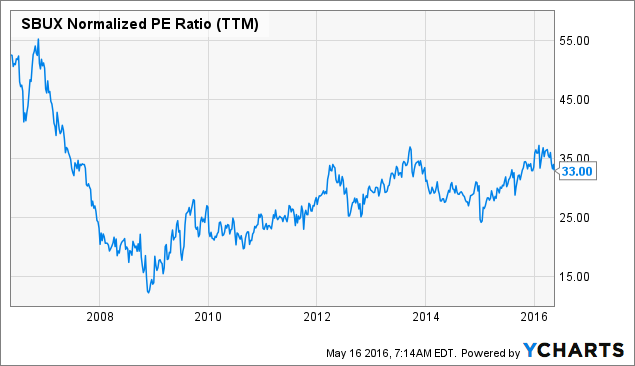 Thanks to continued strength in the domestic market, its growth in China, and a weaker US dollar, we are expecting full year earnings per share to be $1.90, up a solid 20% year-over-year. On a price-to-earnings ratio of 33 that gives us a target price of $62.70, which would mean a return of 12.3% from the price the stock closed at last week. It is worth noting that our target price is still some way under the consensus target price for Starbucks of $68.13. The potential for strong gains this year, makes it all the more worthwhile making a long-term investment today.
As far as we are concerned, Starbucks has a place in all portfolios. The stock may have taken a little bit of a hit recently, but we have no doubt that these losses will be retraced in the near future. Thanks to China and Africa, the Starbucks growth story could continue for decades. This is something we want to be a part of.
Disclosure: I am/we are long SBUX.
I wrote this article myself, and it expresses my own opinions. I am not receiving compensation for it (other than from Seeking Alpha). I have no business relationship with any company whose stock is mentioned in this article.