Impac Mortgage (NYSEMKT:IMH) recently reported its first-quarter 2016 earnings. This means it is time to revisit the analysis. The company reported what appears to be a lousy diluted EPS of just $0.08. However, as always, there are layers of the earnings to unwrap. Patient investors may want to read on from here.
The bottom line on the earnings analysis is this, operating earnings were actually $7 million. That's about 57 cents in operating earnings per diluted share. Why does this matter? This number essentially excludes the costs of the CashCall acquisition, which will be completely phased out of the earnings statement by 2018. In fact, the total payments of fixed and earn-out cost were $6.6 million. This is $6.6 million that will eventually end up as earnings per share. When valuing the business, it should be included in earnings.
Another factor that presents an obstacle for proper valuation is the change in fair value of mortgage servicing rights (MSRs). In this case, the drop in interest rates took several million in value away from MSRs. Some of this value will be recouped if rates rise, but not all.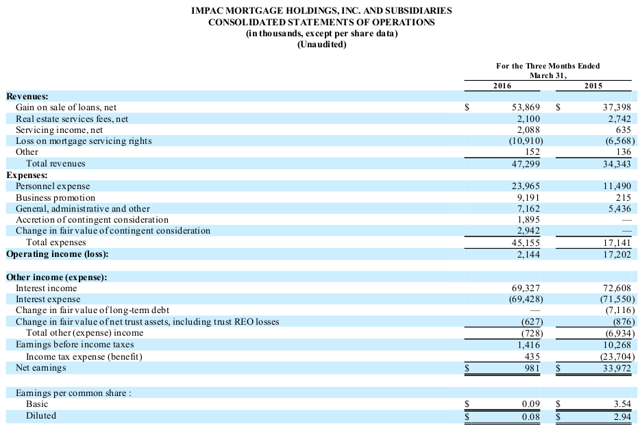 Click to enlarge
One point of concern for many investors was the firm's quarterly revenue. Last year, the company acquired CashCall and that acquisition significantly boosted revenue and earnings for the quarter. So, it appears to be a welcome sign to see that total quarterly revenue grew from $34.3 million a year ago to $47.3 million in 2016. However, in this case, the revenue from CashCall was actually reported net of expenses for the first-quarter income statement. If comparing to the second quarter of 2015, revenue and personnel expense are actually flat.
Revenue is driven by several factors, one of which is sales volume. In this case, origination volume dropped 3% versus last year.

Click to enlarge
So, while volumes actually dipped versus the prior year, the mix of loans is becoming more favorable. As you can see, it is still focused primarily on refinance activity, but this is partially due to rates being near historic lows. Purchase money mortgage originations are slowing, becoming a more meaningful amount of the total.

Click to enlarge
Additionally, the company is finally issuing more of the iQM loan product, formerly known as AltQM. These loans carry above-average credit characteristics (740 average FICO, $420,000 amount, and 63% LTV). The loans have a higher margin because they are non-conforming. While they only originated about $75 million during the first quarter of 2016, the pipeline of iQM has grown to $125 million (at the time of the earnings call). In 2016, the iQM product could represent 10% of all volume.

Click to enlarge
The company is also creating more loans from the retail channel than the prior year. This indicates that the CashCall acquisition is reaping rewards. Activity in the Wholesale and Correspondent divisions took a large hit at the end of 2015, as TRID regulations affected activity across the sector.

Click to enlarge
Speaking of TRID, the first quarter of 2016 may have suffered a bit of a hangover from TRID regulations implemented at the end of 2015. TRID regulations added complexity to the loan origination process, slowing down everything from start to finish. In some cases, it was reported that other firms took large losses on loans that missed the mark due to TRID.
Earlier this year, during the year-end conference call, the company disclosed its monthly origination volume. In January and February, the volume was $500 million and $700 million, respectively. This indicates that the volume accelerated to more than $1 billion at the end of March. Further, throughout the period the pipeline grew from $568 million to $768 million, to $790 million, to $940 million, in each month through April.
This brings me to the possibly the biggest indication that Impac is turning a corner, warehouse lines of credit. In the past, expansion of the warehouse lending lines of credit has been a precursor to a surge in profitability and revenue. At the end of March, the company was actually pushing past its borrowing limits on at least one repurchase agreement. This agreement was amended and the maximum borrowing capacity was increased through March 2017. The company's maximum borrowing capacity is now $800 million.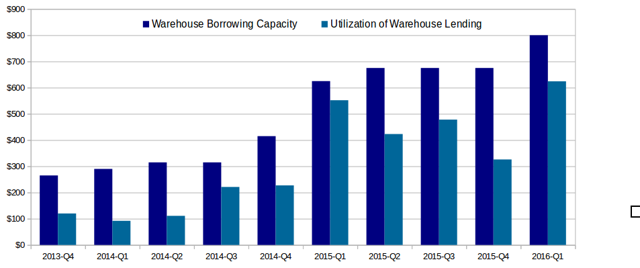 Click to enlarge
In comparison, at the end of the first quarter 2015, the maximum borrowing capacity was $625 million, and the company was utilizing $552 million of that amount. So, utilization of the warehouse lines of credit is actually 13% higher than the same time last year. Each time the company expands its warehouse borrowing capacity, there is a surge in origination volume. This indicates that the company may eclipse the $2.6 billion in loans made during the second-quarter 2015. That's why it should do at least $2.6 billion in total mortgage originations in the second quarter of 2016.

Click to enlarge
If you haven't realized it, the company is headed into the second quarter with a significant amount of sales momentum and this isn't just a seasonal fluctuation. In comparison to last year, there is organic growth in the retail business.
So, why is the common and preferred share price weak? Here are several reasons.
Markets are usually quite reactionary. In this case, the stock is stuck in a pattern. Each quarter, the shorts always seem to cover a bit headed into the earnings release. Then, they take a new short position at a higher price point. If the earnings results are short of amazing, then shorts control the price because there isn't a rush of buyers to buy a stock with GAAP EPS of just $0.08 (even though the value of the earnings is much higher).
Impac announced that it issued some new shares at $13.85 through the ATM mechanism. While it only sold 155,000 shares, the action of selling those shares at a depressed share price set a short-term ceiling on the stock price. The main reason for issuing the shares was the quickly dwindling cash balance, which is now becoming depleted for a good reason. The low interest rate environment is negatively affecting the value of MSRs. So, rather than sell them, the company is retaining those servicing rights and that requires cash.
There are also high expectations for origination volume. During the first-quarter conference call, the management team mentioned $1 billion/month in origination volume for 2016. Meanwhile, the company showed a year-over-year drop in sales volume and the origination volume was short of that $1 billion/month mark. It appears the weakness is coming from the correspondent and wholesale divisions.
It hasn't fully utilized its Deferred Tax Assets (DTA). The company previously recorded enough of the DTA to offset profits for just two years of operations. This leaves $266 million of the DTA with a valuation allowance ($21.69 per common share). This asset can offset up to 20 years of profitability. If profits are reasonably certain, then a larger portion of the DTA should already be recognized. Not recognizing the DTA indicates that future profits may be uncertain.
In a change of strategy, we also learned for the first time that the company would not be pursuing consumer lending. This change in direction can best be summed up from a recent blurb in Inside Mortgage Finance about M&A activity in the mortgage sector:
What are mortgage call-center operations worth? We've heard scattered reports that two such firms are for sale. IMF will be exploring the matter further next week…

Impac Mortgage executive Joe Tomkinson said during the nonbank's recent earnings call the company has it ears open for acquisitions. "We always looking for opportunities," he said. "I recall a couple of years ago, I had mentioned in one of the calls I had a couple of tricks up my sleeve, and then we purchased CashCall, which was a very fortuitous purchase. So I'll just repeat it again. I have a couple of tricks up my sleeve, and I'm looking at some very good opportunities."
In summary, for the common and preferred stocks to appreciate in value, several events could be a catalyst.
Impac could make an acquisition, with a similar structure to the CashCall deal. This limits dilution and increases the likelihood that it activates the DTA.
The balance sheet should be cleaned up. This would include recognition of the DTA, reinstatement of preferred dividends, and full write-up of the long-term debt.
Follow-through on sales volume momentum headed into Q2, which would push operating earnings.
Based on the above catalysts, Impac could soon have book value per common share of $25.59. That's an adjusted common book value of $313.9 million. This includes current equity book value of $138 million, plus deferred tax asset valuation of $266 million, less the preferred stock liquidation value of $51.7 million, less the write-up of long-term debt of $ 38.4 million.
Additionally, further delivery on operational goals would indicate the company can sustain earnings of $30 million to $40 million per year. This is a range of about $2.44 EPS to $3.26 EPS. So, at an earnings multiple of 10x, the price target remains near $25 per share.
Disclosure: I am/we are long IMH.
I wrote this article myself, and it expresses my own opinions. I am not receiving compensation for it (other than from Seeking Alpha). I have no business relationship with any company whose stock is mentioned in this article.
Additional disclosure: Long preferred primarily, with some common exposure.