Wells Fargo (NYSE:WFC) is widely regarded as a top big bank stock because of its above-average dividend yield and dividend growth over the past several years. Wells Fargo recently raised its dividend, although it seems investors were disappointed by the 1% increase. It's a fair reaction, as a paltry 1% hike doesn't even keep up with inflation. Plus, Wells Fargo managed a 7% dividend increase the year before. And, Wells Fargo stock has under-performed the S&P 500 over the past one year, which means investors could use a good size dividend raise to keep morale up.
Add it all up, and it's not surprising to see some disappointment over this year's increase. But in this case, Wells Fargo's seemingly disappointing raise could simply be a timing issue. Based on some interesting language used in the press release announcing this year's dividend increase, Wells Fargo could really be signaling that it's preparing to raise its dividend again, perhaps within the next quarter or two.
Here's why I think there could be more to Wells Fargo's dividend raise than meets the eye.
Where's the Beef?
Before the recently declared dividend, it had been one full year since Wells Fargo's last raise. The company typically increases its dividend for the May declaration, meaning it was time for another increase. Investors surely were looking forward to a decent increase, since the company has drastically improved its financial position in recent years, and the U.S. economy and financial system remain in good shape.
Last year, Wells Fargo generated $86 billion of revenue and $23 billion of profit. Revenue and earnings per share increased 2% and 1%, respectively, from the prior year. Its return on assets was 1.32% while return on equity was 12.68%. The major contributors to Wells Fargo's strong earnings were primarily an improving loan and deposit portfolio.
Its solid results continued into 2016. In the first quarter, Wells Fargo managed 4% year-over-year revenue growth, while earnings declined 4% year over year to $0.99 per share. Still, the company beat expectations on both revenue and EPS. Moreover, Wells Fargo also exhibited strong growth in loans and deposits, which were up 7% and 4%, respectively. In the first quarter, Wells Fargo had a satisfactory 10.6% common equity Tier 1 ratio.
Over the past year, Wells Fargo hasn't reported much growth, but its fundamentals remain strong. The company is still very highly profitable and is one of the best brands in the banking business.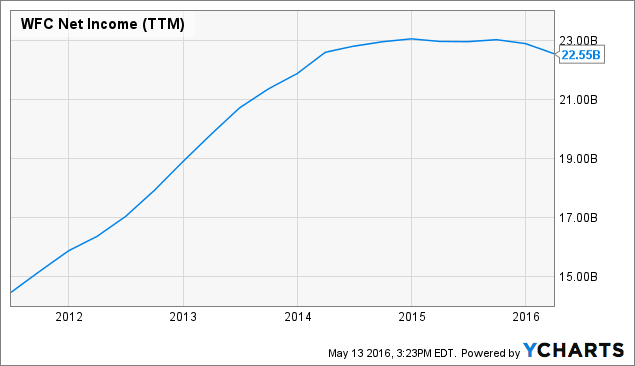 This is why some level of disappointment over Wells Fargo's 1% dividend raise is reasonable. On the surface, there seems to be little justification for such a modest increase. Wells Fargo earned $4.15 in diluted EPS last year. The new annualized dividend payout will be $1.52 per share, which means even after its dividend hike, Wells Fargo's dividend payout is 36% of its 2015 earnings per share. That is a very low payout ratio for a company with as high profitability as Wells Fargo.
But I don't think management is being this conservative based on fundamentals. Across several fundamental metrics, a higher raise is warranted. This is why I'm inclined to think there is more to this story than just what's on the surface.
Take Your Cues From the Press Release
Notably, Wells Fargo used different language in this year's press release than it did last year. From this year's release, this is the language that sticks out to me:
This dividend increase for the second quarter of 2016 was part of the company's 2015 Capital Plan. The Federal Reserve advised Wells Fargo in March 2015 that it had no objection to its 2015 Capital Plan which covers the quarters through the end of June 30, 2016. Wells Fargo submitted its 2016 Capital Plan on April 4, 2016, and it is currently under review by the Federal Reserve.
When Wells Fargo issued last year's press release announcing the dividend, it mentioned the 7% raise in the context of the Federal Reserve approving its 2015 plan by the time the dividend was due to be increased. This time around, Wells Fargo had not yet received final review by the time the dividend increase was announced. This is important, as it could be an indication to shareholders that the 1% raise was only a temporary measure. By increasing its dividend in April, the company keeps on schedule as an annual raiser, with the possibility of a more substantial raise to come once the Federal Reserve concludes its review of the 2016 capital program.
This could be evidence that Wells Fargo may increase its dividend again soon, once its 2016 capital plan is reviewed, and assuming it receives a favorable result. Prior to the raise, I was looking for Wells Fargo to increase its quarterly dividend to around $0.40 per share. That would have been a 6.7% increase, and more in line with the company's improving fundamentals. That's why the 1% increase caught me by surprise and initially looked like a dud. But I'm reserving judgment until Wells Fargo gets its 2016 capital plan reviewed. If everything looks good, the disappointment may be premature, and Wells Fargo might get to $0.40 in 2016 after all.
Disclaimer: This article represents the opinion of the author, who is not a licensed financial advisor. This article is intended for informational and educational purposes only, and should not be construed as investment advice to any particular individual. Readers should perform their own due diligence before making any investment decisions.
Disclosure: I/we have no positions in any stocks mentioned, but may initiate a long position in WFC over the next 72 hours.
I wrote this article myself, and it expresses my own opinions. I am not receiving compensation for it (other than from Seeking Alpha). I have no business relationship with any company whose stock is mentioned in this article.