Natural gas (NYSEARCA:UNG) prices are currently a bit lower as of this morning's trading.

Click to enlarge
As we've said many times before and in our recent article, natural gas prices will likely remain range-bound until the end of the shoulder season. Current storage levels are high, so any sign of bearish weather forecast will immediately eliminate any previous price increase.
Genscape, an industry consultant, said in a Monday morning report that, "Demand will remain weak on a national basis this week as Lower 48 population-weighted temperatures run well below seasonal norms through Friday." Genscape's meteorologic team's forecast expects Lower 48 cooling degree days will average -34.1 today versus the normal of +10.4. This is the result of cooler than expected weather leading to less cooling demand.
Near term, prices could get pressured and we remain firm that prices should be range bound.
Gas-Equivalent Rig Count
Baker Hughes (NYSE:BHI) reported rig counts on Friday. The net result was a decline in gas-equivalent rig count of 1.50.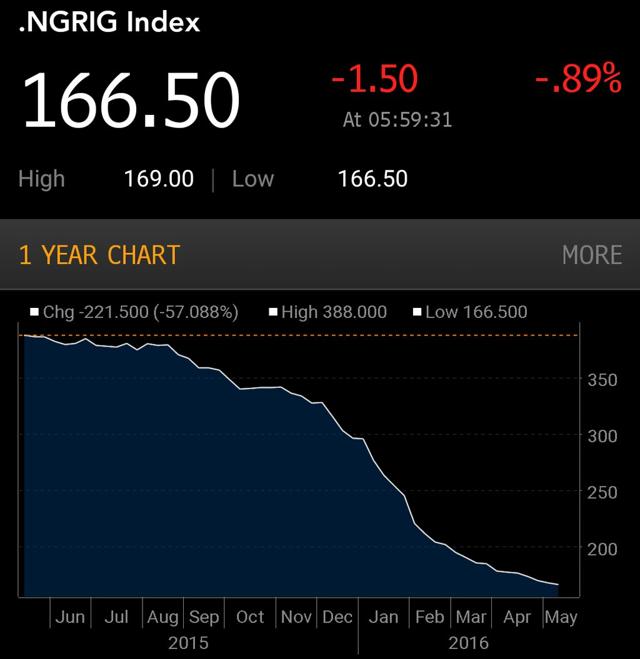 Click to enlarge
A measure made popular by EQT's CEO, the gas-equivalent rig count takes into account associated gas production from shale oil drilling. The concept is to take 0.25 of each oil rig, and take 1:1 on gas rigs. Gas rig counts have been in decline since 2008, but production has drastically grown. A big part of the growth was thanks to the discovery of the Marcellus, but nearly 15% of U.S. dry-gas production comes from associated gas (byproduct of oil drilling).
It is important to pay attention to this measure vs. just gas rigs.
Mexico Exports

Click to enlarge
Natural gas exports to Mexico are on pace to hit an all-time high in the next month.
El Nino Almost Completely Gone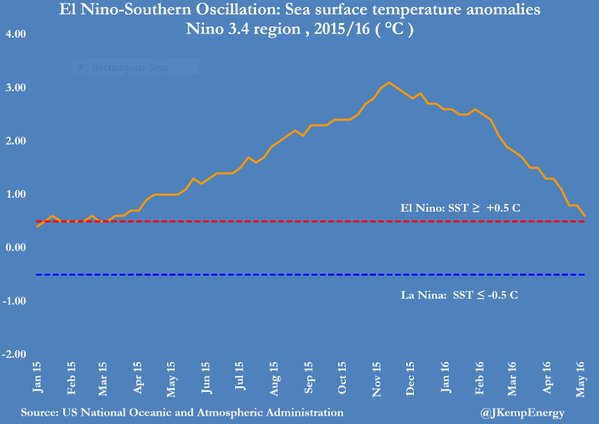 El Nino is almost completely gone, and many weather forecasters are more confident that La Nina is coming by the end of the summer. This will be a very important phenomenon for natural gas followers, and could set natural gas up for the "perfect storm."
Energy News Articles of Note
If you enjoy our natural gas daily, please click on the follow button above and read our other energy write-ups. In addition, we also have a premium subscription platform that's tailored to long-term value-oriented investors. We provide recommendations of stock ideas and portfolio composition. Our HFI portfolio has now outperformed the SPY by 8% since inception. We look forward to you joining the HFI platform.
Disclosure: I/we have no positions in any stocks mentioned, and no plans to initiate any positions within the next 72 hours.
I wrote this article myself, and it expresses my own opinions. I am not receiving compensation for it (other than from Seeking Alpha). I have no business relationship with any company whose stock is mentioned in this article.