For all of the hype and positive feelings that came out of Tesla Motors' (NASDAQ:TSLA) Q1 earnings report and conference call, the stock has lost more than 6.4% since. In fact, the decline is even greater considering shares initially jumped to over $235 when Elon Musk initially detailed how the company was accelerating its 500k unit build plan. Investors seem to be concerned about a capital raise and Tesla's usual overpromise and underdeliver path. As we're now a couple of weeks past earnings, a couple of items continue to be rather troubling.
Is there a demand problem?
It has been over a month since a Tesla executive stated Model 3 reservations were approaching 400,000, leading to me wonder if one million reservations were possible. Tesla had reportedly received another 50-75k reservations in the past week, and even with a naturally slowing pace, one might think the number would be over 500,000 by now. Unfortunately, it's been radio silence on this issue basically since then. We didn't get a number at the Q1 investor letter or conference call, and no more tweets from Elon since. We haven't even officially been told that the company is over 400,000 Model 3 reservations. If things are so good, why are we not getting these positive details?
But for the moment, let's talk about vehicles that are currently available to the market, the Model S and Model X. In the Q1 investor letter, we heard about how Model S net orders in Q1 were up 45%, and the Model X conversion rate has management confident in its yearly guidance. Unfortunately, we didn't get any concrete numbers on this situation, which brings into question how things actually are. Q1 deliveries were well below forecast and the Q2 forecast was a few thousand units less than the street was expecting.
My biggest question is in regards to the Model X. Back in October 2015, it was reported that there were over 30,000 pre-orders for Tesla's latest vehicle. Through Q1, Tesla has only delivered a few thousand of these vehicles, and it only was producing 750 per week at the end of Q1. If there is such a huge backlog for these models, why can someone on the US East Cost still get one in the month of June according to Tesla's site? This situation is made even more curious if one were to head over to the Tesla forums Model X page, where customers who ordered their vehicles early in 2016 haven't even received them yet. The answer can't be that Tesla is only working on Model X production at the moment, because you can also get a brand new, customized Model S in June. If there truly were tens of thousands of orders on the table, new customers would be waiting months to get their vehicles, not just a couple of weeks.
Elon's tweeting:
In a recent Seeking Alpha article, fellow contributor Montana Skeptic provided a message to Elon Musk about the CEO's tweeting. Elon is not shy about tweeting, but we usually only get part of the story (the positive side - anything negative is usually left out). I don't have a problem with Musk using Twitter, but perhaps he needs to be a bit more honest with his customers and investors. The tweet below is from a Model X driver, which was retweeted by Elon Musk.

(Source: Elon Musk official twitter account)
I've shown this tweet because a few weeks later during the Q1 conference call, Elon Musk stated the following:
Friday at 3 a.m. we achieved our first flawless production of the Model X, where we went through the whole production process and had zero issues. That was a great milestone. Still celebrating with the 2 a.m. and 3 a.m. Friday. It was great. And now we are starting to get several in a row that are flawless and so it's really gaining momentum very quickly.
So did the customer above get a vehicle that was not flawless? If so, wouldn't it have been nice of Elon to say that? We also know that Tesla recalled a few thousand Model X vehicles early on, so was this customer's vehicle one of those? It doesn't look good when you are delivering a vehicle for more than seven months before you produce one vehicle that had zero issues. If the company can't get things right on just a few hundred vehicles per week, you must really wonder what will happen with the Model 3.
What's the next part of guidance to be busted?
Back in February, Tesla provided a lot of guidance for 2016 in its Q4 investor letter. It only took one quarter of the year for a large chunk of that guidance to be busted, including talk about $1.5 billion in capex, no need for outside funding (outside of the ABL and other "existing sources"), operating expense growth of around 20%, etc. The company has also apparently scaled back its service center and supercharger network expansion plans.
With a number of the company's statements already being busted, many will wonder what will be the next shoe to drop? There are plenty that believe Tesla will need to lower its delivery guidance forecast for the year, and low Q1/Q2 deliveries make it seem fairly likely that Tesla will not be anywhere near its top end guidance for 90,000 deliveries. The other major item I'm watching is in regards to management's statement for non-GAAP profitability. As the chart below shows, analysts are starting to think otherwise.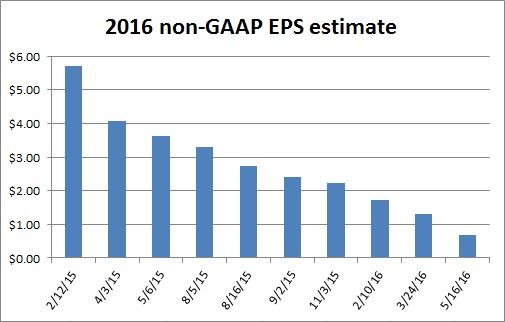 (Source: Yahoo Finance analyst estimates page)
As of Monday, the street is now expecting just $0.67 in non-GAAP EPS this year, and don't forget that GAAP losses will continue to be much, much more. Unfortunately for Tesla, there is a lot of this year remaining, and if the pattern continues, non-GAAP profitability seems highly unlikely. At this point in 2015, the street was basically expecting Tesla to break even on a non-GAAP basis. When all was said and done, the company lost $2.30 per share, non-GAAP.
Given some one-time items and the Model X delays, I don't think this year's track will be as bad as we saw in 2015, but if analysts have dropped their numbers this much already, the breakeven point might be where things end up. In February 2015, analysts were looking for $5.72 per share in non-GAAP EPS for this year, which turns out to be a profit of about $800 million. It will be about two years later that Tesla gives an actual number for 2016, and the company will be lucky if it reports any non-GAAP profits.
Final thoughts:
We're just a few weeks removed from Tesla's Q1 earnings report, and a number of red flags are being waived. It's been radio silence on Model 3 reservations, and Model S/X delivery times bring into question overall demand. Tesla finally produced a flawless Model X just a few days before earnings, bringing into question the quality of vehicles delivered before then. I didn't see a tweet from Elon Musk regarding the negative report from Consumer Reports.
With all of these negative items out there, one must wonder if Tesla will need to revise more of its yearly guidance, in addition to the massive changes we've already seen. Tesla's shares have declined since earnings, showing how investors are a bit skeptical of the company's ever aggressive plans. A further decline will make it even more dilutive when Tesla needs to raise capital. If things weren't bad enough for the electric vehicle maker, another Tesla executive has reportedly left while I was working on this article.
Disclosure: I/we have no positions in any stocks mentioned, and no plans to initiate any positions within the next 72 hours.
I wrote this article myself, and it expresses my own opinions. I am not receiving compensation for it (other than from Seeking Alpha). I have no business relationship with any company whose stock is mentioned in this article.
Additional disclosure: Investors are always reminded that before making any investment, you should do your own proper due diligence on any name directly or indirectly mentioned in this article. Investors should also consider seeking advice from a broker or financial adviser before making any investment decisions. Any material in this article should be considered general information, and not relied on as a formal investment recommendation.