Homebuilder sentiment for May was unchanged from April, coming in at a level of 58 (anything above 50 indicates optimism). While the headline index was unchanged at 58, economists were actually expecting a reading of 59, so that makes this month's report the seventh straight that the NAHB sentiment index has come in shy of expectations. The last time we saw a streak that long was in mid-2006.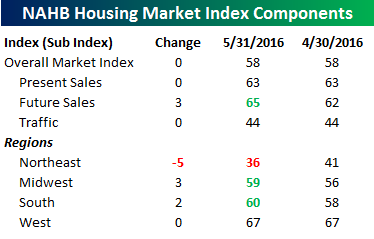 The table above breaks down this month's report by present and future sales, traffic, and overall regional sentiment. Present Sales and Traffic were both unchanged on the month while Future Sales rebounded to a level of 65. On a regional basis, sentiment out west was unchanged, while sentiment in the midwest and south saw modest improvements.
In the northeast, though, we saw a sharp decline, where overall sentiment dropped 5 points for the second straight month. Since October (the last time the NAHB index was better than expected), sentiment in the northeast has fallen 16 points; that's the largest seven-month decline since 2006. Unlike that period, though, where sentiment was dropping precipitously across the country, during this period, only the northeast has seen a significant decline.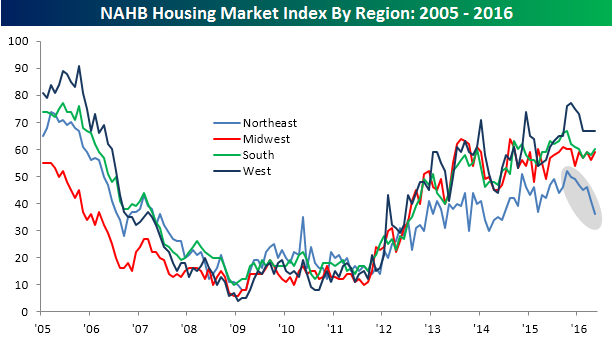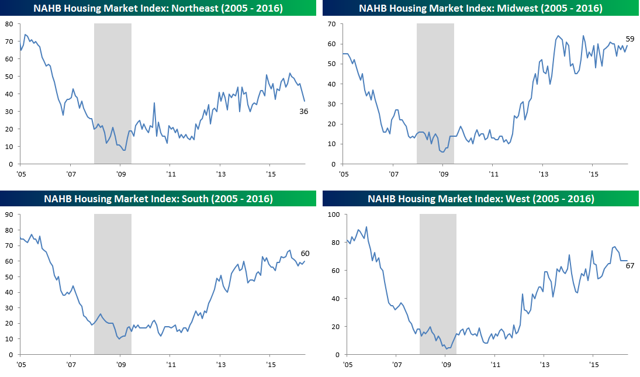 Click to enlarge