Shares of Apple (NASDAQ:AAPL) are on the rise after Warren Buffett's Berkshire Hathaway (NYSE:BRK.A) (NYSE:BRK.B) announced that it had initiated a stake in the enterprise (currently valued at $917.48 million with 9.8 million shares), the second major technology company after IBM (NYSE:IBM) that Berkshire has invested in. This is a big step, in my opinion, for Berkshire but I do not believe it is necessarily the greatest opportunity for shareholders of the enterprise in the long run.
The future of Apple is not looking good
Ever since the passing of Steve Jobs in 2011, I've wondered how long Apple could keep chugging along. The fact of the matter is that it's not good enough to be financially sound as a technology-oriented company (otherwise, BlackBerry (NASDAQ:BBRY) would still be the dominant player in the space); you need a strong, visionary leader. Operationally, CEO Tim Cook is an expert in his space but even Jobs lamented at the fact that he's "not a product person, per se." This leaves, in my opinion, a void in the company that has yet to be filled.
With superior products and services, Apple is sure to generate strong cash flow (in nominal terms) in the years to come but a technology company without an innovative leader will eventually be surpassed by a business that is even better. At this pace, it appears as though Apple is headed in this direction, just as major players like Dell and so many others have in the past; drifting into mediocrity. Examples regarding a loss of innovativeness are abound.
Perhaps the greatest example to look at is Kodak. In 1975, the company developed the first digital cameras and it was in the greatest position of any player in this space to capitalize on it. This is because, in 1976, in addition to having a 90% market share in the film space, the company also controlled 85% of camera sales, making it about as close to being a monopoly as you can get. This allowed the firm to be labeled as one of the 5 most valuable brands in the world up until the 1990s when digital cameras really began to take hold. After seeing sales peak in 1996 at $16 billion and seeing profits peak at $2.5 billion in 1999, the company began its long descent because it failed to innovate due to the preconceived notion that digital cameras would always be expensive and inefficient.
Another example, but one where a company did innovate and executed but did not execute properly, was in the case of Xerox (NYSE:XRX). Larry Tesler, an employee at the firm, showed his bosses some of the technologies that made up Xerox PARC but they failed to appreciate the commercial applications they had. Against the will of some of those in charge of Xerox PARC, the firm bought into Apple in 1979 and allowed the firm, thanks to the deal they received on Apple's shares, to see the technology that had been developed by the firm. What was introduced to Apple later allowed the firm to develop its own GUI (graphical user interface). Of course, Xerox did use some of its own technology, such as when it came out with the Xerox Star in 1981, but at a cost of $16,595 the firm failed to sell a meaningful number of units.
The final example I will look at here is in Apple itself. After Jobs left Apple and founded NeXT Computer and as he was working on growing and transforming Pixar, Apple lost focus and prioritized profitability over all else. According to Jobs in his authorized biography, "After I left, it [Apple] didn't invent anything new. The Mac hardly improved." With the firm looking desperately for a way to improve operations and come back from the brink of irrelevance, management bought NeXT, bringing Jobs back on board. After he truly took over the company again, he decided to cut 70% of the firm's products, including the Newton, and set about reinventing the business. We all know how that story has shaped up between then and now.
Now, to understand that this is really starting to happen, we need only look at unit sales of Apple products in the image below. During the latest quarter, the business sold 51.2 million iPhones. Although this is better than the 50.7 million anticipated, it was far below last year's 61.2 million units. iPad sales also fared poorly, dropping from 12.62 million to 10.25 million units, while Mac sales dropped from 4.56 million to 4.03 million units. As the market matures, it's expected to see growth slow and even some decline in unit count isn't always a bad thing but these year-over-year falloffs are, in my opinion, material in nature.

Click to enlarge
Another negative, in my opinion, is the announcement Apple made regarding its capital return program. In its press release, the company stated that it intends to increase its return to shareholders by another $50 billion to $250 billion through 2018, raising its stock buyback program from $140 billion to $175 billion. As part of this, management stated that it will be raising Apple's dividend by an extra 10% moving forward. Although research and development costs during the quarter were $2.51 billion, up from $1.92 billion in last year's second quarter, I cannot fathom a business wasting good capital on dividends and buybacks when they should be investing more in their falling product lines or in revolutionary (as opposed to evolutionary) new concepts.
It should be mentioned, however, that not everything at Apple is bad. For starters, the company currently has cash and cash equivalents on hand of $21.51 billion. This is a nice chunk of change but when you add short-term and long-term marketable securities to the mix, you have an extra $211.42 billion in capital, bringing cash, cash equivalents and marketable securities up to $232.93 billion. To put this in perspective, tech giant Intel (NASDAQ:INTC) has a market cap of $143.50 billion and entertainment giant The Walt Disney Company (NYSE:DIS) has a market cap of $162.80 billion. This amount of capital is equal to roughly 45.3% of Apple's current market cap of $514.20 billion.
What this means is that Apple is not dead but the picture doesn't look positive. Management has a great deal of capital that it can allocate toward growth, but it seems content with rewarding shareholders through dividends and buybacks at a time when it needs an innovative mind to take the reins (at least from a product perspective, if not a management one). In my mind, this is troubling to say the least because any absence to move in the proper direction risks allowing history to repeat itself, when the dominant technology player will succumb to mediocrity.
IBM may be the way to go
While I do not particularly care for Buffett's (or rather, Comb's or Weschler's) move into Apple, I do believe the company probably made a wise decision to add to its stake in IBM. According to the firm, it added another 198,833 shares of the business recently, bringing the total share count owned by Berkshire up to 81.2 million. This values the firm's stake in the enterprise at about $12.09 billion today.
In the past, I've dug deep into IBM and the rationale behind why the company provides investors with good prospects moving forward. I do not want to inundate investors too much with my argument again because it would just be a rehash of that, but I will say that what intrigues me most about IBM is the fact that its Strategic Imperatives Revenue has been rising. In 2013, this set of operations accounted for 22% of IBM's sales, but today they stand at 35%, with revenue in 2015 totaling $29 billion. Of this, the firm's Analytics operations represent the largest portion of this category, standing at $18 billion. This is followed by the $10 billion generated under Cloud operations.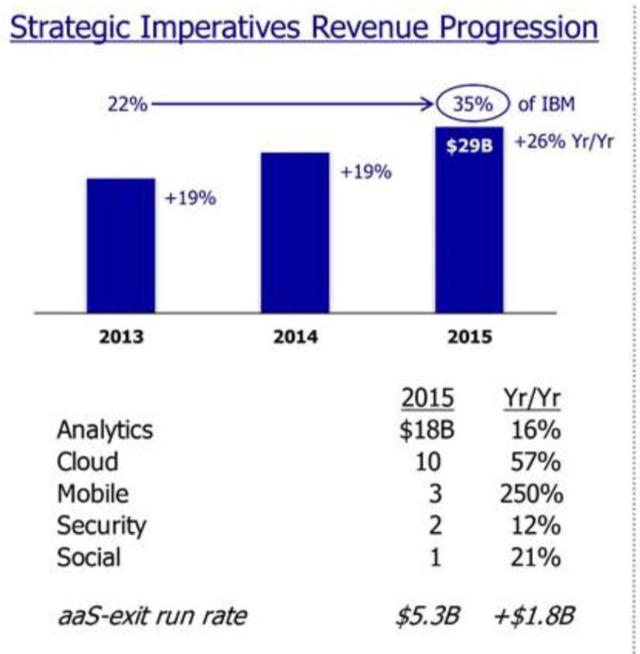 Click to enlarge
Thanks, to some extent at least, to these operations, the cash flow picture at IBM has started to turn around, even as sales continue to suffer. In the table below, you can see that the firm's operating cash flow and free cash flow in 2015 came out to $16.9 billion and $13.1 billion, respectively. While these numbers are below where they were in 2012 when operating cash flow hit $22.5 billion and free cash flow stood at $18.2 billion, the firm's recent numbers demonstrate a turnaround from the results posted in 2014. So long as cash flow can continue to rise and margins can stay healthy, I feel that Buffett's decision to add to the business while shares are cheap (nominally speaking) is a fine idea.

Click to enlarge
Playing King Maker
Another interesting tidbit of news that has surfaced in the past few days relates to Yahoo (NASDAQ:YHOO) and the fact that Buffett is considering backing billionaire Dan Gilbert in bidding for the enterprise. Buffett did state that he would need a secured type of investment to make a deal work, so we are either looking at some sort of debt arrangement, a preferred stock arrangement or some combination of these (with common stock thrown in as a possibility depending on the terms).
Yahoo has interested me for a while and there was a point at which I held shares in the business. The reason for this comes down to the firm's ownership of shares in Alibaba Group Holding (NYSE:BABA). Due to a wise (and some might say lucky) investment many years ago, the firm now owns 384 million shares of Alibaba. Without factoring in taxes, these shares are worth around $30.59 billion. With a market cap of $35.80 billion, this implies a value on the rest of Yahoo of about $5.21 billion.
Because of the possibility of Buffett receiving a secured investment in the firm and the fact that a Reverse Morris Trust transaction may be able to eliminate more than $12 billion in deferred taxes associated with Yahoo's ownership in Alibaba, I like the risk/reward opportunity for Berkshire here but we will need to await more information before we understand exactly what kind of impact this will have on the enterprise. Until then, anything more is just sheer speculation.
Takeaway
At this moment, Mr. Market is not very happy with Apple but Buffett's Berkshire Hathaway is. In my own opinion, management is sitting by and letting the firm's business erode at a time when it should be focused on making the same kinds of revolutionary leaps forward that made the business the overwhelming behemoth that it is today. Instead, the current path is one of making iterations of many of the same products and appeasing shareholders who, in their defense, are not content to let cash just sit on the company's books. From a product standpoint, I love Apple (every computer I've owned has been an Apple one) but I cannot personally invest in the business until I see some major changes take place and I doubt that will happen with the current leadership in place.
Outside of the Apple news, I find the rest of the information regarding Berkshire's moves to be refreshing. The firm is entertaining a financing transaction of Yahoo which, depending on the structure of any such deal, will likely grant Buffett a nice chance of return, and it is continuing to add to IBM, a firm that I feel is very much underappreciated by Mr. Market at this point in time. Of course, only time will tell what happens with the business but I do think investors have a lot of news to look forward to in the weeks, months and years to come.
Disclosure: I/we have no positions in any stocks mentioned, and no plans to initiate any positions within the next 72 hours.
I wrote this article myself, and it expresses my own opinions. I am not receiving compensation for it (other than from Seeking Alpha). I have no business relationship with any company whose stock is mentioned in this article.