Welcome to the May 17 edition of Seeking Alpha's Eye on Tech newsletter.
Notable Tech News
Berkshire Hathaway discloses 9.8M-share Apple stake; Apple rallies - Warren Buffett's firm was buying Apple (NASDAQ:AAPL) shares during a quarter in which David Tepper and Carl Icahn were selling. The company joins IBM (NYSE:IBM), domain name registrar/security services firm VeriSign (NASDAQ:VRSN), and data/analytics services provider Verisk Analytics (NASDAQ:VRSK) as a Berkshire Hathaway (BRK.A, BRK.B) tech holding.
Apple, which made a fresh 52-week low of $89.47 on Thursday (thanks to a fresh Nikkei report about weak iPhone chip orders) and closed on Friday $1.05 above it, rose 3.7% following Berkshire's disclosure. IBM, Berkshire's other large-cap tech investment, is down 12% from an average cost basis of $170. But Apple arguably has more in common with some of Berkshire's past consumer-oriented investments such as Coca-Cola or Gillette: A famous brand, high margins, strong and fairly stable cash flows, and a sizable moat.
Buffett told the WSJ the Apple purchase was made by one of his lieutenants. Meanwhile, David Einhorn's Greenlight Capital disclosed after the bell it had upped its Apple stake in Q1.
Reports: Apple plans to open 3 Indian stores, launch Indian startup accelerator - Both reports come ahead of a Tim Cook visit to India, during which Cook is expected to urge the Indian government to allow Apple to import and sell used iPhones (thus reversing a recent government rejection). Though India and China are often compared, the former country is easily more cost-sensitive than the latter. The IMF estimates India had a 2015 nominal per capita GDP of $1,617 to China's $7,990.
Facebook begins selling brand video ads on third-party sites/apps - The ads will be delivered via Facebook's (NASDAQ:FB) Audience Network, which was on a $1B/year run rate as of late 2015 and to date has sold display and native ads on third-party mobile properties. However, the new video ad option will be available for PC sites as well.
Facebook typically gets a 30% cut on Audience Network sales, and pitches publishers and advertisers on its ability to deliver advanced targeting by leveraging Facebook user data (often more effective than cookies, especially when targeting across multiple devices). Google (GOOG, GOOGL), which sells video ads on third-party sites/apps as well as YouTube, is among the companies Facebook is going after. As are video ad tech firms such as YuMe (NYSE:YUME), Tremor Video (NYSE:TRMR), and TubeMogul (NASDAQ:TUBE). But it's worth remembering the broader online video ad pie is growing rapidly.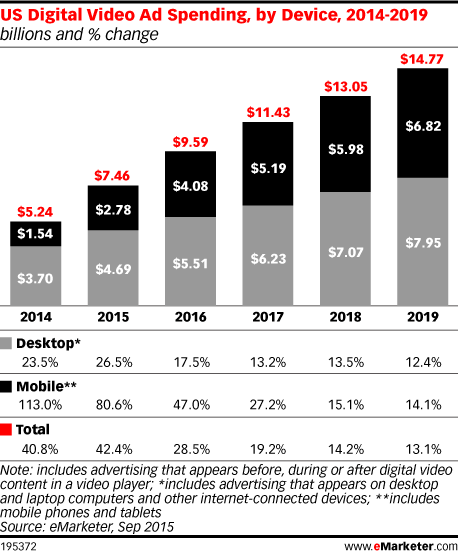 Bloomberg: Twitter will stop counting photos/links against 140-character limit - A move that's long overdue, and addresses a common user complaint. It might soon be followed by the launch of a feature enabling longer posts that can be accessed by clicking/tapping a tweet. However, Jack Dorsey has indicated the standard 140-character limit (has seen calls for its removal among those arguing Twitter (NYSE:TWTR) needs more radical changes to boost user growth/engagement) will remain in place.
Separately, Twitter is rolling out a button for its Android app (the iOS app should presumably be supported in time) for launching Periscope streams, as it tries to fend off Facebook and YouTube's livestreaming offerings.
Report: Google faces $3.4B EU fine over alleged web search abuse - Specifically, the fine is related to Google's favoring its shopping search results over alternatives. One can question whether Google derived anything close to $3.4B in value from such favoring, but regardless, the figure indicates the EU is playing hardball as its multifaceted probe of Google continues. Charges related to the favoring of Google's travel and mapping content are also possible. Then there's also the EU's charges regarding Google's Android app/service bundling policies.
Reports: Didi Chuxing is planning a U.S. IPO - Reuters reports the Chinese ride-sharing leader, formerly known as Didi Kuaidi, plans a 2018 IPO. Bloomberg says the offering could come as soon as 2017. The news comes after Didi (Private:DIDI) announced a $1B investment from Apple as part of a $3B funding round at a $26B valuation. Additional funds might be necessary in a year or two, given both Didi and top rival Uber (Private:UBER) have been spending at a breakneck pace on their Chinese ops.
Mobileye expects Chinese sales to soar following new government rules - Still bent on making China an autonomous driving leader, Beijing is set to mandate the installation of advanced driver-assistance systems ("ADAS") for functions such as lane-detection and collision-avoidance within buses and trucks. That's good news for Mobileye (NYSE:MBLY), which is the top player in the ADAS market and is hoping (with the help of its proprietary ADAS algorithms and driving data) to also be a top supplier of systems going into fully-fledged self-driving cars. Chinese draft standards for self-driving cars are expected later this year. Baidu (NASDAQ:BIDU) has a self-driving car partnership with Mobileye client BMW.
NXP unveils BlueBox self-driving car system - While Mobileye talks up its Chinese opportunities, rival NXP (NASDAQ:NXPI) has shown off an autonomous driving system pairing a "computing engine" with radar, lidar, vision sensing, and software. NXP, the top player in the broader automotive chip market following its recent merger with Freescale, says it's sampling the system with 4 of the world's top 5 automakers, and notes it has shipped 30M ADAS processors to date (including to 8 of the top 10 automakers).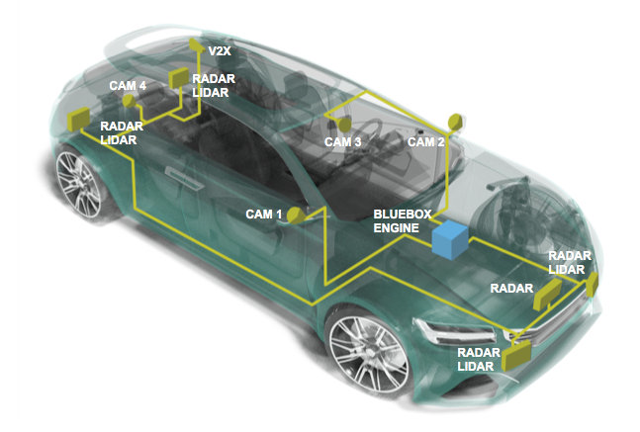 Click to enlarge
NXP's BlueBox autonomous driving platform
GPU giant Nvidia (NASDAQ:NVDA) is going after the market with its Drive PX2 module - it contains two app processors and two GPUs, and (thanks to Nvidia's large AI investments) is said to handle up to 24 trillion AI/deep learning operations per second.
Alibaba Pictures raises $260M for its online ticketing platform - Alibaba's (NYSE:BABA) film/TV arm (has grown significantly via M&A) has raised $260M for online ticketing service Taobao Movie at a $2.1B valuation. Alipay parent Ant Financial invested, as did Weibo (NASDAQ:WB) parent Sina.com (NASDAQ:SINA). Chinese local deals leader Meituan-Dianping (Private:MEIT) is believed to have over half the country's online ticketing market.
Notable Tech Commentary and Reports
IHS: Carrier SDN market to see 98% CAGR from 2015-2020 - IHS sees carrier spending on software-defined networking ("SDN") hardware, software, and outsourced services growing from a mere $289M in 2015 to $8.7B in 2020. Software is expected to account for 46% of 2020 revenue. With global carrier capex growing at modest rates, much of this spending will come at the expense of legacy solutions.
Specific long-term estimates for a market this young need to be taken with a grain of salt, but the estimates do highlight the huge impact SDN - it moves network intelligence to software-based controllers and orchestration tools, and thus allows services to be deployed more quickly and proprietary systems to be replaced with commodity gear relying on network functions virtualization ("NFV") - will have on the telecom equipment and software market.
VMware's (NYSE:VMW) NSX SDN/network virtualization platform is seeing strong uptake among both enterprises and service providers. Ciena's (NASDAQ:CIEN) Blue Planet unit (a product of last year's Cyan acquisition) also competes in the carrier SDN space. Cisco (NASDAQ:CSCO), Juniper (NYSE:JNPR), and Nokia/Alcatel-Lucent (NYSE:NOK) compete as well, but also have traditional revenue streams that could be affected by SDN and NFV.
IDC: Wearables market grows 67% in Q1, Fitbit still the largest player - IDC estimates global wearables shipments (not the same as end-user sales) rose 67% in Q1 to 19.7M units. Fitbit (NYSE:FIT) is estimated to have a 24.5% share, down from 29.5% in Q4. #2 vendor Xiaomi (Private:XI) is assigned a 19% share, up from Q4's 9.7%, thanks to new hardware launches. The Apple Watch comes in at #3 with a 7.5% share, down from Q4's 15%, with shipments pegged at 1.5M.
Notably, IDC decided to break out shipments of "basic" wearables such as fitness bands from those of smartwatches, arguing they constitute distinct market segments (it's hard to disagree). Fitbit and Xiaomi are respectively assigned 29.4% and 22.8% basic wearables shares. Apple and Samsung (OTC:SSNLF) are assigned 46% and 20.9% smartwatch shares.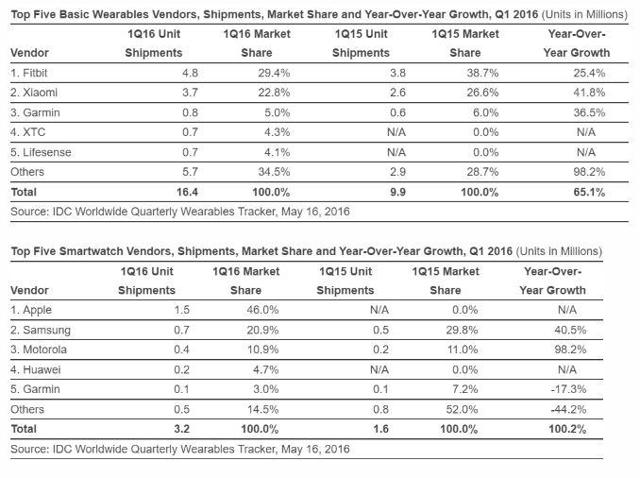 Click to enlarge
Disclosure: I/we have no positions in any stocks mentioned, and no plans to initiate any positions within the next 72 hours.
I wrote this article myself, and it expresses my own opinions. I am not receiving compensation for it. I have no business relationship with any company whose stock is mentioned in this article.
Editor's Note: This article covers one or more stocks trading at less than $1 per share and/or with less than a $100 million market cap. Please be aware of the risks associated with these stocks.