By Tony Termini
I like AmerisourceBergen Corporation (NYSE:ABC) and think it's a buy in this new low-to-mid $70's range. To give you a better sense of what I like, let's look at what has transpired since the stock hit its most recent 52-week high back in July of 2015.
ABC reported its 3 rd quarter 2015 earnings on July 23, 2015 (fiscal year end is September 30). And, there was tons of good news. They had recently ramped up a new generic drug program with Walgreens Boots Alliance (NYSE: WBA). Sales increased almost 13%, earnings were up better than 18%, and they announced that they were on course for EPS to be up over 20% for the second year in a row (all of which was announced in their earnings press release). Yeah, this is the stuff that new highs are made of!
At the time, ABC was still enjoying what actually was about to be the end of solid pricing for generic drugs. The problem is that they didn't know it yet and their confidence was reflected in the guidance they gave analysts. By the time ABC issued its 4 th quarter earnings announcement the damage was already beginning to take effect. The announcement showed that revenues were in line with the previous quarter, coming in at up 12.3%. But, EPS increased by less than half the rate they did in the previous quarter, growing just 6.4%. Still their guidance to analysts didn't include any cautionary statements about softening generic drug prices. When management finally discussed it, it came in the form of lowered guidance.
I don't think that ABC realized in February when they announced their first quarter 2016 earnings that generic prices would continue to drift lower for as long as it now appears that they will. But this was when they first told analysts to expect lower earnings than they had previously suggested. In their 2 nd quarter 2016 earnings conference call earlier this month, they explained further that earnings were negatively impacted by "accelerating deflation of generic drug prices" and "lower contributions from generic launches". In this call they also explained that they see "more than 6% generic deflation until 2017." And, the stock is now about 38.0% lower than it was back in July 2015 and trading at a new 52-week low.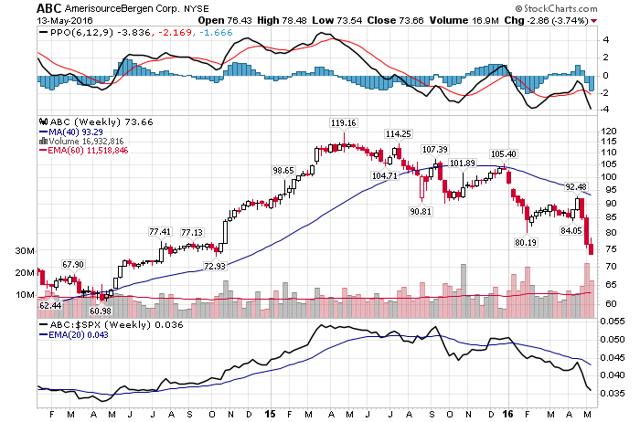 Click to enlarge
(Chart courtesy of StockCharts.com)
Technicians tells us that stocks that make new lows are more likely to keep making new lows than they are to make quick reversals. Yeah, I am all in on that. And, the reality is that I have never been able to call a bottom. I don't know where the next 10% is on ABC, but I do believe I know where the next 50% is. I believe that there is huge value (and hence, huge upside) in ABC. Here's why.
Let's start with earnings. In the May 5 th earnings release, ABC said that they expect full year 2016 EPS will be between $5.44 and $5.54. They also said that their "preliminary expectation is to grow our fiscal year 2017 adjusted diluted EPS in the range of 4% to 6% above the midpoint of our new fiscal 2016 guidance." That puts the 2017 number between $5.71 and $5.82. So, today you're paying about 13 times forward earnings in an environment where the broader market is trading at closer to 18. I'll take that given that ABC has a pretty clear path to recovery.
As a result, the combination of potentially rising prices and ABC's new focus on making the generic segment of their business more profitable will provide a degree of leverage that should help earnings well beyond 2017. To put some teeth into that statement, let's consider the overall drug market forecast for the next few years.
According to a study published last month by the IMS Institute for Healthcare Informatics, pharmaceutical drug purchases are expected to jump 46% by 2020. That amounts to some $640 billion paid to distributors from hospitals and pharmacies. Now, lest we forget ABC is a distributor. And, as the chart below suggests, IMS Health expects increased spending across all drug categories, including generics beginning in 2018.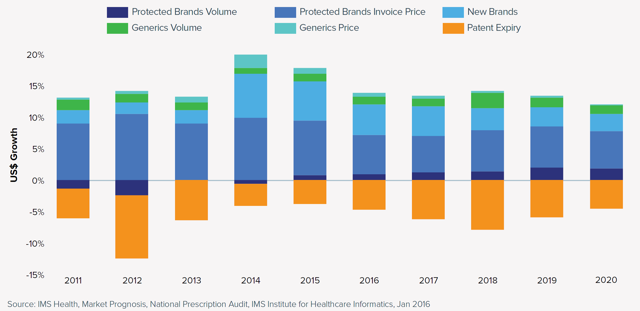 Click to enlarge
(Source: IMS Institute for Healthcare Informatics)
The fact of the matter is that US demographics represent a long-term positive trend for ABC. According to the Administration on Aging, Americans aged 60 years or older totaled about 57 million in 2010. That represented some 18% of the U.S. population. The number of Americans over the age of 60 is expected to rise by more than 30% by 2020. That's a lot of new frequent prescription drug users!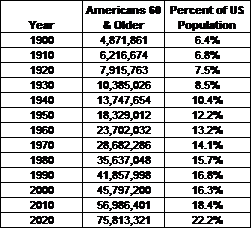 (Source: US Department of Health & Human Services)
Finally, I believe that patient investors are going to be paid to wait for ABC's earnings to get back on track. The company has paid a dividend every year for the last 15 years and has raised it nearly every single year since 2005.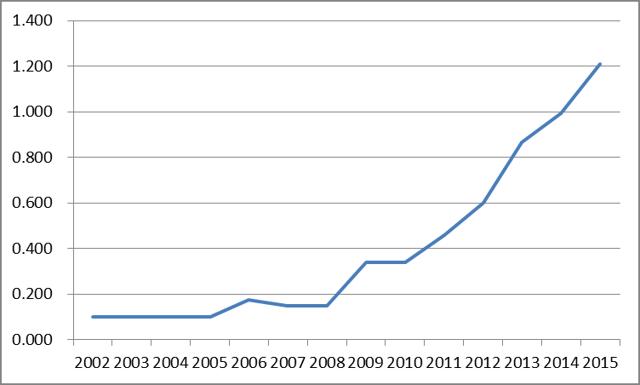 Click to enlarge
ABC Dividends by year. (Source: ABC website)
Conclusion
There's often a dichotomy between the recent past performance of a stock and its near-term future potential. The market generally punishes companies for stumbles or missteps - whether they are within the company's control or not - often while ignoring the signs pointing to higher future earnings. I think we're seeing that dichotomy with ABC right now. That's why I'd buy it. I think that ABC has a clear path to higher future earnings in a business that broader demographic trends clearly favor.
Disclosure: I/we have no positions in any stocks mentioned, but may initiate a long position in ABC over the next 72 hours.
I wrote this article myself, and it expresses my own opinions. I am not receiving compensation for it (other than from Seeking Alpha). I have no business relationship with any company whose stock is mentioned in this article.