Lowe's (NYSE:LOW) is set to announce Q1 earnings on Wednesday, 5/18, before the market opens. We think the quarter was a very good one for LOW, and expect Wednesday morning's numbers to top estimates. We are concerned, however, about valuation, and believe the stock is priced for perfection at these levels. We believe shares are worth roughly $60 (~20% downside), and do not think shares have an attractive risk-reward profile here at ~23.4x trailing adjusted earnings and ~11.6x trailing EBITDA.
We think it is almost a certain thing that LOW had a very good quarter. Despite showings of a weak consumer in brick-and-mortar retail, macroeconomic data suggests that the consumer has been very strong in the home improvement space. February through April sales at building material and garden equipment stores rose 9.6% Y/Y, greatly outpacing the total retail and food sales gain of 2.8%. Interestingly, this growth even outpaces the 8.8% gain in sales of nonstore retailers, and this segment includes the likes of high-growth, online-only retailers like Amazon (NASDAQ:AMZN).
The consensus revenue estimate calls for just over 5% growth in sales to $14.84 billion. Management's rev guide for Fiscal 2016 calls for 6% sales growth inclusive of a 53rd week. Excluding the impact of the 53rd week, management is guiding for 4.5% Y/Y sales growth. The 5.1% consensus rev growth this quarter represents a slight outperformance of this guide, but this makes sense given the strong macroeconomic data. Considering sales in the building material and garden equipment space have risen 9.7% Y/Y through the first 4 months of 2016, we think it is very likely LOW grew sales at a quicker rate than 5.1% in the quarter.
Despite this expectation for a beat, we remain bearish on the stock long-term. Our concern here is that the company is subject to cyclical demand but the stock is currently priced for accelerated demand to persist into perpetuity. LOW is a cyclical company. Simply, when economic times are good, consumers are spending a lot on improving their homes. Conversely, when economic times are poor, consumers are not spending that much on improving their homes.
This can be seen graphically in a broad sense by the fluctuation in Y/Y growth of real PCE since 1975. The chart, as expected, is sinusoidal nature.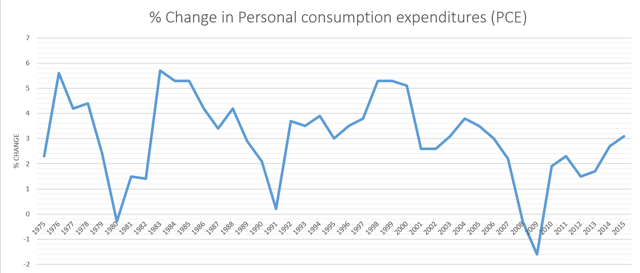 Click to enlarge
More specifically, the Y/Y growth in real PCE on furnishings and durable household equipment is also cyclical in nature.

Click to enlarge
It is clear from these charts as well as LOW's comps in the MSD range that the company is operating at or near peak cycle right now. At 28.4x trailing earnings and 11.6x trailing EBITDA, though, the stock is priced for this peak operating cycle to persist and even accelerate into perpetuity. History tells us this isn't the case. Best case, demand slowly grows with MSD comps. More realistically, the economy takes a slight tumble at some point in the near future and people start saving and stop spending on home improvements. Either way, the stock is overpriced and the valuation does not reflect the reality of this cycle.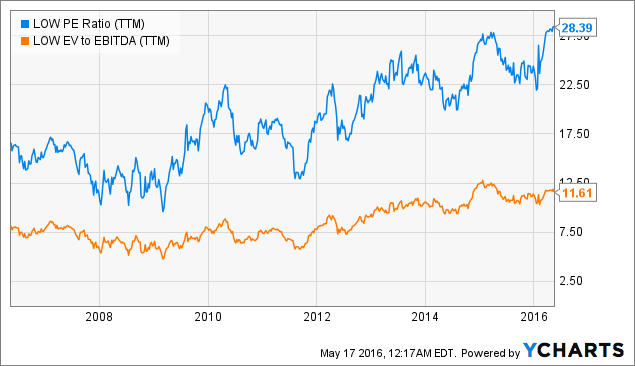 LOW PE Ratio (NYSE:TTM) data by YCharts
We think fair value is somewhere around $60 in a good-case scenario. We generously think the company can continue to comp in the MSD range over the next 5 years as we do not foresee any economic catastrophe taking place in that time frame and throwing comps into negative territory. Our model for unit sales and comps can be seen below.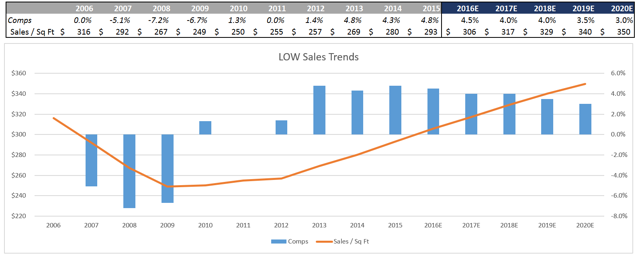 Click to enlarge
We forecast MSD sales growth over the next 5 years. On the margin side, the company is guiding for 80 to 90 basis points of operating margin expansion this year. Adjusted EBIT and adjusted net earnings margins have continually expanded since 2011, but are still roughly 150 basis points lower than their 2006 highs. With revenue scale driving SG&A leverage, we think margins can continue to expand incrementally every year. Continued share buybacks should also continue to help annual earnings growth. Overall, we think the company can beat its $4 EPS target for this year. We also think earnings can grow at a 13% CAGR from 2015 to 2020 (using 2015 adjusted EPS of $3.29). This puts Fiscal 2020 EPS just shy of $6. This also means investors are currently paying 23.4x adjusted earnings for 13% annual earnings growth power over the next 5 years. This is not attractive parity.

Click to enlarge
This margin expansion should also boost cash flows. Management is guiding for $5.4 billion in operating cash flow this year and $3.9 billion in free cash flow. We think the company can generate in excess of $7 billion in operating cash flow while keeping capex below $2 billion per year. Applying a 2% perpetuity growth rate and 10% discount rate to our projected free cash flows, we arrive at a fair value of roughly $60 per share.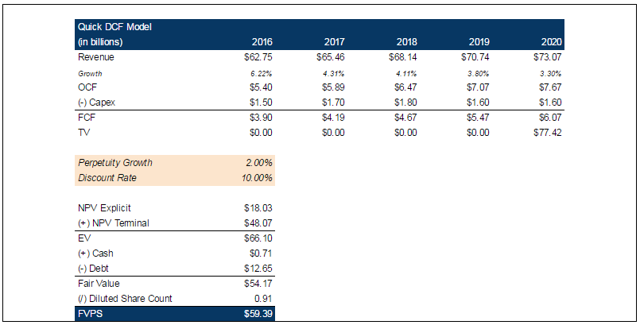 Click to enlarge
At $60 per share, the stock would trade at 18.2x adjusted earnings on 13% annual earnings growth power over the next 5 years. This feels like much more appropriate parity to us. At the current 23.4x adjusted P/E multiple, the stock is overvalued considering its cyclical nature. That said, the quarter was likely very good, and you could see investors pile into this stock following the Q1 ER, so we are not short just yet.
Disclosure: I/we have no positions in any stocks mentioned, but may initiate a short position in LOW over the next 72 hours.
I wrote this article myself, and it expresses my own opinions. I am not receiving compensation for it (other than from Seeking Alpha). I have no business relationship with any company whose stock is mentioned in this article.