By Jharonne Martis
Department store chains serve a wide range of customers - Nordstrom (NYSE:JWN) targets the high end; Macy's (NYSE:M), Dillard's (NYSE:DDS) and Kohl's (NYSE:KSS) the middle class and J.C. Penney (NYSE:JCP) the value-conscious shopper. This week, most department stores across the board reported declines in earnings and revenue.
On the Kohl's earnings call, CEO Kevin Mansell said: "It's hard to gauge how much of the sales shortfall is related to macroeconomic factors and how much is related to company-specific factors" (Source: KSS, StreetEvents).
Clearly, this industry is changing, as we noted in this New York Times article.
There has been an improvement in the housing market and retailers selling home goods have been benefiting. However, this category used to be the department stores' strength. After this week's results, it is evident that this is no longer the case, suggesting that department stores are falling out of favor.
Dillard's and Kohl's saw weakness in home goods. J.C. Penney is introducing home appliances to gain some market share. Meanwhile, Macy's said it had to make changes in this category and is now starting to see improvement: "We have worked on our home area and trying to add some interest and color and prints into some of the home products, which we are also seeing beginning to do well," said CFO Karen Hoguet. (Source: Macy's Earnings Call, 5/12/16, StreetEvents).
Among the factors affecting weak earnings/revenue, we heard:
Department stores are facing more online competition,
Weak mall traffic,
Unseasonable weather,
Stronger dollar hurting tourism spending,
Hurt by off-price retailers.
As a result, they've been heavily discounting. To compete better with Amazon (NASDAQ:AMZN), they've been investing significant amount of money in technology/omni-channel marketing and online presence, which are all eating profits. As a result, department stores Macy's and Kohl's have expanded their off-price offerings to compete better with the likes of TJX Companies (NYSE:TJX) and Ross Stores, Inc. (NASDAQ:ROST).
Off-price competition
To assess how off-price retailers have affected department stores, we looked at their Same Store Sales performance. Notice in the exhibit below that after the great recession, both groups recuperate. However, TJX and ROST stayed for the most part above the 3% healthy mark. On the other hand, department stores operate near 0% and then fall into negative territory in 2015.
This suggests that off-price retailers are likely taking market share away from department stores, especially since department stores have started to establish off-price divisions to compete better with ROST and TJX. This could be a dangerous move for department stores because they are sitting on massive amounts of inventory that needs to be priced at steep discounts. This might make it difficult for consumers to differentiate between the parent brand (Macy's) and its division (Backstage).
Exhibit 1: Same Store Sales: Department stores vs. Off-price retailers (TJX and ROST)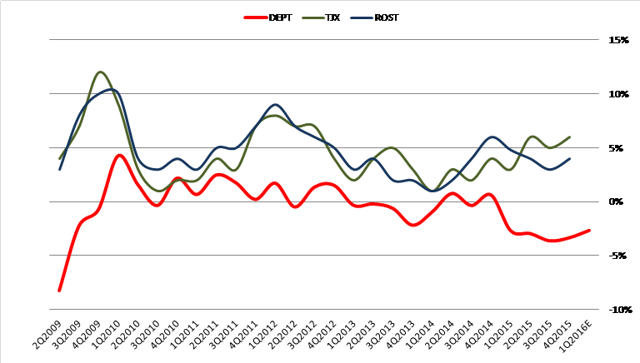 Click to enlarge
Source: Thomson Reuters I/B/E/S
Earnings and revenue are falling
Notice in the exhibit below how the department stores all posted negative earnings and revenue growth rates for Q1. On the other hand, there's strength at off-price retailers; TJX and ROST are poised for top and bottom line growth when they report next week.
Exhibit 2: Earnings and Revenue Growth Rates: Department stores vs. Off-price retailers

Click to enlarge
Source: Thomson Reuters I/B/E/S
High inventory levels
Macy's inventory days figure is above 100 days (Exhibit 3). Meanwhile, TJX inventory days are about half of Macy's. This suggests that TJX is turning around merchandise faster and ordering the right quantities. Macy's might be processing bigger orders.
Exhibit 3: Inventory Days: Macy's vs. TJX

Click to enlarge
Source: Thomson Reuters I/B/E/S