On February 9 of this year, we wrote about the fact that we thought that Seritage Growth Properties (NYSE:SRG) made for a compelling long-term holding.
We were thinking long term, the stock seemed willing to reward us in the short term. From $38 per share when we wrote, Seritage went on a bit of a run to $57 in April. That is a 50% increase in just a couple of months, which isn't too shabby.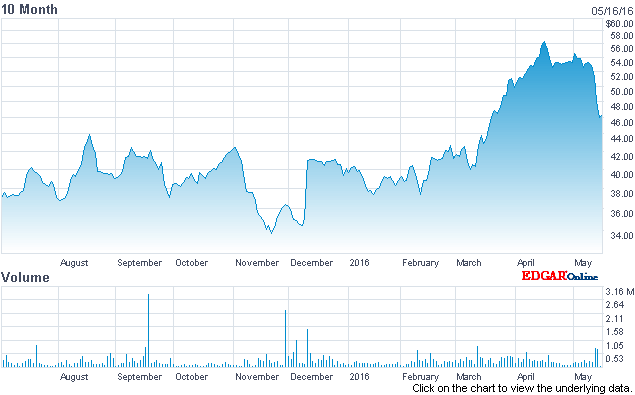 Nasdaq.com
That was luck on our part folks, nothing more and nothing less. Our view here was for a long-term holding (we will explain why momentarily); the short-term stock move could just as easily gone the other way.
Seritage wasn't an idea that we dug up on our own by the way. None of our ideas are. Everything that we invest in is sourced from the portfolio of a world-class investor.
Our belief is that the very best investment ideas can be found in the investment holdings of the very best investors, so that is where we look.
In this case, we found Seritage in the portfolio of two investors that we admire. One portfolio was Warren Buffett's personal portfolio; the other was the portfolio of the Fairholme Fund, which is run by Bruce Berkowitz.
Since shares of Seritage have pulled back recently, we thought now might be a good time to revisit the idea. Especially since a third great investor has revealed that Seritage has found a place in his portfolio.
Monish Pabrai - Concentrated Value Investor
We like Monish Pabrai's style. He runs a concentrated value fund. That means that he makes few investments and buys only when he feels there is very little chance he can lose money.
We would much rather take an idea from a concentrated manager who has 15 stock holdings than a manager who owns 50 stocks. The concentrated manager can't afford to make many mistakes and therefore his or her focus on downside protection is elevated when making investment decisions.
What we think is intriguing that all three of the great investors (Berkowitz, Pabrai, Buffett) who own Seritage follow this same concentrated approach. All three of these men believe that not losing money on an investment is priority #1.
Monish just filed his most recent quarterly report with the SEC that shows what he had in his portfolio at the end of March 2016. Here is what it looks like:
| | | | | | | | |
| --- | --- | --- | --- | --- | --- | --- | --- |
| Ticker | # Shales | $ Mkt Value | % Portfolio | % Portfolio | Shares Bought | % Change | First |
| | | | Current | Prior | (Sold) | | Purchased |
| | | | | | | | |
| (NYSE:FCAU) | 13,785,930 | $111,115,000 | 32.20% | 50.89% | 7,171,708 | -34% | Q4 2014 |
| (GM-WTB) | 5,986,448 | $81,775,000 | 23.70% | 25.73% | No Change | 0% | Q4 2012 |
| (OTC:RACE) | 1,277,192 | $53,122,000 | 15.39% | 0 | 1,277,192 | New | Q1 2016 |
| (NASDAQ:GOOG) | 69,188 | $51,542,000 | 14.94% | 13.85% | No Change | 0% | Q4 2014 |
| | 530,653 | $26,517,000 | 7.68% | 0 | 530,653 | New | Q1 2016 |
| (WLRHU) | 990,534 | $10,391,000 | 3.01% | 2.42% | 95,160 | 10% | Q3 2014 |
| (NYSE:BRK.B) | 72,506 | $10,287,000 | 2.98% | 3.03% | 14,500 | -16% | Q4 2015 |
| (WLRH) | 35,890 | $360,000 | 0.10% | 0.65% | 211,980 | -85% | Q3 2014 |
| | 0 | $0 | 0 | 3.43% | 6,333,296 | -100% | Q4 2008 |
Pabrai has two completely new positions. Those are Ferrari and the already mentioned Seritage. We will take a closer look at his Ferrari purchase in the coming weeks to see if we can reverse engineer his reasoning.
Clearly, the Ferrari brand name is a powerful one so there should be a pretty decent moat around the business. Monish is notoriously shy about speaking about his current positions, so we won't be able to glean any detail from him.
For now, we will stick to focusing on Seritage.
What Do These Great Investors See In Seritage?
Seritage was formed on June 3, 2015. It was created specifically to purchase real estate assets from and provide a cash infusion to the long-struggling retailer Sears Holdings (NASDAQ:SHLD).
As a result of the transaction, Seritage obtained a real estate portfolio that contains 235 wholly-owned properties and 31 joint venture properties. In total, these consist of approximately 42 million square feet of building space.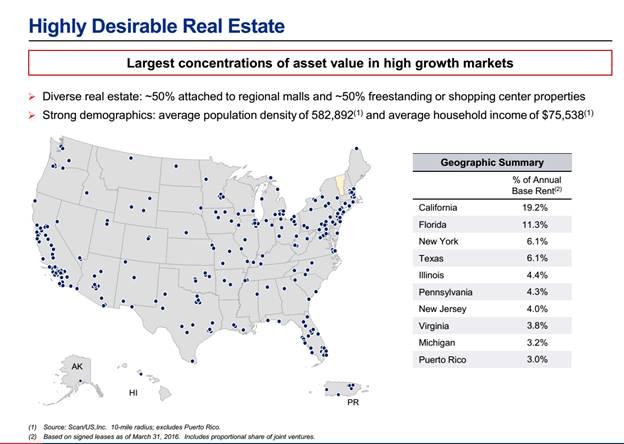 Seritage Corporate Presentation May 2016
Almost all of those properties (224 or 91% of the square footage as at Dec 31, 2015) are leased to Sears or K-Mart, which is owned by Sears. That is going to change and that is the key to why we believe Seritage is a really nice long-term opportunity.
As part of the lease contracts with Sears and K-mart, Seritage has the right to recapture 50% or 21 million square feet of that space, which can be re-leased to other tenants.
As time passes, Sears and K-mart are going to represent a smaller percentage of Seritage's square footage. That is really good, because Sears and K-mart have lease agreements that are well under market.
As Seritage reclaims square footage from Sears and brings in new tenants, lease revenue and cash flows are going to increase.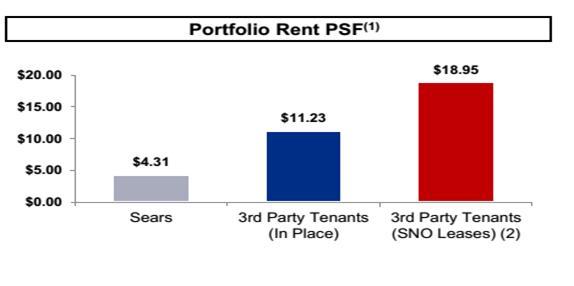 Seritage December 2015 Investor Presentation
As of year-end 2015, Sears averages $4.31 per square foot of rent paid to Seritage. Current non-Sears tenants pay a lot more than that at $11.23 per square foot. But even those are below-market rents.
The going market rate for new non-Sears tenants that Seritage has been contracting with is $18.95.
As Seritage pulls the property from Sears and K-mart, it can lease it out to new tenants at nearly four times as much.
At the end of December, only 9% of Seritage's square footage is leased non-Sears tenants, but these tenants provide 22% of Seritage's annual rent.
The long-term objective would be to get Sears and K-mart down to 50% of the total square footage. That would significantly change the revenues and cash flows of this business.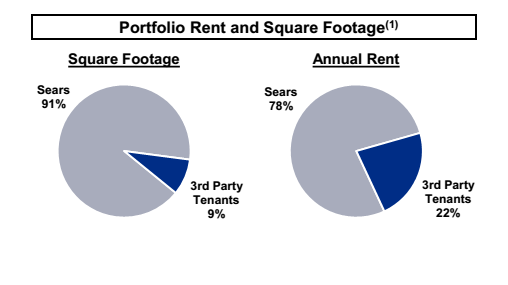 Seritage December 2015 Investor Presentation
The Strategy Is Already Working
Since we initially wrote about Seritage back in February, the company has added some detail to its corporate presentation that illustrates just how much value transitioning out of these Sears leases can create.
Seritage has announced the redevelopment of ten Sears/K-mart locations listed in the slide below.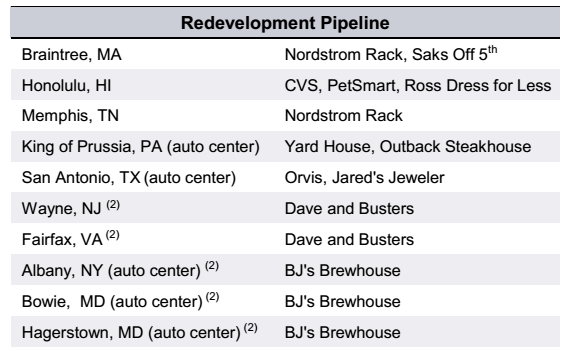 Seritage May 2016 Investor Presentation
The rent being generated from these ten locations under the current Sears leases is under $6 million. With the redevelopment that rent is going to jump to more than $20 million.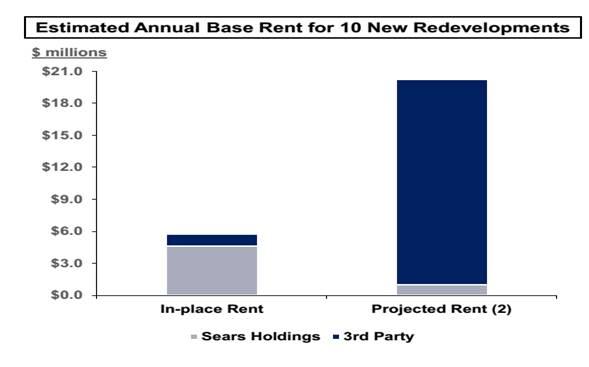 Seritage May 2016 Investor Presentation
Seritage estimates that those properties were acquired initially at a cost of roughly $80 million (grey shaded below) and by investing $114 million to redevelop (dark blue below), the company will subsequently have properties worth $350 million (all three colors added together).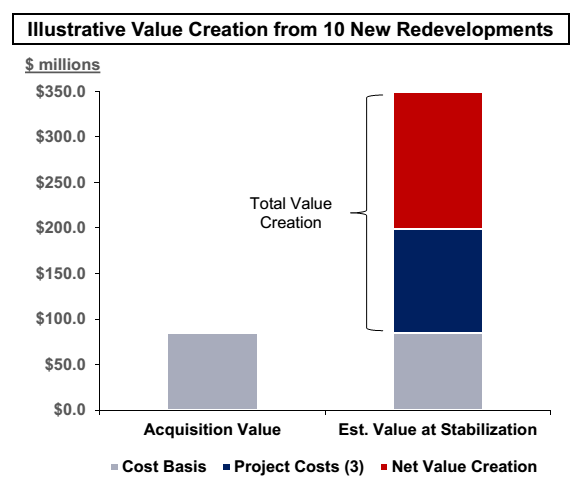 By redeveloping just 10 of the company's 235 properties, Seritage will have created $150 million of value for shareholders. With 30 million shares outstanding that is $5 per share. That isn't going to double the share price overnight, but by continuing to work through the portfolio over the long term, it will make a big difference.
One To Let Simmer Over The Long Term
We were surprised by Seritage's stock price move earlier this year. We were looking at this as a very long-term holding. One where time would let the re-leasing of all of these properties turn into an increase in cash flow and valuation.
We still believe that is the case and are excited to see that Pabrai has jumped onboard beside Buffett and Berkowitz. Given the long-term nature of the opportunity here, there is a very good chance that the stock will sell-off from time to time during market corrections and that better entry prices will be available.
Make sure to click the follow button at the top of the article and we will try to provide updates on Seritage (plus lots of other holdings of top investors), especially when we feel if its share price gets really attractive.
Thanks for reading.
Note: Our goal is to be Seeking Alpha's top source of investment ideas from the world's hedge fund stars of today. Click the follow button at the top of this article so that we can keep these ideas from the best in the business flowing to you.
Disclosure: I/we have no positions in any stocks mentioned, and no plans to initiate any positions within the next 72 hours.
I wrote this article myself, and it expresses my own opinions. I am not receiving compensation for it (other than from Seeking Alpha). I have no business relationship with any company whose stock is mentioned in this article.