Year to date, the SPY is up just 1.5%. Concerns with declining commodity prices and the maturity of the smart phone market were two major headlines for investors in 2015, but at least to balance it out, we had a record year of mergers and acquisitions. While some would see increased M&A an indication for recession as smaller firms buddy up in an effort to survive, the $4.7T in M&A transactions as estimated by the Wall Street Journal. This year though, over $400B in mergers have been blocked by the Federal Trade Commission. Baker Hughes and Halliburton, Pfizer and Allergan, and most recently Office Depot and Staples. Smaller takeovers have also decreased in frequency.
As the Japanese and Chinese markets continue to show poor economic activity and less consumer spending even while quantitative easing (QE) and currency pegging are prevalent, the United States seemed to be holding on economically compared to its peers. It may still be, but weaknesses are showing slowly.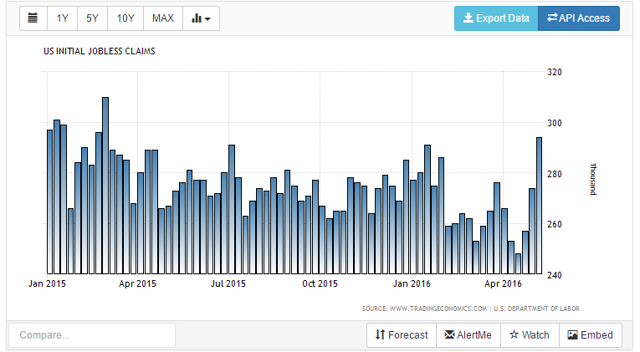 Click to enlarge
All charts are acquired through Trading Economics, unless otherwise mentioned.
This chart, the 1 year history of the initial jobless claims, shows the last report featured a 15 month high. It is a blip on the radar, especially after several higher than expected jobless reports have been strung out in recent weeks. If the initial claims hits well above the 4 week moving average of 268.25k or even higher than the 15 week high of 294k, then it will become more of a pattern and less of an anomaly. The jobless claims report is usually an indicator of future economic performance, so I will be more closely than ever be watching for the next Thursday report.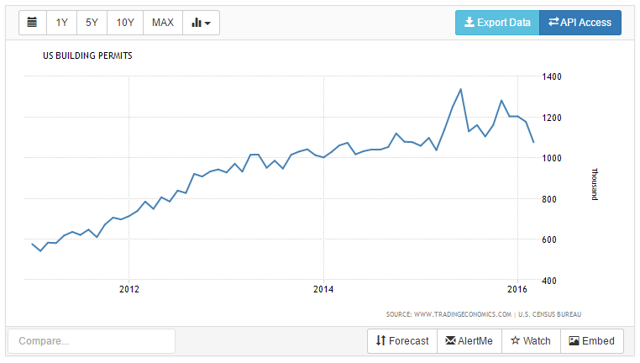 Click to enlarge
Another telling report is the recent trends surrounding the US building permits. Building permits hit a low recently that has not been seen since roughly around early 2015. Permits indicate capital expenditure and spending by both private and public businesses, and high growth in that metric shows a time of economic "boom". Obviously, if permits go below that 1,000 line that has not been breached since before 2014, it will be a sign of perhaps a negative economic reversal, and a major reduction of spending within the business sector, a huge proponent of the US economy. 1,500 has not been breached since 2007 pre great recession.
We have seen an increase of layoffs as well, especially in the tech industry. Symantec corporation (NASDAQ: SYMC) just laid off 1,200 people in an effort to trim direct labor costs. Intel (NYSE: INTC) cut over 500 workers in Chandler, Arizona; and then another 800 in Oregon. Halliburton (NYSE: HAL) laid off another 6,000 in the first quarter alone. Layoffs in the oil industry in particular will become regular as more mid and lower tier oil companies file for chapters 7 and 11.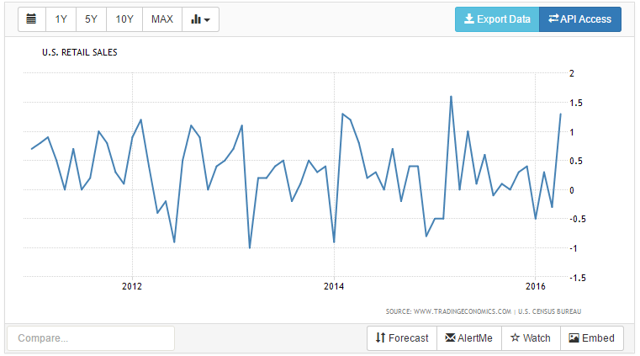 Click to enlarge
Perhaps one of the few areas still showing strength, and a reason why to buy within the sector/industry, U.S retail sales are still performing strong, as retail sales for month April 2016 shot up 1.3% to beat consensus estimates. Even as businesses and job reports are showing their luster, consumers perhaps are the last bastion that are supporting the current economic state.
This is perhaps due to the unusually low inflation and CPI indicators, which allow consumers to possess more spending power then they otherwise would have. Additionally, consumers will need to continually improve on their homes and turn to budget retailers if the economy gets weaker. This leaves discount variety stores, drug stores, personal product brands, packaged goods, and extreme discount retailers in a beneficial position.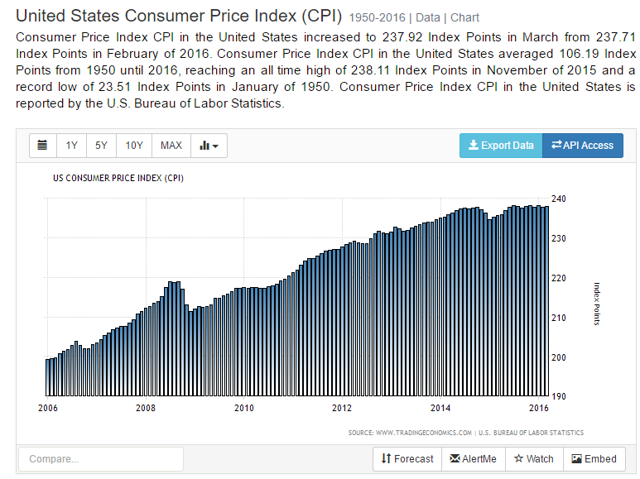 Click to enlarge
Analysis
My primary recommendation, in light of an economic downturn, or even a continuation of the current macroeconomic situation, is to consider adding Walmart (NYSE: WMT), Costco (NYSE: COST), Dollar General (NYSE: DG), The Home Depot (NASDAQ: HD), Proctor and Gamble (NYSE: PG), Coca-Cola (NYSE: KO), Pepsi (NYSE: PEP), or General Mills (NYSE: GIS) to help balance out and minimize portfolio and market risk.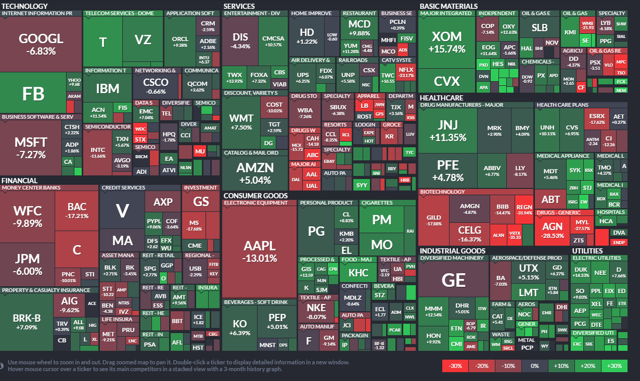 Click to enlarge
In this map, which was acquired by Finviz, shows the performance of the entire S&P 500 year to date, broken down by sector, and then industry. As we can see, Biotechnology and the Financial sector has largely underperformed, while utilities, IT, telecom, beverages, discount variety, and drug manufacturers have outperformed. As 2016 continues to follow 2015's pattern of flat line performance, one must be careful on where to invest funds.
Not only do consumer staples provide generally large and satisfactory dividends, but they generally have lower historical volatility, and therefore smaller variances. I will list each of these companies, followed by dividend yield and HV, to show this:
PG: 3.30%, 1.01%
HD: 2.07%, 1.49%
WMT: 3.08%, 1.84%
KO: 3.09%, 1.97%
PEP: 2.89%, 1.30%
COST: 1.25%, 1.32%
DG: 1.23%, 1.99%
GIS: 2.85%, 1.35%
All of these stocks have suitably high dividends and low volatility, and the promise of future long term, and short term capital gains. In a time where Japan has introduced negative interest rates, and current U.S short term rates are at .25%, alternative investment strategies outside of stocks, forex, commodities, and derivatives are few and far between. Investors have to take risk to even get a marginal annual returns, leaving dividend yields important for even short term investors like myself. PG in particular appeals to me once it drops to below $80/share to a more attractive valuation.
Disclosure: I/we have no positions in any stocks mentioned, and no plans to initiate any positions within the next 72 hours.
I wrote this article myself, and it expresses my own opinions. I am not receiving compensation for it (other than from Seeking Alpha). I have no business relationship with any company whose stock is mentioned in this article.