The Overlooked Physical Therapy Industry
When thinking about the massive Healthcare sector, physical therapy rarely comes to mind. However, physical therapy represents a $30 billion industry with an annual growth rate of 7% within the US. There are several factors contributing to this expansion, such as the aging US population, increase in sedentary lifestyles, and growth in employment.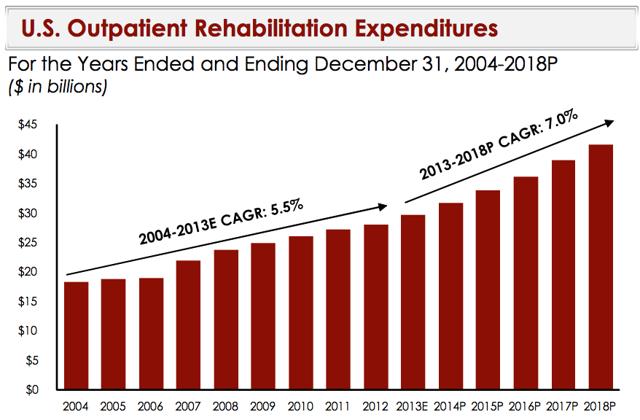 Click to enlarge
(Credit: Harris Williams & Co Physical Therapy Market Overview 2/2014)
Despite the size of this market, it remains highly fragmented and extremely competitive with the largest 50 competitors comprising less than 25% of the market. The market is primarily composed of small, independent practices that are all vying for a piece of the pie. Although nearly any industry has its fair share of front-runners, physical therapy lacks a clear winner, where no single participant commands over 5% of the market. Why is this?
Examining US Physical Therapy, a PT Pure-play, for insight into the PT market
To answer this question, let's take a look at US Physical Therapy (NASDAQ:USPH). Fellow contributor Andrew Varone has a satisfactory overview of USPH's business model and strengths. As stated by Varone, "U.S. Physical Therapy, Inc. is the only publicly traded pure-play provider of outpatient physical therapy in the United States. With its 514 facilities throughout 42 states, USPH is currently the fourth largest operator of clinics. Despite being the fourth largest, USPH nor any other company have control of greater than ten percent of market share. This is due to outpatient rehabilitation [being] a very fragmented industry with more than 16,000 clinics in the United States."
USPH runs a fairly standard business model centered on the acquisition of select PT clinics around the US. This is clearly delineated in the company's most recent 10-K, where the company grows inorganically by purchasing majority interest in select multi-clinic practices throughout the calendar year (see page 4 of the 10-k). The cyclical nature of the purchases indicates these acquisitions are driven by internal revenue generated by the company. Their annual report does a phenomenal job at describing the landscape for physical therapy businesses, which consists of the following:
Typical clinics occupy approximately 1,500 to 3,000 square feet of leased space in an office building or shopping center. Ground level space is typically secured in order to ensure patient ease of access. Although typical minimum staff consists of a licensed physical therapist and an office manager, growth of patient visits typically necessitate additional staffing costs such as additional therapists, assists, aides, and office personnel. Patients are usually treated for approximately one hour per day, two to three times a week, typically for two to six weeks. On average, adding up to 10 hours over a month long period per patient. This adds up quickly, necessitating the additional staff noted above. Physical therapy is a well accepted and reimbursed service, paid for by managed care programs, commercial health insurance, Medicare/Medicaid and workers' comp. Outpatient physical therapy service are benefiting from the following tailwinds (denoted in italics): Economic Benefits of Therapy Services. Physical therapy is a compelling alternative to traditional healthcare services, preventing short-term disabilities from being chronic conditions. Earlier Hospital Discharge. Changes in health insurance reimbursement have encouraged the earlier discharge of patients to reduce costs. These practices foster greater demand for outpatient physical therapy services. Aging Population. As the elderly population continues to grow, their greater incidence of disability will increase the demand for rehabilitation services. Competition is high in the physical therapy industry, competitive factors include but are not limited to: quality of care, cost, treatment outcomes, convenience of location, and payer sources.
These factors are clearly accounted for when examining USPH's financials, where clinic-operating costs took a lion's share of net revenues were of $331.3 million in 2015, $252.9 million or 76.3% went towards said costs, primarily consisting of salary and rent/clinic supplies. This clearly highlights real estate and personnel costs as the largest bottleneck in growing revenues in physical therapy.
Assuming these factors are roughly the same across the board for all physical therapy businesses, it becomes clear why there has been a lack of a clear winner within this space.
The Constraints or inherent Bottlenecks in growing a physical therapy business.
The hurdles for furthered growth are relatively clear and simple. There are high capital requirements in the form of leasing a suitable location, equipment for rehabilitation, and advertising. As it stands, physical therapy takes place in a one on one patient to therapist session, providing a manpower constraint for growth. Practices are reliant on third party payment from insurance companies. The insurance industry is heavily consolidated, and in order to receive payment, the therapist must accept these rates. USPH's recent earnings call echo these sentiments, in addition to raising other idiosyncrasies of the PT space. Weather is shown to effect revenue, where inclement weather can affect the therapist's ability to get to their patient. More saliently, I'd like to draw focus to this excerpt:
"Dana Hambly (Analyst)

Yes. And so maybe ask in different way, and so above a 25 patients per day, I mean kind of the incremental cost per patient is pretty de minimis?

Lawrance McAfee (Chief Financial Officer)

Well, again if you're in the margin where you have to add another full or part time person, no; but on average, yes. So we said our target is set for - there we see 12 or more patients per day. So as they are new to that number, because we average lesser than as a company, we should not to add staff and so yes, that incremental visit 23 to 24, to say it should be - have a high margin contribution. Look at it."
There is a strong implication that 25 is the hard cap before additional staff must be added to accommodate more patients, which is vital to drive revenue growth in a business where time is a precious commodity. There are further concerns not addressed within the annual report or the earnings call, but are noted in these articles ( 1 and 2). The points are as follows:
Average outpatient course of care consists of 7-10 visits, and reimbursement rates and visits approved for PT services are largely stagnant or decreasing. In addition to decreasing coverage and reimbursement, only 30% of patients utilizing outpatient PT service attend all of the visits authorized by their insurance companies per course of care. As a result, the average outpatient physical therapy clinic misses out on approximately $250,000 of revenue per year due to patients not fully completing their course of care. There is a large amount of churn in regards to patient retention, where on average 20% of patients drop out in the first 3 visits, and another 20% will drop out before their 7thvisit. The unfortunate reality is these 40% of patients aren't reaching full recovery within the first 6 visits reducing the perceived quality of care or benefit. To put it frankly, these courses of care aren't "sticky'.
Although there are clear tailwinds benefiting the physical therapy industry as a whole, it's clear that each practice faces strong headwinds in regards to tapping into the growth of the sector.
Gaining an edge in Physical therapy, a look at private company WebPT
It's difficult to grow what is essentially a brick and mortar business, so how can PT practices gain a competitive edge? The answer seems fairly simple, leverage technology. This idea of providing a technology platform for PT practices forms the crux of WebPT's business.
WebPT takes a novel approach to monetizing the opportunity within the physical therapy space. The company provides a web-based platform that provides practices with tools aiding Documentation (Managing Patient records), Scheduling (Therapist Calendar management), Practice Management (Business intelligence, transparency), and Billing.
In a very real sense, WebPT is the Salesforce (NYSE:CRM) of the physical therapy space, providing a customer relationship management product specially catering to physical therapy clinics. It has been well accepted by the PT community with over 55,000 paying members, 8,631 clinics with an impressive 100% member retention rate. With pricing on the website stating $50 a month for the standard plan (enterprise plan prices are hidden), it can be inferred that WebPT generates well over $3,000,000 a month in revenue, presumably at the substantial margins expected of a cloud computing company.
The business model is brilliant, because it completely avoids the real estate and labor costs inherent to PT clinics. The need for this service was clear in this industry, where the company's rampant growth placed it on the Inc. 500 list of the nation's fastest growing companies. Where for that particular year, companies had to achieve a mind-boggling minimum of 918.59 percent sales growth to make the final cut.
Although a private company, looking at the company's crunchbase profile provides some insight into its valuation. WebPT raised well over $44million in 3 funding rounds, although the terms aren't stated, it would be safe to assume a valuation in the ball park of $200-600 million.
It's clear to see why the company's product has been so readily adopted. In a space where thousands of clinics are fighting to gain an edge, WebPT's services allowed for these practices to cut down on staffing spend while gaining efficiency on many fronts. It's a no brainer.
Disruptive business models in Physical Therapy
In another article about USPH, contributor Mark Biwojno makes the case that U.S. Physical Therapy has a unique business model that is disruptive to the PT space. I beg to differ. If this were the case, USPH would already be the clear winner within the PT space with a commanding market share. This clearly isn't the case, but I'd like to examine what would constitute a disruptive business model in Physical Therapy.
As stated by Biwojno, "The "magic" of disruptive business models is that they can deliver greater customer empowerment without an increase in the production or R&D costs borne by the business." Namely, a disruptive business model in physical therapy would need to definitively change the playing field by addressing one or more of these following factors:
Increasing net revenue per month, by accurately assessing billing practices in regards to how much money the practice actually collects. Increasing Net revenue per visit, by determining which insurance carriers pay the most and presumably by reducing patient churn. Increasing revenue per square foot, simply doing more business with the space you have available. Revenue per therapist, increasing therapist productivity despite limited man-hour resources that limit how many patients each therapist can see each day. Reducing cost of doing business.
In regards to these factors, it's clear that USPH is not a disruptive business. However, by these metrics, WebPT can be seen as a sort of a disruptive business. Although WebPT provides many tangible benefits that were largely needed in the physical therapy space in regards to many of the metrics above, it's not a truly disruptive business in that it operates as a value add to PT practices. Although CRM services are certainly beneficial to the physical therapy industry, the business itself won't put other clinics out of business if they refuse to adopt their platform. Which brings me to the following.
After researching the physical therapy space, I discovered a company with a technology platform that I believe could revolutionize the physical therapy model of business.
eWellness, a truly disruptive newcomer in the physical therapy arms race
eWellness (OTCQB:EWLL) is a recently public company offering a SaaS technology platform named PHZIO. The company shares a lot of similarities with WebPT in that it lacks a brick and mortar business, and offers a technology services that provide transparency in business practices such as patient management, patient metrics, reports, and billing. However, PHZIO goes a step further in that it centers on a Telemedicine platform designed to extend the traditional practice online.
With PHZIO, physical therapists can provide treatment protocols to patients anywhere with an Internet connection. By utilizing live on demand video, therapists will be able to monitor multiple patients remotely to ensure form and compliance. This represents a radical shift in the physical therapy business model.
For the first time, by using a real-time remote monitored technology platform, therapists will be able to perform 1-to-many physical therapy treatment for home use. By empowering physical therapists to observe multiple patients simultaneously in real-time, PHZIO holds the key to overcoming fundamental bottlenecks in growing PT practices.
The benefits are manifold. The physical therapy industry suffers from expensive to scale 1-to-1 treatment sessions, declining insurance reimbursements, and profits can be negatively affected by rising real estate costs (profits declined across 2006 onwards due to rising real estate prices). PHZIO is able to answer all of these salient concerns, by enabling practices to turn into true volume based businesses.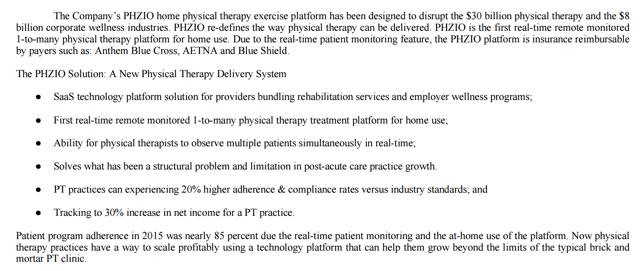 Click to enlarge
Since PHZIO's launch in June 2015, early results reported 20% higher adherence and compliance versus industry, resulting in a 30% increase in PT practice. Most importantly, and crucial to the model's success is that it is eligible to receive reimbursements from major payors such as Anthem Blue Cross, Aetna & Blue Shield. In a landscape where insurer reimbursement is, for all intents and purposes, standardized across the board, the 1-to-many platform will allow therapists to scale their number of addressable patients comfortably. Where previously therapists were limited to 15 patients per day paying $50-80 per session, PHZIO will allow therapists to see up to 15 patients per hour, greatly increasing the profitability and revenue of their practice.
If this were the case, clinics would be forced to adopt eWellness' platform in order to maintain a competitive edge in the market. The strong competitive advantages in margins offered by PHZIO could result in early adopters easily cannibalizing competing practices that are late to the punch.
eWellness Monetization Model
eWellness boasts a slightly different monetization model than WebPT offering several pricing channels. Joint replacement customer management service payment channel would run the clinic $400 per patient session (consisting of 24 online remote-monitored sessions and 12 in-office visits). Independent clinic channel would be a flat fee of $15 per physical therapist remote-monitored exercise session with no upfront or licensing fees. The company's "enterprise" plan, the corporate wellness channel, would cost the PT clinic network $600/employee per 6 month program in addition to a revenue share of $35/patient. Although still a SaaS support model, the integration of physical therapy services commands higher prices.
The growth strategy for the company is fairly simple, revolving around adoption from practices around the US. Although early stage growth is always tenuous for these types of tech companies, I believe the competitive environment for physical therapy clinics is beneficial for the company. As discussed earlier, the market remains highly fragmented with practices scrambling to gain a competitive edge. With meaningful benefit reported from the company's early results, PHZIO represents a tangible opportunity for PT clinics looking for furthered growth. Upon reaching a certain threshold of active clients, it would not be surprising to see rapidly increasing adoption rates similar to WebPT's.
Salient Risks
eWellness is a newly public company and as such carries many of the risks typical of these companies. Regulatory risk might endanger the company; the physical therapy industry is subject to a large amount of government oversight and regulation. The novel nature of telemedicine in regards to physical therapy might be subject to regulatory changes in the future. Dilution risk is also a concern, although lacking a brick and mortar presence, the company will undoubtedly require further capital to grow its business, and future capital raises will dilute shareholders' ownership, particularly if eWellness is unable to conduct these raises at reasonable terms. Liquidity risk is also highly salient. eWellness went public via reverse merger, and is typical for reverse mergers, the company is very thinly traded and could negatively impact investor's ability to exit their positions without hurting expected gains. As such, this is should be considered a highly speculative investment. It may be wise to wait until investor interest picks up before taking a dive.
Closing Thoughts
The physical therapy market is ripe for change. With current standard business models held hostage to variable real estate prices and limited scaling, the PHZIO platform promises to be highly disruptive and eWellness is poised to benefit from the cloud revolution the physical therapy space so desperately needs. The technology itself is highly attractive and provides a notable opportunity for some of the larger players within the PT space. While eWellness maintains a first mover advantage, an acquisition of the company by a large network of clinics may result in the first clear winner in the industry.
The benefits offered by PHZIO are huge and can clearly provide huge operational leverage to established clinics. This article began with an examination of US Physical Therapy, a $730 million business with a large network of over 500 clinics in 42 states. Although USPH has grown through steady acquisitions of existing clinic groups, the company faces and will continue to face the same problems plaguing the industry: expensive scaling and exorbitant leasing and personnel costs. US Physical Therapy boasts strong cash flow from operations that allow it to drive continued acquisitions of clinics. As stated in USPH's most recent 10-Q, the company has access to a revolving credit facility for $125 million. EWLL currently trades at a valuation just under $70 million. Although larger than their typical purchase, an acquisition of eWellness just might be the perfect marriage, allowing for unparalleled scaling growth and transparency across all of its clinics.
Disclosure: I/we have no positions in any stocks mentioned, but may initiate a long position in USPH, EWLL over the next 72 hours.
I wrote this article myself, and it expresses my own opinions. I am not receiving compensation for it (other than from Seeking Alpha). I have no business relationship with any company whose stock is mentioned in this article.