China Biologic Products (NASDAQ:CBPO)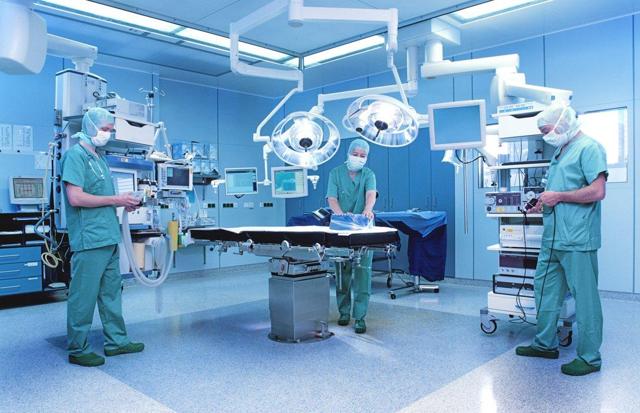 China Biologic Products Inc. is a mid cap biotech focused on plasma based technology. The firm manufactures twenty products for use in emergency rooms and in the treatment of immuno-deficiency related illnesses. These products relate to human albumin, immunoglobin, and coagulation factor.
I have been invested in this company since 2009, and so far it has been the best biotech investment I have made. A combination of demand for its services, favorable government policy and barriers to entry make CBPO one of the best biotech investments available. I am confident that this stock has many more years of satisfactory growth ahead.
The Market for Blood & Plasma Products In China.
The market for blood and plasma based products is very large. First off, China is the largest population on the planet and supplies like human albumin are invaluable during surgeries and as a treatment for liver disease. Immune system illnesses like hemophilia also create huge demand for the company's blood clotting agents.
China Biologic has a healthy pipeline of new products on the way. All of the company's new products are concentrated on immuno-deficiency treatment and blood based therapies.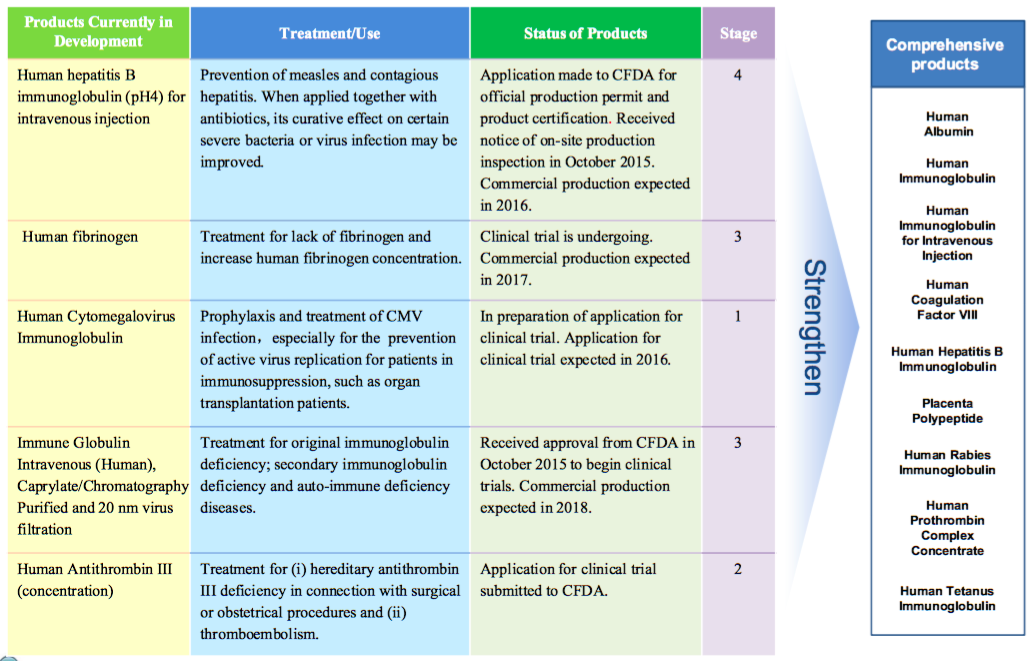 China Biologic's Edge.
The most compelling part of this company is its unique position in a protected market which is almost guaranteed to grow as the Chinese become more affluent, and as medical expenditure and awareness of immune system diseases increases. China Biologic has a unique edge because the blood based products market in China is protected from competition.
The country bans the importation of human blood based products and the barriers to entering this market are high. Much of this regulation started as tainted blood products infected many people with HIV/AIDs in China. Now regulation makes it difficult for new company's to enter the market - this is good for both the Chinese people and CBPO stock.
(Numbers in millions USD)
Revenue Growth Y/Y

| | | | | | |
| --- | --- | --- | --- | --- | --- |
| Year | 2012 | 2013 | 2014 | 2015 | 2016** |
| Revenue USD | 184.8 | 203.4 | 243.3 | 296.5 | 349.50 |
| Percent Change | +21% | +10% | +20% | +22% | Estimated + 18% |
The company has a good amount of operating leverage, revenue rises faster than cost.
Net Income Growth Y/Y

| | | | | | |
| --- | --- | --- | --- | --- | --- |
| Year | 2012 | 2013 | 2014 | 2015 | 2016** |
| Revenue USD | 45.2 | 54.6 | 70.9 | 89.0 | 111.25 |
| Percent Change | +148% | +21% | +30% | +26% | Estimated +25% |
CBPO trades at 34 p/e, and I think this is undervalued considering how good the company's growth is. Biotechnology is a sector with an average p/e of over 150, and I think China Biologic has an usually lucrative and safe market in blood and plasma production compared to most biotechs. The stock deserves a low discount rate on its future cash flows.
The Performance of The Stock.
CBPO is a mid cap ($3 billion) biotech that is still seeing sequential y/y growth in both revenue and net income. Sometimes the company has quarter/quarter growth which is unique for a firm of this size. The stock has outperformed the biotech index (NBI) dramatically since inception.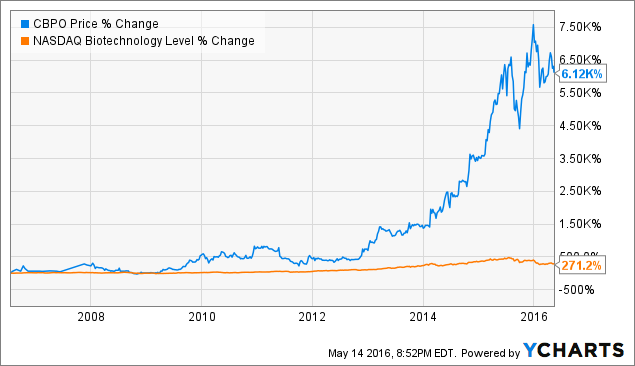 China Biologic is also one of the few companies who's stock did well in 2016. The majority of U.S biotechs had stunning declines in the 4th quarter of 2015 and the 1st quarter of 2016. CBPO increased revenue and net income and the stock went up during this period, outperforming (NASDAQ:IBB), (NYSEARCA:XBI) and (NYSEARCA:FBT).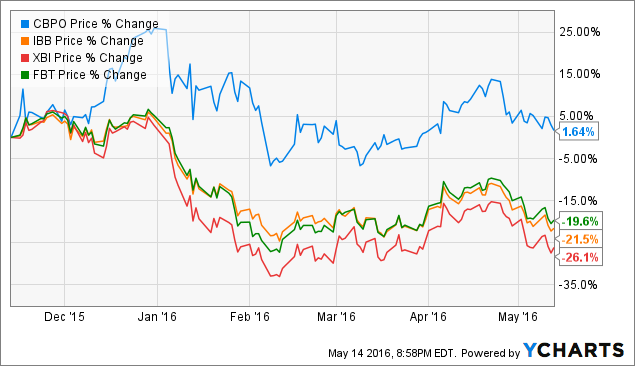 I want to remind everyone who is interested in this company to keep things in perspective. When something looks to good to be true, it might actually be. Investors who owned Valeant Pharma (NYSE:VRX) know this all to well. If such a house of cards could go on for so long in a major North America pharma, imagine the sort of fraud that may go on among Chinese biotech companies.
I will hold CBPO for another year or two because I am confident in this company's market and its unique position within it. I believe China Biologic Products Inc is a good company, but I take everything in their financial statements with a grain of salt - as I do with all Chinese stocks.
Conclusion.
China Biologic Products Inc. is a compelling alternative to U.S based biotech stocks and ETFs. The company has a track record of success, and its outperformance is bound to continue in the future.
Investors in CBPO are putting their money into a firm that sells one of the most crucial medical supplies in the world's largest populations. Barriers to entry are high, and the company enjoys a dominant position in the Chinese market. This stock is a strong buy, and I recommend it to anyone who is looking for a solid biotech investment.
- follow me for coverage of the biotech sector
Disclosure: I am/we are long CBPO.
I wrote this article myself, and it expresses my own opinions. I am not receiving compensation for it (other than from Seeking Alpha). I have no business relationship with any company whose stock is mentioned in this article.