Today, we got updates from the US housing market. Housing starts increased 6.6% in April. Twice as much as expected (3.3%). Housing starts not only beat estimates, but also were able to recover after an 8.8% decline in March versus February.
Building permits increased 3.6% versus a 5.5% expected increase.
All of these numbers are based on month-on-month calculation. And to be honest, you should not look at them. The most important thing is year-on-year change. And if we look at year-on-year data, we get a different picture.
Building permits fell 2.11% and housing starts decreased 1.5%. Keep in mind that building permits are more important than housing starts since a building permit is the first thing that is needed in case someone wants to build a house. Furthermore, housing starts are less reliable since every single apartment is counted as a house.
So, let's start by looking at building permits in comparison to homebuilders (SPDR Homebuilders ETF (NYSEARCA:XHB)). Homebuilders have been a little weak after the February rally. Building permits however are spoiling the party. It is highly unlikely that homebuilders perform well during the next few months. I expect lower prices or at least returns that are well below market returns.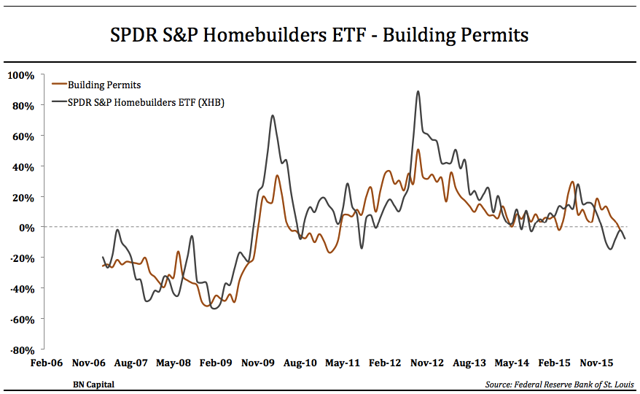 Click to enlarge
Housing starts confirm the outlook given by building permits. Stocks will feel the pressure and perform badly in my opinion.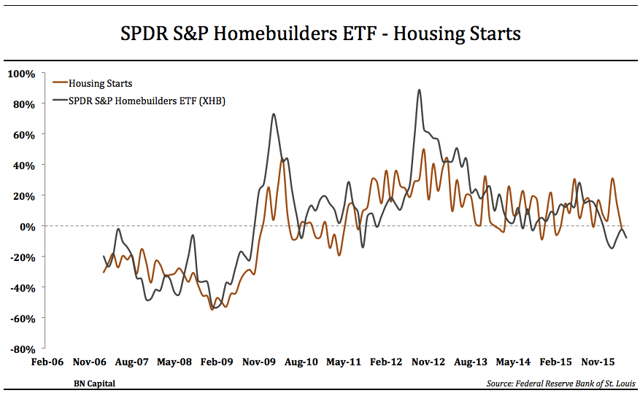 Click to enlarge
My advice to you is, don't go outright long homebuilders. Especially not the companies that build houses like CalAtlantic (NYSE:CAA), PulteGroup (NYSE:PHM), KB Home (NYSE:KBH), etc. XHB components like Home Depot (NYSE:HD) might perform better since they have almost all exposure in the DIY business. However, don't bet on them since you won't generate any alpha on the long side.
Disclosure: I/we have no positions in any stocks mentioned, and no plans to initiate any positions within the next 72 hours.
I wrote this article myself, and it expresses my own opinions. I am not receiving compensation for it (other than from Seeking Alpha). I have no business relationship with any company whose stock is mentioned in this article.