One thing that has amazed me in recent days is the rally in shares of SolarCity (NASDAQ:SCTY). The stock has recovered most of its post-earnings losses, a very surprising move given another awful quarterly report for the company. Unfortunately for investors, this looks more like a dead cat bounce as the company continues to disappoint.
The company had a poor bookings figure in Q1, which forced management to reduce its yearly installation forecast. Additionally, SolarCity continues to spend like crazy, meaning losses are piling up faster than expected. In the table below, you can see how much analyst estimates have fallen in the past 15 months given continued poor results.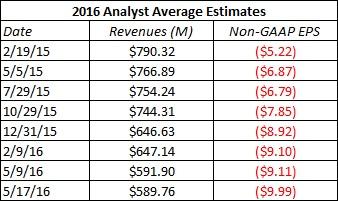 (Source: Yahoo Finance analyst estimates page)
The numbers above don't even tell the whole story, as some analysts have not revised their figures yet for Q2 or the whole year. When these uber optimistic estimates come back to reality, the overall averages will continue to worsen. I wouldn't be surprised if the company loses more than $10 per share this year.
SolarCity needs to get its costs down. While revenues in Q1 were up nearly 82% over the prior year period, gross profits fell by 38%. Operating expenses soared and interest costs jumped, leading to a GAAP loss that nearly doubled to $283 million. For Q2, the picture isn't expected to get much better, which is why the company forecast its non-GAAP per share loss to balloon by at least 67%. Looking at the company's solar bond offerings also show how interest rates continue to rise for SolarCity, showing that investors see the company as more and more risky.
With such weak bookings in Q1 amid a tougher regulatory environment, the company is forecasting roughly 400 MW of installations in the first half of the year. However, its forecast of 1.0 to 1.1 GW for the year implies a sizable jump in the second half of the year. One must wonder what the company will need to do to achieve this forecast, whether it be price cuts or through a further expansion of its sales team. Either scenario could lead to increased losses even as revenues are expected to rise later this year.
The other problem investors have to worry about is the continued rise in the company's share count. Over the past year, another 1.44 million shares were added to the outstanding share count, and this doesn't include another 37% or so of shares that are excluded for being anti-dilutive. With stock-based compensation continuing to rise, shareholders are in for more dilution. If the company doesn't improve its cash flow situation, convertible notes could also send the outstanding share count much higher.
Given such a poor earnings report, I'm very surprised that shares of SolarCity have held up as well as they have. In addition to the reduction of the yearly forecast, losses are piling up at a staggering rate. When will the company get its spending under control? It will be interesting to see what SolarCity has to do to ramp up its installations in the second half of the year, given such an aggressive forecast. As interest rates for debt rise and the outstanding share count continues to increase, the continued disappointment from this name is likely to send this stock lower until management finally gets its act together.
Disclosure: I/we have no positions in any stocks mentioned, and no plans to initiate any positions within the next 72 hours.
I wrote this article myself, and it expresses my own opinions. I am not receiving compensation for it (other than from Seeking Alpha). I have no business relationship with any company whose stock is mentioned in this article.
Additional disclosure: Investors are always reminded that before making any investment, you should do your own proper due diligence on any name directly or indirectly mentioned in this article. Investors should also consider seeking advice from a broker or financial adviser before making any investment decisions. Any material in this article should be considered general information, and not relied on as a formal investment recommendation.