Timing the market is not the best strategy, but Wells Fargo (NYSE:WFC) is below its long term averages with a healthy dividend and a low payout ratio. The conservative nature of the bank gives confidence in its long term outlook for a sound investment. I find the intersection between a well-run company and short term stock pressure a good time to invest. Below, I'll discuss what's not so good and end with what I like about WFC.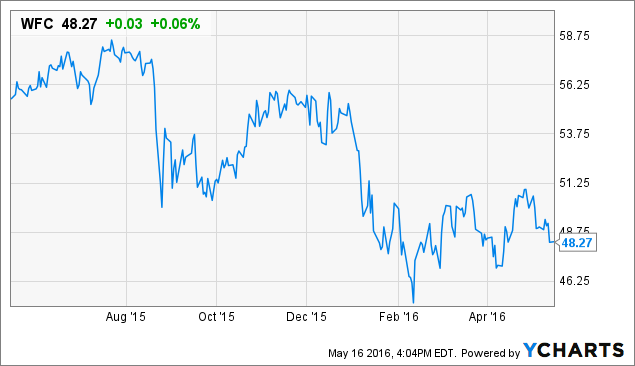 Fundamentals
The fundamentals of a bank are important place to start as price only matters if the metrics show a well run bank. For WFC, the picture is not all rosy because trends matter. From the same quarter last year, the Return on Equity, ROE, and Return on Assets, ROA, have all decreased from 13.17% to 11.75% and 1.38% to 1.21%. Trend matters to me, but a good ROA and ROE should be above 1% and 10% as rules of thumb, which WFC has had for a long time. I believe interest rates will rise slowly and that will greatly benefit a bank like Wells Fargo.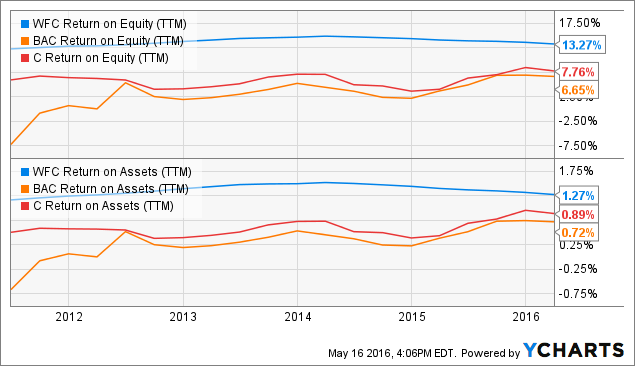 WFC, BAC, & C data by YCharts
Also, the net interest margin, or NIM, decreased from 2.95% to 2.90%, but that is to be expected with the significantly depressed interest rates. None of these profitability ratios are trending in the "right" direction, but none of them are in what I would call a danger zone either. The yield on total average earning assets grew by 1 basis point, but the NIM fell by 5 basis points due to the increased costs in borrowings. That's not something I like to see, but again not an emergency.
On a good note, the bank's efficiency ratio held steady at 58.7% versus 58.8% for the same period last year even with the acquisition of GE Capital. This is my favorite metric and one that WFC has a history of doing well. And, no bank evaluation is complete without a look at the book value. A growing book value is a great sign for me and WFC managed to grow their book value per share by 6% from $32.70 to $34.58 since March of 2015. Healthy growth is important for my investment methodology and the trend in the chart below says a lot to me about the trend in price versus the trend in book value per share.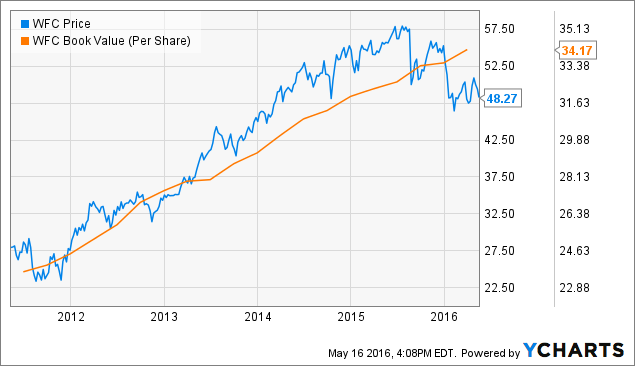 WFC data by YCharts
Growth
Without regurgitating the 10-Q, found here, I like a bank that is growing both top and bottom lines. Revenue growth at 4.3% year over year is good, but the bottom line drop is a bit disappointing especially considering the amount of shares repurchased that should have boosted the bottom line. The 10-Q discusses the favorable tax impact from 1Q15, but it is still disappointing to see that kind of decline.
The bank did have strong loan growth around 10% to $947B and decent deposit growth at 4% to $1,240B. This equates to a loan to deposit ratio, or LTD, to 76.4% which is trending in the right direction. I want to see an LTD in the 90s, but a number this low will drag on earnings a bit as loans typically have the highest rate of return for banks. This marks the 16th consecutive quarter of loan growth over 3%, which is a good trend.
Price/Dividend
Here is where I think the stock really shines, it is below its 10-year Price to Book and Price to Earnings. At 1.41, the P/B is below its 10-year average of 1.57. Couple that with a P/E of 11.88 versus a 10-year average of 13.33, these are the where you want to buy the great companies in my opinion.
The stock has a nice 3.1% dividend and a very low payout ratio of 0.37, which shows plenty of room to grow. In 2006 and 2007, the payout ratio averaged 0.47, which is about where I would expect WFC's dividend to go. A nice dividend and room to grow are exactly what I like to see in a dividend investment.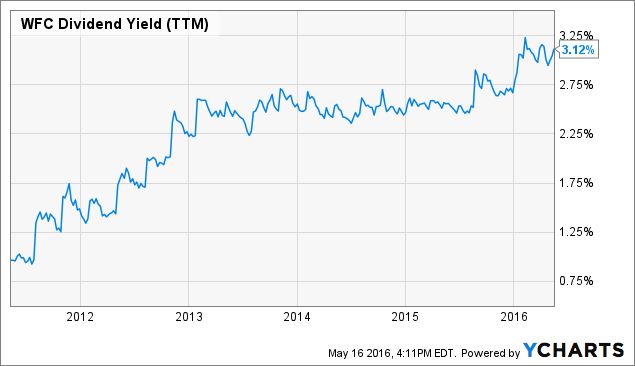 WFC Dividend Yield ((NYSE:TTM)) data by YCharts
On an aside, if the dividend is not high enough for you, the preferred shares from WFC, at the right price, can be an outstanding investment. I have owned WFC-L for a while and it has seen some meaningful appreciation recently.
The bank has also committed to a large share repurchase program by planning to buy 350 million shares or approximately 7% of the total shares outstanding. This is a strong tailwind to carry the stock higher in the future.
Summary
No investment is perfect, but a conservatively run bank with a good dividend and room to grow it sounds like a great place to start. The bank's metrics are trending in the wrong direction, but they are far from bad and will improve with rising interest rates. The price point with this stock being below its longer term averages is where I like to be and plan to purchase WFC. I have two other banks in my portfolio and think WFC will make a great addition. I think every diversified portfolio should have a bank in it, why not a conservative one that pays a nice 3%+ dividend.
Disclosure: I/we have no positions in any stocks mentioned, but may initiate a long position in WFC over the next 72 hours.
I wrote this article myself, and it expresses my own opinions. I am not receiving compensation for it (other than from Seeking Alpha). I have no business relationship with any company whose stock is mentioned in this article.