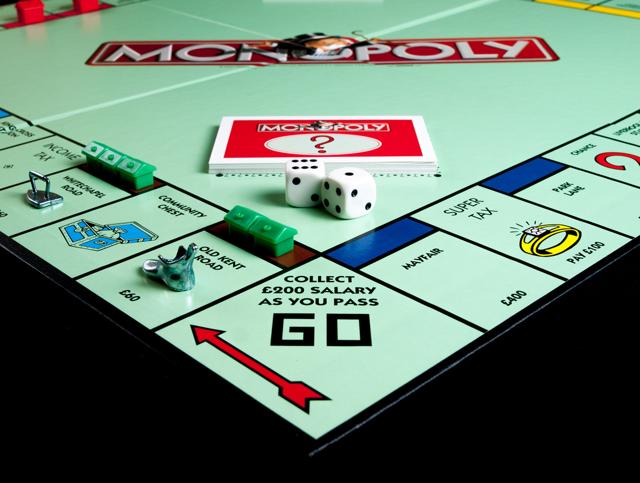 Click to enlarge
I've used PayPal (NASDAQ:PYPL) to use and receive money for over 16 years. I am a black sheep when it comes to PayPal: I love PayPal. In other words, everyone else who frequently uses PayPal absolutely hates it.
What people hate about PayPal are the policies directed toward us sellers. No other company has a user base that hates the owning company as much as PayPal. But PayPal customers are stuck because…
PayPal Is a Monopoly
Throughout my articles, I've pointed out that the strongest stocks are those that have monopolies in their industries. From Apple (NASDAQ:AAPL), which holds a monopoly on innovative consumer tech, to Facebook (NASDAQ:FB), which monopolizes social media ad revenue, companies with monopolies remain strong. But some monopolies are fragile.
The PayPal monopoly is a fragile one. The five reasons for PayPal's monopoly being unstable follow.
Customer Base
We already touched on this, but the customer base hates PayPal. A Google (NASDAQ:GOOG) (NASDAQ:GOOGL) search for terms such as "hate PayPal" or "PayPal sucks" brings up tens of thousands of websites. A single question on Quora.com on PayPal began with two sentences but ended with over a dozen unique horror stories in dealing with PayPal. The question was:
Why do so many people hate PayPal?

All I hear about is people getting frustrated with the company, but for some reason it continues to grow.
Anecdotes and answers come from buyers and sellers, and include comments such as:
They can arbitrarily freeze your funds and you have little recourse but to wait until they decide what they want to do.

PayPal has a habit of closing down accounts unwarranted and when asked a reason, either they don't give you one or they claim you are a "risk."

If poor customer support and higher processing fees don't bother sellers, their suffocating security processes will surely upset them.
My father has a 99% positive feedback rating on eBay (NASDAQ:EBAY), and they are still holding almost a thousand dollars from him.
Clearly, the power PayPal wields over its clients is frightening, especially to entrepreneurs running their businesses through this platform. As a former copywriter, I've dealt with seemingly countless entrepreneurs, and I've never met one who preferred PayPal. On the contrary, many have gone out of their way to avoid PayPal all together.
I also take payments through PayPal, and while I've never personally experienced any problems, I do have many around me who have problems.
I have had clients who refuse to pay me through

PayPal.

The Chinese manufacturers I buy products from do not accept

PayPal.

My brother, who runs an e-commerce business, has been banned from

PayPal for seemingly no reason.

PayPal has refused to refund the money I spent on falsely advertised digital products.
The last point is a particular weak point of PayPal, as it allows scammers who realize that PayPal does not refund money on digital products to make big promises and then not deliver.
But anecdotes aside, one can make the argument that any big company has its fans and haters. Still, my relatively unscientific survey around the web shows that PayPal is not a loved company by any means. This is a major flaw to PayPal's monopoly.
Should a competitor rise up against PayPal, many clients will switch boats. However, long-time sellers who have dealt with PayPal will find the transition difficult, as many platforms seamlessly integrate PayPal. Examples include Amazon (NASDAQ:AMZN) Web Services, the largest cloud service provider.
Many PayPal users might feel "stuck" using PayPal. But this integration would be the only thing keeping them aboard - it's certainly not brand loyalty. Should a competitor make an alternative that is also easily integrated to the major web services, PayPal will be in danger.
Scalability
A competitor to PayPal will find it easy to scale. Pretty much any online Payment processor can go international at launch. We've seen similar scalability with Bitcoin processors and Google Wallet. It's just that these platforms did not take off for obvious reasons (difficulty of use for the former and lack of support for the latter).
Entry
Entry to the market would not be difficult. The main barrier to entry would be the funds upfront to acquire customers. Indeed, PayPal itself entered the market as a lean startup.
To generate its customer base, PayPal gave cash incentives to its early adaptors. Once off the ground, PayPal became the only widespread choice for sending money through the Internet. Grabbing the plurality market share early, PayPal established its monopoly.
A competitor would only need to mimic PayPal's game plan. After all, the blueprint is already written in the history of PayPal itself. Should anyone decide to take on this task, success is more of an inevitability than an uncertainty.
Control
PayPal's control over its fees and margins are tighter than that of banks. If you have no other choice, you must accept the wide foreign exchange rates and high transaction fees. For a competitor, PayPal's fees are simply an upper limit.
Should a competitor come in and offer lower fees and more reasonable forex rates to its customers, it can still hold significant margins. PayPal's EBITDA margin sits at 23% - double that of non-Japanese banks. A competitor can arrive in the market with competitive prices and still have a bank-like EBITDA margin.
Another possibility is charging a flat rate, similar to how American Express (NYSE:AXP) disrupted the credit card market. There are many possibilities for a competitor to enter the market and still retain a large amount of control over its margins.
Need
There is a definite need for a competitor to PayPal in the industry. For one, PayPal has kicked out enough online retailers and self-employed people working remotely to where an alternative would be seen as a godsend. But also many of the current PayPal users are not happy about the fees and forex rates.
The online marketplace would be happy to see some competition. And that competition would likely gain a large following at the outset, provided they can prove that they will be around for a while and have enough reach.
Conclusion
Although PayPal is a relatively new stock, the company itself is not new. PayPal has been a household name among those engaging in online commerce for over a decade. Many PayPal investors likely have experience with using PayPal or know the history and integration of the company well enough to see it as the clear market leader of online payments.
And this is why I write this article: PayPal's monopoly - the one thing keeping it afloat - is fragile. Some investors might see the monopoly as permanent - it is not. Others might support PayPal because of the support received by Peter Thiel, who no longer makes decisions for the company.
At any rate, despite being the clear market leader, PayPal has been trading at consolidation since its IPO. This is not the sign of a growing company. While the margins and customer base are stable, a competitor could easily throw a monkey wrench into the system.
With no dividends and trading at consolidation, PayPal is not a clear buy. Instead, both investors and those on the sideline should realize that this is a sideways trending stock on a monopoly that has no immediate threats. We should employ sideways options strategies to benefit from this stock, while keeping a watchful eye on the industry, on the lookout for potential competitors.
In the meantime, here's our play, based on a price target of $40 in July:

Click to enlarge
Learn more about options at damonverial.com.
Learn More about Earnings
My Exploiting Earnings premium subscription is now live, here on Seeking Alpha. In this newsletter, we will be employing both fundamental and pattern analyses to predict price movements of specific companies after specific earnings. I will also be offering specific strategies for playing those earnings reports.
We have accurately predicted earnings surprises 100% of the time (8/8). Our latest report was NVDA, for which we predicted a positive earnings surprise.
This week, we look at Cisco (NASDAQ:CSCO).
Disclosure: I/we have no positions in any stocks mentioned, and no plans to initiate any positions within the next 72 hours.
I wrote this article myself, and it expresses my own opinions. I am not receiving compensation for it (other than from Seeking Alpha). I have no business relationship with any company whose stock is mentioned in this article.