According to the Newtek (NASDAQ:NEWT) website, Newtek is an internally managed Business Development Company that provides a wide range of business services and financial products to small and medium-sized businesses.
They provide services such as business lending, electronic payment processing, managed technology solutions (cloud computing), e commerce, accounts receivable financing and tracking, insurance services, web services, data backup, storage and retrieval and payroll services.
As a dividend investor, Newtek caught my eye because they pay a 10.89% dividend. That will make you sit up and take notice. I'm a bit leery about these high dividend payers because there could be some real issues with the company that make this kind of yield unsustainable. It's not fun to get a high dividend yield and ride the stock down giving up all the gains you received in the yield.
In addition to the dividend yield, there are many things that NEWT has going for it. Let's analyze this stock to see if it's a good time to add to or start a new position.
1) In the last 4 quarters, earnings were beat in 3 of them with Q1-16 meeting expectations.
2) The current stock price of $12.86 is close to a support level of around $12.69. The 52 week low is $9.37.
3) The NAV is $14.10, as of 3/31/16, up from $14.06 just 3 months earlier. Positive growth signs.
4) The P/E is only 4.4 and forward P/E comes in at 6.49 showing that the stock could be somewhat undervalued having plenty of room to run.
5) There has been some insider buying as there were 10,317 shares purchased by various officers (director, chairman/CEO and chief counsel). But, at a value of only $128,142 (@$12.54/share), it's not been a rush to snap up shares. Still, it's a good sign that there's buying and not selling at the highest levels of the company.
6) There was a stock buyback program announced for 2016 (on 5/11/16) for 150,000 shares. Also a good sign of confidence in the company.
7) On May 4, 2016, the company announced a dividend increase for 2016 from $1.50 to $1.52. Admittedly, their dividend history is not exactly that of an aristocrat. Newtek paid dividends all through 2015 and into 2016 but the payouts have been up and down. The only dividend paid before that was in 2009.
On 4/15/15, the payout was .39 and it was a steady increase for the next 2 quarters (.47, .50) and there was even a special dividend paid at the end of 2015 - a whopping $2.69. However, it declined over the next two quarters, going to .40 and then to .35 in 2016. The company announcement that they are expecting to payout $1.52 in 2016 is an encouraging sign because that would mean an increase from the last payout of .35.
8) Gross profit margin increased substantially in Q4-15 over the previous year. The total sales have decreased. However, with the net income increasing, it shows that the company has increased efficiencies.
9) Beta of .87 showing low market volatility.
10) Price/Book is at .93 making it a more attractive stock to purchase.
11) In Q1-16, Newtek had an increase in loan referrals of +80% ($2.0B) over the same period as Q1-15 but there was no real explanation as to why the sudden uptick. They also said that this represented 40% of the total sales for all of 2015. A great sign of excellent growth.
12) They also had a 49% increase ($80.1M) in SBA7(a) loans in Q1-16 over Q1-15. They are expecting an overall loan funding growth of 20% for 2016.
13) Newtek recently opened a new office in Lake Success (a good omen?!) and are rolling out a new website and domain to better "cater to the needs of the small and medium sized businesses."
There are headwinds for this company such as:
1) The stock price has sharply declined from a 52 week high of $19.82 only about a year ago. It did rebound, however, and pass the 50 and 100 day moving averages in the past few months, but it has been languishing in the $12-13 range for awhile. The question: Is it gaining support for a run up or running out of gas for a run down? The 200 day MA is $14.22 - a 10% increase from today's price.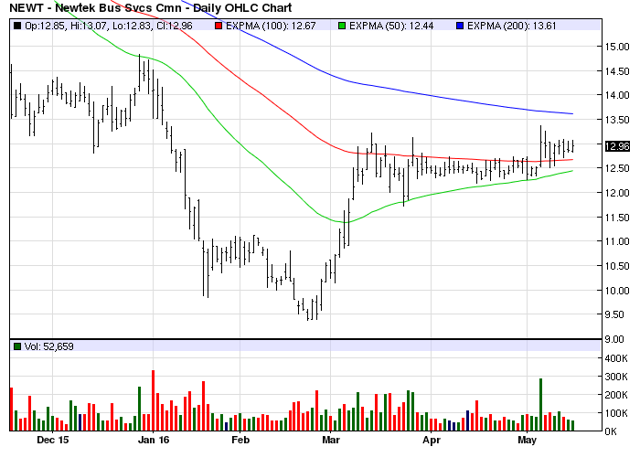 Click to enlarge
Source: BarChart.com
One possible pathway to consider are that the shorts are beginning to gather around NEWT. Short interest is rising as the days to cover has increased from 1.8 to 4.44 since 3/31/16. Share volume is falling and shorts are rising. Are they simply hedging against other longs on other BDC's or are do they believe that Newtek is heading down?
Either way, it is a consideration that any investor must consider. However, if there's good news, the shorts might have to cover sending the stock price up.
2) Even though their EPS is on the rise, the revenues are down in Q1-16 YOY. Sales growth is on the decline showing possible market share loss.
3) There's a short and rocky dividend history. Newtek has paid dividends but the payments are not long-term. As mentioned earlier, they do seem to be on the right track with their payouts. They seem to be getting more solid on predictable dividend payments since they have paid 5 straight quarters (although not increasing) and announced that they anticipate paying through 2016.
When I invest in a stock with the idea that I want safe, regular and increasing dividends for the long haul, Newtek may be a bit of a leap of faith, considering the track record. However, maybe Newtek has turned the corner in paying dividends. It does appear that they are making headway in growth, with more consistent dividends, earnings growth and expansion.
With the 11% dividend "cushion", the stock price can retreat to around $11.50 to break even from a year's worth of dividends. The support appears to be more than enough to let me sleep at night and add this to my portfolio. I will, however, need to watch it closely and make sure the earnings stay in line and the fundamentals grow.
For anyone who would like to follow my future articles, just click the "Follow" button at the top of this page next to my name. I appreciate your feedback and thanks for taking the time to read my articles!
Disclosure: I/we have no positions in any stocks mentioned, but may initiate a long position in NEWT over the next 72 hours.
I wrote this article myself, and it expresses my own opinions. I am not receiving compensation for it (other than from Seeking Alpha). I have no business relationship with any company whose stock is mentioned in this article.