Alphabet's (NASDAQ:GOOG) (NASDAQ:GOOGL) core business is struggling. While search ads will continue to bring in a healthy revenue stream, the potential for growth in that segment may be drying up. One metric that is signaling trouble is the cost-per-click statistic. This figure represents how much advertisers are willing to pay per registered click on their ad, and is a key indicator for demand. In regard to this metric, cost-per-click fell by 9% Y/Y in Q1 of 2016. This figure does not represent a soft season for advertising; cost-per-clicks have been in decline since the end of 2014.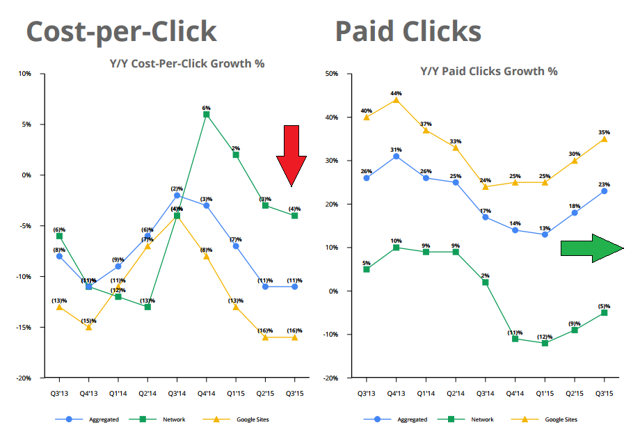 Click to enlarge
Here's why this metric is so important: There is a relatively finite number of advertising dollars, or close to it. When Google first set out, advertisers were joining in droves. The increase in advertisers drove up competition, subsequently raising the cost-per-click. A decrease in cost-per-click represents less competition among advertisers. Why? Because the advertisers have alternatives, such as Facebook (NASDAQ:FB), Instagram, Snapchat (Private:CHAT), and Twitter (NYSE:TWTR). Advertisers aren't going to spend as much bidding for Google's ads when they can utilize alternatives like those listed.
The only reason Google's bottom line hasn't necessarily seen too much pain is because the amount of paid clicks has risen. This makes sense; the less an ad costs, the more of the ad that advertiser will buy. At a certain point however, the amount of paid clicks will no longer be able to compensate for the drop in cost-per-click. This came to fruition in the most recent quarter, where revenues came in $110 million shy of analysts' projections.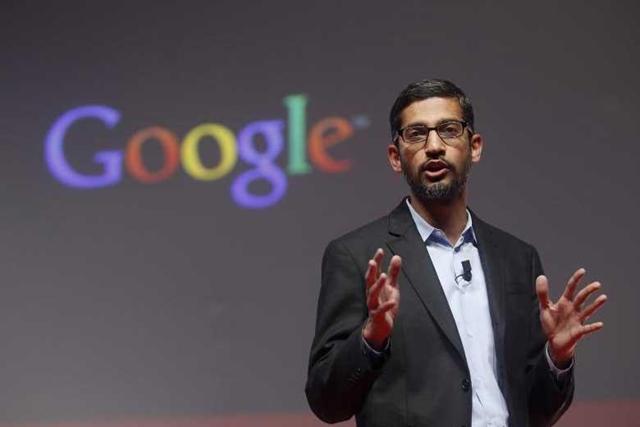 Click to enlarge
This scenario goes from bad to worse once the amount of new advertisers slows dramatically. It is at this point where it seems Google's advertising revenues will actually go into decline. Advertisers will be forced to determine how to allocate their digital spending budgets. Between Google and competitors, the choice is pretty clear. Google lacks in two key areas, which will seal its fate when vying for the bulk of digital advertising dollars. For one, it doesn't offer advertisers the ability to display rich content, at least in its search platform. Facebook, Instagram, and Snapchat have seen so much success partly because they feature rich content, which consumers notice and appreciate more. Google and Facebook don't release click-through-rates, but I'd be willing to bet that Facebook has an edge in this regard.
Secondly, Google lags far behind Facebook's ability to allow for intense targeting based on people's profiles. I could specifically show ads to men aged 18-24, living in Philadelphia, and like The Dave Matthews Band if I wanted to. That is the power of the hyper-focused ability of Facebook's targeting. While there are still plenty of advertising dollars to go around, this will have a huge effect once the supply becomes limited.
The fact that Google is seeing a decline in advertising growth is not a bad thing. The company is maturing and a slowdown in growth is inevitable. However, it is then essential for Google to use the revenues from its search to fuel the next chapter of growth. When Microsoft's (NASDAQ:MSFT) core business began to slow, it used its profits to ramp up its cloud offerings, as well as its entrance to the augmented reality market. As you most likely know, Google is working on many other projects, but that doesn't change the fact that advertising revenues make up 90% of Google's revenues. Looking forward, Google must be able to monetize its growth prospects in order to justify its 29.94 P/E ratio.
I encourage you to follow me as I cover a wide variety of current topics, with a special interest in the technology and entertainment industry.
Disclosure: I am/we are long FB.
I wrote this article myself, and it expresses my own opinions. I am not receiving compensation for it (other than from Seeking Alpha). I have no business relationship with any company whose stock is mentioned in this article.