As the gold market continues to rally, gold producers are slowly returning to expansion mode; Goldcorp (NYSE:GG) recently announced its purchase of all outstanding shares of Kaminak Gold (OTCPK:KMKGF) and its fully owned Coffee Gold project located in Yukon, Canada. Considering it's been a while since one of the major gold producers acquired a gold company or assets, let's take a closer look at this latest acquisition.
According to Goldcorp's press release, this deal will be funded with Goldcorp's shares: The company issued 21.6 million shares in exchange for all the outstanding shares of Kaminak - the exchange will be 0.10896 of GG for every common share of Kaminak; this deal puts a premium of 33% of the over Kaminak's closing share price on the Toronto Stock Exchange the day before this arrangement was announced. This puts a price tag of CAD 520 million or USD $403 million. GG did not have to take on more debt to pay for shares of Kaminak; the downside is that it will dilute GG's existing shareholders by issuing more shares.
It will be a few years before production will commence, and Kaminak estimates the initial capex to construct this mine is estimated at CAD 317 million or $245 million. Moreover, the company estimates the AISC to be $515 per ounce of gold and that over the first ten years of the mine, it could produce an average of 184,000 ounces of gold per year. This mine has a total indicated gold mineral resources of 3 million ounces of gold, but let's be prudent and even assume the mine won't operate for more than 10 years under the current estimate. And let's also assume the mine will start to produce within the next three years, even though GG paid for this mine today. Based on the above and assuming a discount rate of 5%, inflation of 1%, and gold price of $1,200/ounce, we get the following table: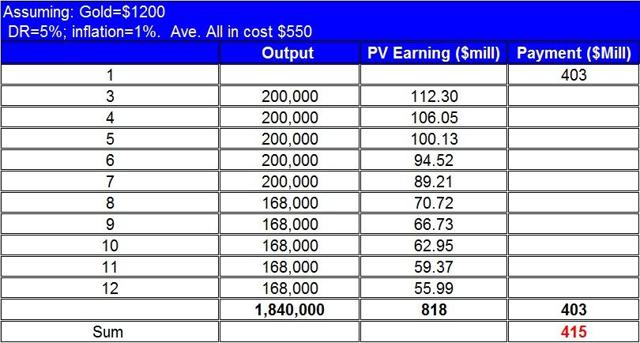 Click to enlarge
Sources: Goldcorp, Kaminak, and author's calculations.
As you can see above, based on the available data as presented by Goldcorp and Kaminak, this project could generate a net of over $800 million in present value terms throughout the life of the mining. And the net present value of this mine could come to $415 million.
Let's also examine the two main assumptions that were behind this projection: Discount rate and price of gold. The table below presents a sensitivity analysis for these two assumptions.


Sources: Goldcorp, Kaminak, and author's calculations.
The table above shows that even if gold price were to drop to $1,000, this mine will still be profitable (albeit at a 10% discount rate this mine breaks even for Goldcorp). In fact, under a discount rate of 5% the mine's NPV turns negative at $880 million.
Bottom line
The recent deal Goldcorp struck seems, at face value, to be profitable for the company at the prevailing gold prices. And if prices were to slightly decline, the NPV of this project will remain positive. There are still some uncertainties regarding this mine including the amount of capital will eventually be needed to invest in it, the actual AISC and when will this project commence production. But considering the possible profit this project could generate, this deal seems to be a solid addition for this gold producer.
For more please see: Will Goldcorp Turn a Profit on Its Eleonore project?
Disclosure: I/we have no positions in any stocks mentioned, and no plans to initiate any positions within the next 72 hours.
I wrote this article myself, and it expresses my own opinions. I am not receiving compensation for it (other than from Seeking Alpha). I have no business relationship with any company whose stock is mentioned in this article.
Editor's Note: This article discusses one or more securities that do not trade on a major U.S. exchange. Please be aware of the risks associated with these stocks.