Kinder Morgan's (NYSE:KMI) stock is waiting patiently for a material event because it's been fluctuating around the $17-$18 level for the past two months now after experiencing a rapid increase. This is likely due to the stalling fundamentals behind natural gas prices and the inability for those prices to break through higher resistance levels. Shareholders may be wondering if this is the perfect entry point or if it's the calm before a downside storm. I'd argue it's still an excellent level to initiate a long-term position.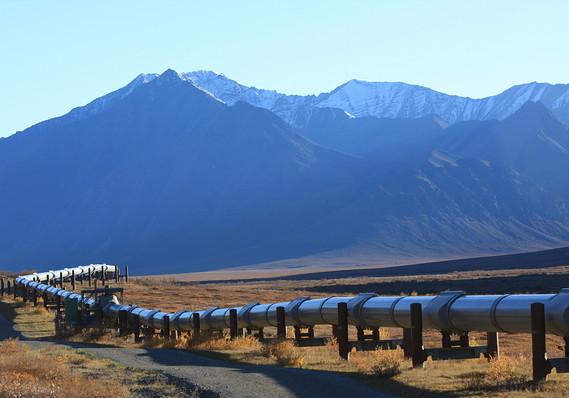 Source: MarketWatch
Crude Oil: A True Battleground
On the back of a bullish call by Goldman Sachs (NYSE:GS) this morning, crude is now up 28.5% YTD. The bank said that there's now a deficit in supply, which is very, very interesting considering that inventories are still at record highs, Saudi Arabia has the potential to increase supply rapidly, and Iran is still scaling their oil fields to meet their 4 mbopd production target. However, this bank is looking to Nigeria's military conflicts, Venezuela's instability, and China's falling output as the primary reasons behind a positive short and long-term outlook. Investors should be looking to these three countries over the short-term as primary drivers behind the price of crude.
Kinder Morgan, fortunately, is up 15.21%, driven by a position by Warren Buffet's traders back during 13-F season and positive oil fundamentals. As it translates to earnings, Kinder Morgan doesn't have all that large of an exposure to crude oil in terms of cash flow compared to natural gas.
It's frustrating to actually see a lack of volatility from Kinder Morgan. The reason I say this is that the short-term runs and long-term potential of the stock is easier to spot when a significant shift is occurring. The majority of investors, especially retail, in this stock probably don't trade options spreads, so the lack of volatility is pretty useless. 57% of their revenues come from natural gas pipelines, while oil production and petroleum pipelines only make up 12%-13% of cash flows. Yet, from a distributable cash flow perspective, a shift in WTI prices constitutes a much larger change than what natural gas does, thus explaining why crude is a driver for KMI. The current sensitivity is per $1/Bbl change in oil price, there's a $6.5 million DCF impact. However, for natural gas, per 10 cent/MMBtu change, there's only a $0.6 million change.
Even with the positivity behind oil prices now and supposedly stronger distributable cash flow based on KMI's provided sensitivities, the stock is still in relative limbo, as seen below.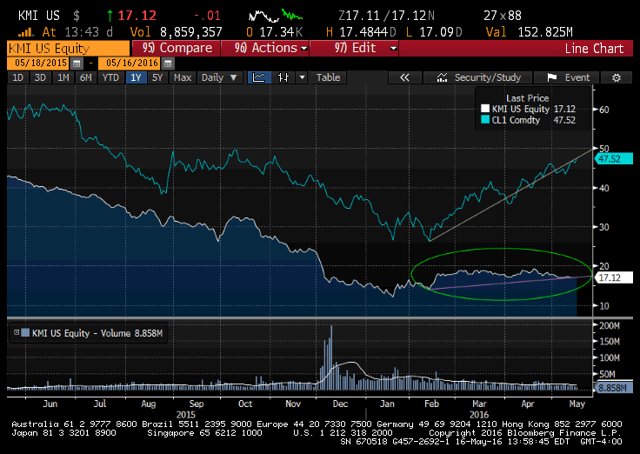 Click to enlarge
Source: Bloomberg
A Healthier Business
The bottom line is that KMI has maintained a stronger correlation to crude in the last 12-18 months and shareholders should continue to study crude fundamentals as they drive this stock. I've seen shareholders continually express their concerns about the company's LT debt being astonishingly high, with a debt-to-EBITDA of 5.5x and the lowest investment grade rating from both S&P and Moody's (BBB-, Baa3). However, the only way a significant debt reduction is going to start occurring is if natural gas demand picks up and offsets the supply that has been so gluttonous as of late. That's when Kinder Morgan will outperform in a portfolio. That's when Kinder Morgan's financial stability won't be called into question every time prices take a hit.
Thus, tracking natural gas fundamentals is equally as important as tracking crude fundamentals. Fortunately, natural gas has picked up out of the sub-$2/MMBtu level, but is only trading a few cents above $2/MMBtu. The sharp decline to kickoff the year was in part due to warmer weather, as it was one of the most mild winters the U.S. has experienced in quite some time.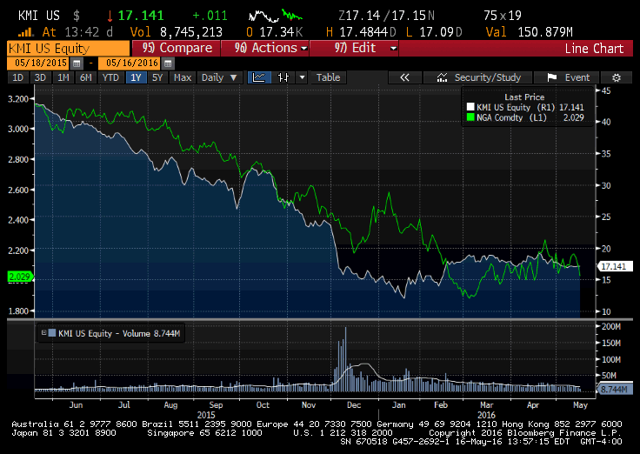 Click to enlarge
Source: Bloomberg
With EIA-reported crude stockpiles being at their highest level since the 1930s, investors also need to realize that natural gas inventories are astonishingly high. A reduction in this stockpile to a level that is below the 5-year average will be more than enough to help Kinder Morgan see improved earnings. Furthermore, it will help them hit the all-important $3.00 distributable cash flow per share target in 2019, rather than in 2020. Below is a graph of the current natural gas inventory, for which investors can see that the blue line should've dipped below the 5-year top-end of the range when the winter hit. Yet the warm weather significantly hurt demand.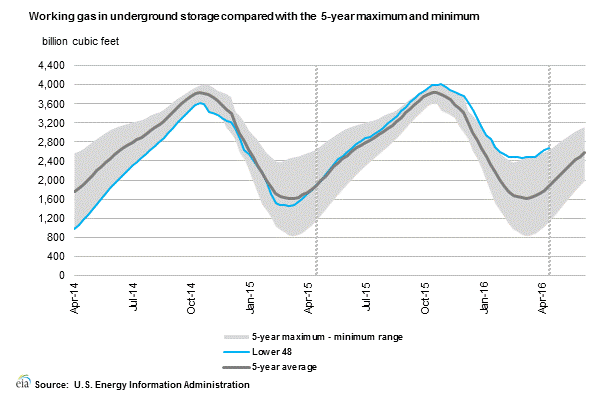 Source: EIA
I don't expect natural gas prices to increase materially over the short-term. Rather, I expect this to be a post-2016 profitable trade. Given the price weakness over the last two quarters, E&Ps are materially cutting capex, which should make supply levels fall under the top-end of the 5-year range. Additionally, now that companies like Cheniere Energy (NYSEMKT:LNG), Exxon-Mobil (NYSE:XOM), and ConocoPhillips (NYSE:COP) are exporting natural gas, in liquefied form, abroad, the American natural gas industry now has global demand at its finger tips. When these projects gain more strength, as indicated by higher outflow, natural gas prices will pick up. This is positive for the current inventory level and positive for Kinder Morgan.
Additionally, U.S. dry natural gas is at its lowest production level since late December, now at 70.4 Bcf. It's still only a few percentage points off its all-time high, but the credit goes to slowed drilling activity, a trend that will likely continue to happen again due to price weakness. Last year at this time, the Henry Hub showed a reading of $3.16/MMBtu, which is about 35.8% higher than where it is now. A narrowing of that difference will significantly push Kinder Morgan shares up. As an added bonus, if La Nina actually occurs this year, expect extreme temperatures in the summer and winter. This bodes well for natural gas prices.
Conclusion
Natural gas has positive long-term fundamentals, yet the short-term remains challenged. It takes time for the current supply level to come below the 5-year average and for the inventory level to do the same. Kinder Morgan is waiting on these commodity prices to appreciate and so are shareholders. When a pickup in natural gas prices starts to occur, arguably towards the end of the year and into 2017, Kinder Morgan will see enough strength to start alleviating its debt burden.
Disclosure: I am/we are long KMI.
I wrote this article myself, and it expresses my own opinions. I am not receiving compensation for it (other than from Seeking Alpha). I have no business relationship with any company whose stock is mentioned in this article.