I looked through all stock that were down at least 50% over the last year and searched for the one that I feel has the best opportunity to rebound from its highly depressed price. I added additional parameters to my search, which included profitability, positive long-term growth estimates, large institutional ownership and plenty of short-term liquidity. Three stocks met these criteria and after looking at the financials of each of them, one stood out above the others. The stock that is down over 50% in the last year, which I believe is worth considering is Mallinckrodt PLC (NYSE:MNK).
Mallinckrodt has had a tough year because of the extra scrutiny placed on the biotech sector for drug pricing. Second, in my opinion, Mallinckrodt was unfairly lumped in with companies like Valeant (NYSE:VRX) and thus because of that perceived association shares of Mallinckrodt have fallen significantly. One of the most interesting moments I saw was when short seller Andrew Left of Citron went on CNBC to talk about Mallinckrodt and the CEO called in on live TV to refute the claims of Andrew Left. It is very rare that a CEO would call in live to defend his company and it made for some great TV. I believe Mallinckrodt is worth considering for four reasons: their superior fundamentals, their bonds have bottomed, shares are undervalued and the technical outlook is appealing.
#1: Superior Fundamentals
With Mallinckrodt being thrown out with Valeant I thought it would be good to show just how much more superior Mallinckrodt is to Valeant in terms of fundamentals.
Fundamental Advantage #1: Better Margin Trend
Mallinckrodt has had better trending margins over the last year in comparison to Valeant. As the chart below shows, in 2015, margins for Mallinckrodt have been trending steadily upward and Valeant Margins have been steadily trending downward. This is just the first clue showing that Mallinckrodt is a stronger company than Valeant and that Mallinckrodt should not be lumped in with Valeant.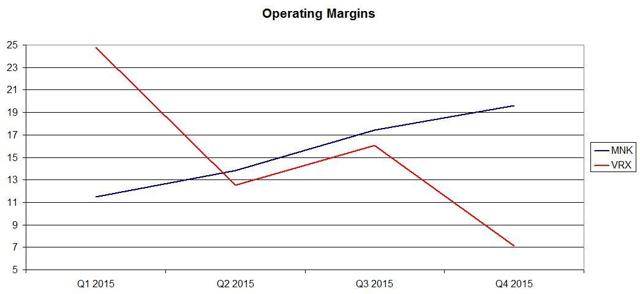 Click to enlarge
[Chart data from Gurufocus]
Fundamental Advantage #2: Lower Leverage
Once the downward spiral of Valeant started, one of the items that helped drive the spiral was that Valeant had a significant amount of debt in comparison Mallinckrodt. As you can see in the table below, Valeant has more long-term debt as a percentage of total assets. Even more troubling, is Valeant has over 2.5x the long-term debt to cash flows from operations that Mallinckrodt has. While Mallinckrodt does have a high amount of debt to cash flows from operations, in their most recent earnings report they noted that they would be paying down debt."The Company's liquidity position remains quite strong and resilient, and management remains focused primarily on allocating capital to share repurchases, debt reduction and additional business development targets."
| | | | | |
| --- | --- | --- | --- | --- |
| | LT Debt | Total Assets | | LT Debt/Tot. Assets |
| MNK | 6410 | 15904 | | 40.30% |
| VRX | 30265 | 48965 | | 61.81% |
| | | | | |
| | | | | |
| | LT Debt | CFFO | | LT Debt/CFFO |
| MNK | 6140 | 1071 | | 573.30% |
| VRX | 30265 | 2201 | | 1375.06% |
[Table data from Gurufocus]
Fundamental Advantage #3: Raised Guidance
If Mallinckrodt were truly like Valeant, then Mallinckrodt would have followed suit and lowered their guidance for the rest of the year. However, this was not the case as when Mallinckrodt reported earnings two weeks ago the increased their guidance from $7.85 to $8.30 to a revised range of $8.15 to $8.50. The midpoint-to-midpoint change in guidance represents an increase of 3.10%. On the other hand, when Valeant reported earnings in March, they lower their guidance to $9.50 - $10.50 from previous guidance of $13.25 - $13.75. The midpoint-to-midpoint change in guidance represents a decrease of 25.93%. Therefore, Mallinckrodt adds another advantage over Valeant because they increased their guidance while Valeant significantly cut theirs.
#2: Bonds Have Bottomed
When looking at companies that have a good amount of debt, looking at the bonds can be a good indication of where the common stock could be going in the future. The chart from Finra/Morningstar shows that Mallinckrodt bonds have recovered from their lows in November. In comparison, Valeant had a lot of extra work and time to get their 10-K out had to be done because they were in technical default until they did so. In addition, at the beginning of April, Valeant made a deal with its creditors to pay a fee of $50K per $10M of loans to lenders for the amendment on its credit terms. The fact that Valeant is in the position of having to do these extra measures and Mallinckrodt is not shows that Mallinckrodt can more handle their debt load than Valeant can.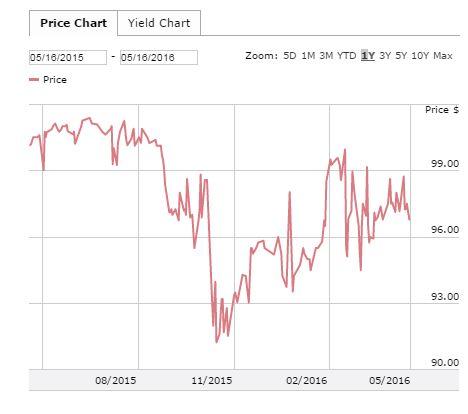 [Image from Finra/Morningstar MNK bond page]
#3: Valuation
To determine the upside opportunity for Mallinckrodt, I conducted a discounted cash flow analysis (table below) and found that shares are undervalued at current levels. I used data from Mallinckrodt financials on Gurufocus, growth data from Zacks and to determine the discount rate & terminal growth rate, I used the following calculators. As you will see below, the terminal growth rate for Mallinckrodt is negative, which leads to the question of why. Simply put, when I used the terminal growth rate calculator with inputs of $9.56 in FCF, a current price of $60.65 and a required rate of return of 6.99% [This is the 10 yr annualized return of the S&P 500]. the result was a negative value.
To be conservative and to show if Mallinckrodt was like Valeant then going forward one would expect to see cuts in growth expectations of a similar scale. I lowered the projected long-term growth rate for Mallinckrodt by the percentage change in guidance that Valeant gave. Therefore, for my calculations I used a growth rate of 7.60% instead because it accounts for the nearly 26% decline in guidance that Valeant gave.
| | | | | |
| --- | --- | --- | --- | --- |
| Guidance | Low End | High End | | Midpoint |
| Valeant Current | $9.5 | $10.5 | | $10 |
| Valeant Old | $13.25 | $13.75 | | $13.5 |
| | | | | |
| | | | VRX % Change | -25.93% |
| | | | | |
| | | | MNK Projected Growth | 10.26% |
| | | | | |
| | | | Adjusted MNK Projected Growth | 7.60% |
CF/Share: $1071/112 shares = $9.56 CF/share
Proj. Long-term growth rate: 10.26%
Adjusted Long- Term Growth Rate: 7.60% [Adjustment described above]
Terminal growth rate: -7.58%
Discount rate: 8.88%
Fair Value Calculator Assumptions
Cash flow grows for next 5 years.
After that, growth levels off to the terminal rate for 15 years.
MNK

DCF Calculations

CF/Share

PV

Year 1

1

10.22

$9.38

Year 2

2

10.92

$9.21

Year 3

3

11.66

$9.04

Year 4

4

12.46

$8.87

Year 5

5

13.31

$8.70

Year 6

6

12.30

$7.39

Year 7

7

11.37

$6.27

Year 8

8

10.51

$5.32

Year 9

9

9.71

$4.52

Year 10

10

8.98

$3.83

Year 11

11

8.29

$3.25

Year 12

12

7.67

$2.76

Year 13

13

7.08

$2.34

Year 14

14

6.55

$1.99

Year 15

15

6.05

$1.69

Year 16

16

5.59

$1.43

Year 17

17

5.17

$1.22

Year 18

18

4.78

$1.03

Year 19

19

4.41

$0.88

Year 20

20

4.08

$0.74

Fair Value

$89.87

Current Price

$60.65

Upside/Downside

48.17%
#4: Technical Outlook
The technical outlook for Mallinckrodt is appealing because the stock has made a double bottom with the lows in November and the lows in March. In addition, what adds significance to that double bottom is that they are right at the level where shares broke out above at the beginning of 2014 and started its march to over $130/share in 2015. Over the last year or so, shares of Mallinckrodt have traded between the double bottom support level [Red Line] and the top of the channel at resistance, which is where shares broke down to from the Steep decline in September 2015. Technically speaking the risk/reward is clearly bullish because with shares of Mallinckrodt sitting at about $60, there is around $6.50 of potential downside if shares were to fall back to support and nearly $17 of upside if shares were to go back to the top of the channel.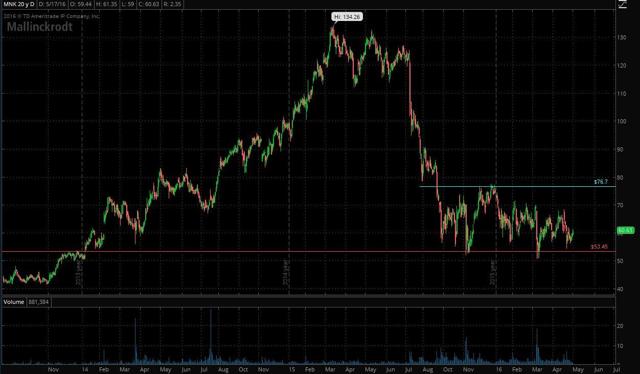 Click to enlarge
[Chart from ThinkorSwim platform]
Closing Thoughts
In closing, I believe shares of Mallinckrodt are worth considering because Mallinckrodt is fundamentally stronger than its perceived peers, their bonds are saying a bottom is in, shares are undervalued and the technical outlook risk/reward is appealing. I'm sorry to disappoint Mr. Left, but as I have clearly showed, Mallinckrodt is not worse than Valeant. Even with all these positives, there are still risks because of the added spotlight on drug prices. Mallinckrodt's lead product Acthar Gel is an expensive product and has been a target of Mr. Left for a number of years. In addition, depending on the election results politics could have an impact on growth expectations.
Disclosure: I/we have no positions in any stocks mentioned, and no plans to initiate any positions within the next 72 hours.
I wrote this article myself, and it expresses my own opinions. I am not receiving compensation for it (other than from Seeking Alpha). I have no business relationship with any company whose stock is mentioned in this article.