Eldorado Gold Corp (NYSE:EGO) sold its Chinese assets for a total of $900 million which were composed by:
Tanjianshan in China (90%),
White Mountain in China (95%)
Jinfeng in China (82%)
Eastern Dragon development project
Eldorado is selling the Tanjianshan in China (90%), White Mountain in China (95%) and the Eastern Dragon development project to an affiliate of Yintai Resources for $600M.
Last month Jinfeng in China (82%) was sold for $300M to a wholly-owned subsidiary of China National Gold Group ("China National Gold") in April 2016.
We all are questioning if it is really a good deal when we look at the long-term. Late 2014, EGO was seeking $1.5 billion for these assets and today the miner closed at $0.9B.
'A better than expected price' according to Barry Allan (an analyst at Mackie Research Capital Corp.):
In my opinion it is a good deal price during low gold prices, if we consider that the miner completed operations at open pit in 2015 and that underground developments will open additional working faces to source gold and will likely increase operating costs. In the meantime the price of the precious metal didn't increase significantly and Eldorado got encouraging news from its projects in Greece.
The company sells its core assets in China which will be costly during low gold prices, prefer to monetize and invest cash flow in the development of other projects at sites (e.g. in Greece) that will add production during a period in which the price of the metal is expected to trade at higher prices.
Just an example: at Jinfeng mine underground ore mining will bring production back to 130,000 ounces of gold per year during low gold prices and increased extraction costs. A smart move by Eldorado to sell the asset and to focus on Greece. Olympias will produce a total Au-equivalent production ranging from 112k and 123k ounces (2017-2020), when the price of gold will likely be higher and where operating costs will be lower than in China.
As disclosed in EGO's AIF, estimated annual production at Skouries is as follows:
From the open pit (years 1-6): 140,000 oz Au and 30,000 t Cu
From the underground (years 7 to end of mine life): 90,000 oz Au and 22,000 t Cu
Look at the building opportunities in Greece: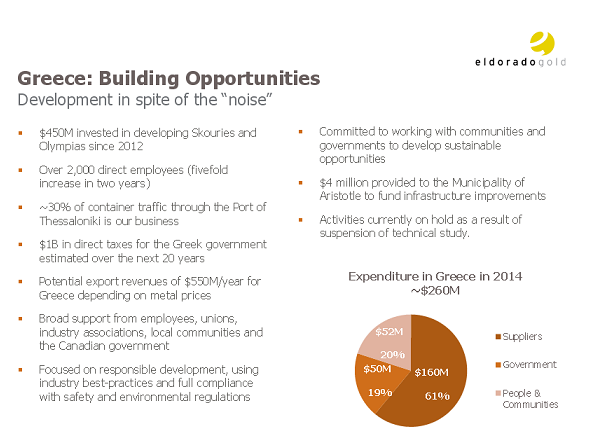 Eldorado expects export revenues of $550M/year for Greece depending, obviously, on the price of the metals: if the estimates are correct this means that almost 65% of 2015 EGO's total revenues will be generated from the Greek assets and the metal will be extracted at a lower cost per ounce than the average total cost per ounce including the Chinese assets.
For example look at the project's figures at Olympias: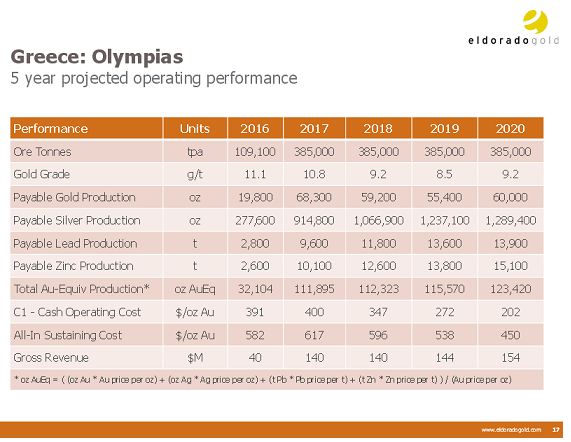 AISC is expected to range between $450/oz - $617/oz versus an average total AISC of $884/oz including the Chinese assets over the last 4 quarters.
Since 2012, Eldorado has invested in excess of US$450 million on the construction and development of the two mines in Greece. The funds invested in Greece to date have been used primarily for payments to Greek stakeholders, such as the company's employees, suppliers of goods and services, contractors and government.
In the beginning of 2015, the company announced a plan to invest US$310 million on the development of Skouries and Olympias, which would generate additional jobs for the Greek people and taxes for the Greek government.
Recently Hellas Gold, a Greek subsidiary of Eldorado, has received approval from Greece's Ministry of Energy and Environment to recommence construction activities at the Skouries Project site, which were suspended in January of this year.
From the sale of Jinfeng the company will further strengthen its balance sheet adding $300 million in cash to its liquidity of $231M (Cash & Equivalents as of March 31, 2016) versus a total debt of $589.84M.
Disclosure: I/we have no positions in any stocks mentioned, and no plans to initiate any positions within the next 72 hours.
I wrote this article myself, and it expresses my own opinions. I am not receiving compensation for it (other than from Seeking Alpha). I have no business relationship with any company whose stock is mentioned in this article.