Fitbit (NYSE:FIT) shareholders might find some near-term relief thanks to confidence from famed investor George Soros, who has taken an equity stake in the wearables leader.
Having said that, investors would be wise to view the Soros disclosure and ownership in FIT's shares as nothing more than another investor who believes in the company and feels growth will eventually be rewarded with stock price appreciation. Soros has done poorly in the past with his consumer goods plays. In 2014, Soros's fund acquired shares of SodaStream (NASDAQ:SODA) only to witness these equity holdings depreciate significantly, prompting him to sell at a loss.
Fitbit shareholders have been through this before with well-known names and institutional investors buying into the company. Salesforce.com's (NYSE:CRM) Mark Benioff bought an equity stake in Fitbit earlier this year and touted his investment while wearing a Fitbit device on Jim Cramer's Mad Money. Of course, Cramer has been pounding the table in favor of owning shares of FIT since the beginning of the year.
Cramer is another investor who has historically done poorly with consumer goods and gadget plays. In 2015, as shares of Keurig Green Mountain (NASDAQ:GMCR) soared past $100 a share, Cramer enthusiastically touted the company's performance for months as the stock surged past $150 a share. In the months that followed, as the stock fell back to $110 a share, Cramer continued to offer a Buy rating on the stock, touting Keurig's partnership and investment from Coca-Cola (NYSE:KO).
When shares dropped below $80, where The Street initiated a Buy on the stock originally, Cramer continued with his rants, explaining how cheap the company was at such a valuation, and with projections for the company to earn almost $5 a share in 2016. When shares of GMCR dropped below $50, The Street.com had little to say about Keurig and Cramer's Action Alerts sold its stake in the coffee company. Unfortunately, for Mr. Cramer, in early 2016, Keurig Green Mountain was acquired for $92 a share.
Understanding the ebbs and flow for consumer goods takes more than following the trend and a deeper understanding of how growing sales in the marketplace takes shape over time. What George Soros and Jim Cramer found with previous investments in consumer goods was that post distribution saturation, growth was hard to come by and it took a great deal more advertising and promotion dollars to generate sales.
Under that condition, profitability falls and a company's share price generally follows. Let's hope, in the case of George Soros, he performs better with Fitbit than he did with SodaStream. Additionally, for as often as Jim Cramer has touted Fitbit, let's hope his investment in the company is made whole in time.
Having said that, absent meaningful announcements from Fitbit since the latest Q1 2016 report, shares of FIT haven't bounced all that much from their post quarterly result lows. Fitbit had a relatively strong Q1 as the firm beat both top and bottom line results, but in doing so it forecasted a lighter than expected Q2 2016. Costs are mounting for Fitbit and those costs are weighing on the share price performance and shareholders. A recent article by Robert Lehar explains how Fitbit's blowout Q1 performance relied on heavy spending that will be mirrored in the company's 2nd quarter to some degree.
Investors are also highly concerned about declining earnings. Non-GAAP EPS was down 63% year-on-year, while the consensus estimate for the next quarter represents a huge 81% y-o-y drop. Fitbit is ramping up investments in sales, marketing, and R&D, and the bottom line heavily feels the impact. If the company is having trouble growing earnings now, what happens when the competition further intensifies and consumers demand more advanced, R&D-intensive features?
Fitbit's products being the leader in the wearables category is unlikely to change anytime in the near future. The company's first mover advantage and brand dominance serve as a powerful moat around the business and has largely proven to be a key variable for consumer goods throughout the history of the category, when executed properly.
As Fitbit revamps and improves its product line during an expansion period, naturally the average selling price for Fitbit's products has improved. Again, this is a key fundamental for a consumer goods company during a period of expansion. An increasing ASP doesn't necessarily point to a product line moving upstream, but rather the company has yet to achieve market saturation for the totality of a product line.
This thesis is further evidenced by Fitbit's former high price point for the Surge at $249 and its latter high price point for the Blaze introduction being $199. The company's price point at the upper end is actually lower than predecessor products, but what has boosted the average selling price is the quantity of $199 Blaze and $129 Alta units sold into the marketplace versus lower price point Charge and Flex units a year ago. Fitbit isn't moving upstream, but rather diversifying its price points across the breadth of the wearables category.
Fitbit's competition, as defined by Fitbit in its annual filing, with Apple (NASDAQ:AAPL) Watch and other smartwatch manufacturers, has been anything but a competition. The Apple Watch has witnessed both significant sequential unit sales declines and a discounting of the average selling price ever since it launched in April of 2015.
Simply put, smartwatches with cumbersome, small screens and a multitude of duplicated applications found on a smartphone have found consumers to avoid the product altogether. Be it the Samsung (OTC:SSNLF) Gear, or the Apple Watch and the numerous other smartwatches that have come to the marketplace since 2013, not a single smartwatch has managed to grow revenues past the first year of distribution. Some have been fortunate to be acquired, like Withings by Nokia and more recently Misfit by Fossil (NASDAQ:FOSL).
For all of the brand dominance found with Apple products, the company has failed to find growth with the Apple Watch. Units sold during the Q2 2016 period, as tracked by IDC, represented the fewest units sold since launching the Apple Watch a year ago.
Apple shipped 1.5 million smartwatches, putting it in third place for the overall wearables market but making it the top smartwatch vendor, well ahead of the 700,000 units shipped by Samsung.
The worst aspect of the Apple Watch state of affairs is that the product has available to it some additional 50-60,000 points of retail sales globally. With that understanding, Apple should be able to grow sales through expanding its distribution, but based on existing sell-through trends the hardware manufacturer has decided to focus on an improved Apple Watch speculated to launch later this year.
With a multitude of functions and applications available on a smartwatch and Fitbit competing very much for the same consumer with a less complex smartwatch, the consumer has clearly leaned in the direction of a less complex device. Nowhere can it be found in relevant consumer surveys to suggest that the consumer wants a smartwatch with a multitude of communication and complex applications that are a duplication of communication and application functions on a smartphone. To suggest otherwise is unsupported conjecture and speculation. And as it pertains to Apple and the Apple Watch, the firm continues to lose favor, with the Apple Watch falling to 3rd place in the wearables category according to IDC.
Fitbit has a host of hurdles ahead of the company and shareholders will likely be found wanting for greater returns on capital invested in shares of FIT should the company fail to clear such hurdles. The hurdles I speak of have very little to do with competition, and for all the reasons I've noted within and as detailed in "Fitbit's Moat Has Proven Defensible Through The First Mover Advantage".
Apple and the Apple Watch represented a tipping point in the competitive space of wearables and proved that Fitbit's approach was an optimal and dominant approach for the wearables category. As Fitbit constituted some 85% of wearable sales during the Q1 2016, according to NPD Group data, the brand and product line-up overpowered North American competition.
It has to be something else that will "trip up" Fitbit and that something else will likely be market saturation and reliance on sell-through. While Fitbit is on-trend with its product line, the health and wellness category as a whole is relatively small and brings with it a rapidly approaching saturation point for fitness trackers in the consumer market. Simply put, health and wellness is a growing trend, but it is growing far slower than Fitbit is expanding its distribution. A collision course will be at hand in the near future.
The amount of spending Fitbit and its competing products have to spend presently to participate in the market is an indication of how small the health and wellness segment is and points to a future of gross margin contraction upon achieving market saturation. As the media has done a "bang up" job of promoting health and wellness, for some reason they fail to recognize what has happened to participants in the category.
I have pointed out previously what happens to health and wellness related stocks, and GNC Holdings (NYSE:GNC) is just the latest in a host of company stocks participating in this category of goods. The stock charts always go in one direction longer term, from upper left hand corner to lower right hand corner for such companies as further evidenced by the GNC chart below. Unfortunately for GNC Holdings, a year long sales downturn is finding the company in a position where it may need to be acquired in order to unlock shareholder value.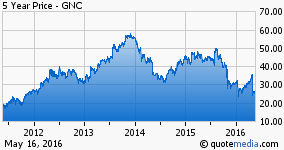 Investors would be wise to recognize the trend for existing wearables products to be a greater function of sell-in rather than sell-through. I would also share the opinion that traders of FIT's shares will likely perform better than investors of Fitbit. I presently own shares of FIT and will likely trade out of my ownership in the coming months should shares appreciate intra-quarter and close the gap in trading price that has been created from the Q1 2016 earnings release.
Disclosure: I am/we are long FIT.
I wrote this article myself, and it expresses my own opinions. I am not receiving compensation for it (other than from Seeking Alpha). I have no business relationship with any company whose stock is mentioned in this article.
Editor's Note: This article discusses one or more securities that do not trade on a major U.S. exchange. Please be aware of the risks associated with these stocks.