The news is that Soros Fund Management, chaired by billionaire investor George Soros, took up a $263.7M stake in Barrick Gold Corporation USA (NYSE:ABX) during the first quarter of 2016.
The fund now owns 19.4 million shares in the Canadian miner, which equals a 1.7% stake in Barrick. Soros Fund Management is the largest U.S.-listed holdings of Barrick.
The bet on gold and Barrick has certainly been profitable. Barrick's stock is up 161.52% YTD on the NYSE and 145.61% YTD at the time I am writing this article, making it one of the best performers on the TSX: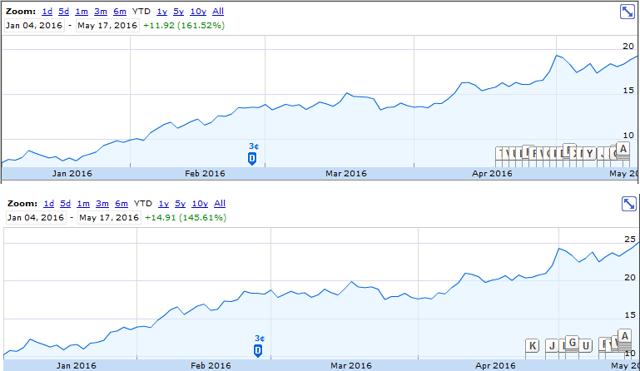 Click to enlarge
As I have already written several times, this gold miner is doing the right moves and evidently this has also been recognized by the American hedge fund management firm.
Barrick managed to neutralize, let's say, falling prices of the precious metal by increasing operations at higher grade mines (less gold production) and reducing operations at lower grade mines in which costs of extractions are of course higher than those of higher grade mines.
Barrick is doing the right thing by trying to reduce overall production costs. This means that the company will make profits even if the gold price should go down again or it does not substantially increase in the coming months.
In case gold does not trade to its abnormal high levels again in the near future, the company wants to keep cash in view of a possible increase of sales at a slower pace (less production) as a result of operating at higher grade mines rather than lower grade.
Increasing operations at higher grade mines and decreasing operations at lower grade mines will push extraction costs down while gold price will, in my opinion, likely not significantly increase in 2016 and maybe not before 2017. But there are other costs (e.g., costs of energy) and risks associated to the fact that the company has operations in other countries (exchange currency risk) which the company also has to take into account. These costs have an impact on cash generated from operating activities.
In my opinion it is right to keep "some" cash to reinvest in the business (e.g., development of projects) and try to get rid of high cost assets (and/or assets that might have little impact on ebit because of the risks related to currency exchange rates), which impact on the operating cost structure may be amplified if the price of gold will not significantly increase (interest coverage ratio = ebit / interest expense).
Barrick is also on the right move on its debt reduction strategy and well in advance of some of its peers, for example Goldcorp.
Barrick improved its financial flexibility by reducing debts. ABX will redeem up to $750 million in notes to help cut debt by at least $2 billion this year. In 2015, the company's total debt was reduced by $3.1 billion, or 24 percent.
Contrary to the market opinion, the debt/EBITDA ratio is favouring Barrick's debt reduction strategy:
"Debt / EBITDA is still high at around 3.3 favoring ABX's debt reduction strategy. But contrary to market opinion the $10B gross debt is no longer a problem with the next maturity of about 500M due in 2018, about $2B liquidity and further inflows from asset sales and positive operating cash flows. All or some of the 'other' gold may or will be sold to reduce debt." (from the comment of Nicklaas to one of my articles on Barrick).
If you look at long-term debt to equity ((mrq)), total debt to equity ((mrq)) ratios, GG seems to have a better debt situation than Barrick and Newmont.
Item

ABX

GG

NEM

Industry

Sector

LT Debt to Equity (MRQ)

124.63

23.17

47.31

37.38

17.09

Total Debt to Equity (MRQ)

127.23

24.79

50.26

54.66

25.37

Interest Coverage (NYSE:TTM)

2.22

3.46

0.24

11.42

Source: Reuters
Barrick is more indebted than its peers but it seems to have less difficulty than Goldcorp when it has to pay interest expenses on outstanding debt. If you look at its 2014 interest coverage, 1.47 (see my article), it seems that Goldcorp was already having more difficulty than its peers when it had to pay interest expenses on outstanding debt.
As a reminder: ratio under 1 means that the company is having problems generating enough cash flow to pay its interest expenses. Ideally you want the ratio to be over 1.5.
Disclosure: I/we have no positions in any stocks mentioned, and no plans to initiate any positions within the next 72 hours.
I wrote this article myself, and it expresses my own opinions. I am not receiving compensation for it (other than from Seeking Alpha). I have no business relationship with any company whose stock is mentioned in this article.