The excuses we heard in the past in order to explain away the lack of profits in the shale patch in past years worked very well in drowning out any doubting voices. The idea that profits should not be expected while production was being ramped up at a furious pace as was the case up until the end of 2014, was most certainly a very strong argument. Shale related stocks were therefore mainly judged on how fast they could ramp up production, rather than how likely they were to be profitable. With the oil price crash starting in the summer of 2014, the myth of shale profitability crashed as well. That fact was especially obvious on credit markets, where increasing doubts emerged whether many of these companies will be able to cope with all the debt they accumulated during the era of easy money searching for yield. It was these worries which saw the market sour on the stocks of shale companies, and I do believe that it will continue to do so going forward, except for a select few.
The huge gains we have seen in shale stock prices in the past few months, since the price of oil bottomed back in February shows us that many investors did not manage to come to grips with the issue of shale profitability. For that reason, I wanted to share my perspective on the issue by using EOG (NYSE:EOG) as a case study, based on the company's results in the past year and in the last quarter, in comparison with other companies such as Sanchez Energy (NYSE:SN). I chose EOG because it is arguably the most solid company that is mainly based on shale projects. It has some of the best acreage in the Eagle Ford as well as in the Bakken. It also has a sustainable debt situation, with still reasonable interest rates compared with most of its peers.
Despite all the comparative advantages EOG has over many of its peers in the shale patch, such as much better acreage, lower completion costs and an ability to borrow at a lower rate, it still failed to turn a profit all of last year as well as in the first quarter of this year. This is despite the fact that production is no longer increasing at a fantastic pace as it did in past years, but is in fact set to now contract.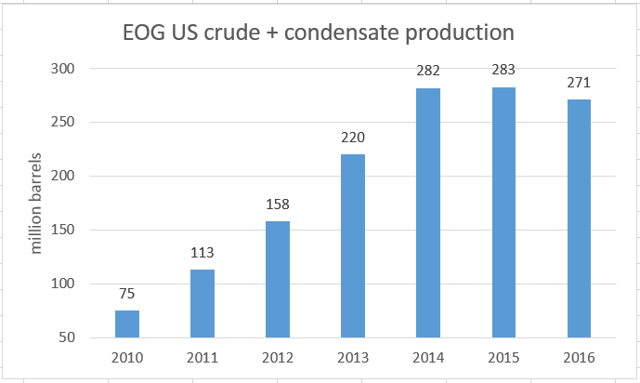 Click to enlarge
Data source: EOG.
Note: For 2016, I used the upper limit of the production estimate for the year.
For the first quarter of this year, EOG announced a loss of $472 million on revenue of $1.35 billion. The first quarter of 2016 was the worst in terms of average market oil prices for many years now, so in all fairness a loss was to be expected. For 2015, EOG also posted a loss, however, despite the fact that for the year the average WTI price at just under $50/barrel was within the range of what has been assumed to be profitable for EOG and the shale oil industry as a whole. EOG achieved an average price of $47.55 last year, yet it recorded a net loss of $4.5 billion. Total capital expenditures were $5.2 billion, which in effect represents the amount it needed to spend in order to keep production flat compared with the previous year. Given that there was no longer any significant production increase, we now know that EOG cannot break even in the current oil price environment. If EOG cannot do it, despite being among the best positioned in terms of acreage quality as well as a leader in terms of execution efficiency, it is hard to see how many other companies will be able to make ends meet, unless we go back to the $100/barrel price plateau.
For comparison, I chose Sanchez Energy, which currently reflects mainly the Catarina play it bought from Shell (NYSE:RDS.A) (NYSE:RDS.B) in 2014, which is where it is bound by its land lease contract to drill 50 wells each year. On revenue of $80 million, it took a $66 million loss for the first quarter of this year, which includes a gain of $22.8 million from its hedges. Operating costs came in at $137 million, but I generally like to subtract the depreciation, amortization and depletion costs in order to get a better sense of what is actually being shelled out versus what is coming in. In the case of Sanchez, these costs made up $47 million. If we also subtract impairments of $22 million, we actually end up with lower operating costs than revenue. But then, we also have to consider interest expenses and capital spending, none of which are really being covered even partially by revenue at current oil & gas prices. Interest expenses alone were 31.6 million, which is equal to 40% of revenue for the quarter.
I chose Sanchez because it is the perfect example of a shale company which rallied sharply since oil prices bottomed a few months back. Its stock more or less quadrupled since then, even though as we can see, it is very far from being profitable. Just how much further it is from profitability compared with EOG is best reflected in the Eagle Ford well results from both companies. EOG's wells mainly produce oil, with only 24% of total production being gas and NGLs.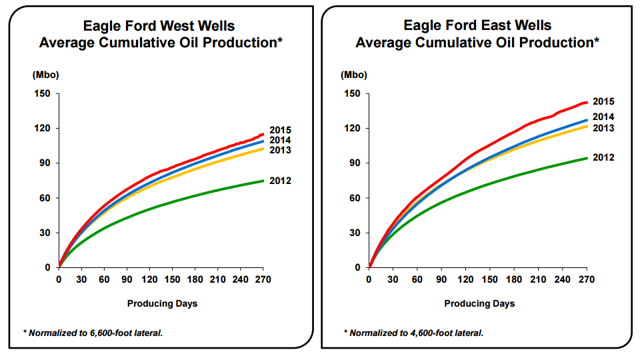 Click to enlarge
Source: EOG presentation.
As we can see, the average EOG Eagle Ford well produces about 135,000 barrels of oil after 270 days of production. At an average price of about $31/barrel, which was the average price EOG received for its North American production in the first quarter, revenue per well comes in at about $4.2 million.
The average Sanchez well in its Catarina play will only yield about $2.6 million due to the fact that it is only 21% crude oil, the rest being natural gas and NGLs. I used the $15/barrel average that Sanchez got for its marketed products for the quarter in order to get an approximate. So despite slightly higher production volume for the same 270 day initial production time frame, the much lower price that these products go for make these wells far less viable at current prices.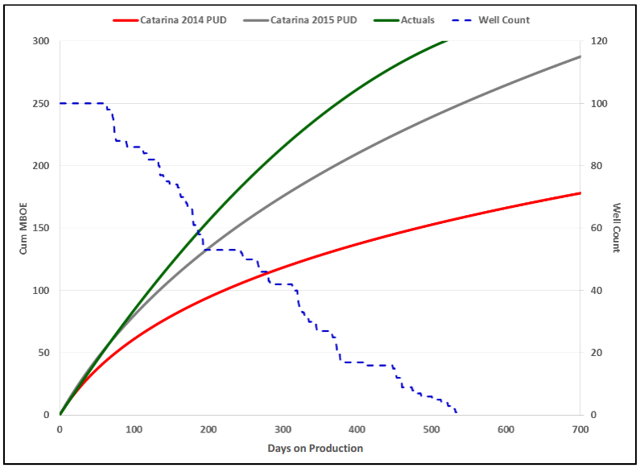 Click to enlarge
Source: Sanchez Energy presentation.
It is true that Sanchez currently spends less per well drilling and completion compared with EOG, but it is still not enough to make up for the lower revenue, which as we can see, it is significant even for the short duration of time we examined here. If we contemplate the difference in revenues over many years, we realize that drilling and completion costs in fact play a relatively insignificant role compared with expected revenue per well versus operating costs. All the good news we heard lately in regards to drilling and completion cost reductions are therefore nowhere near as important as any increase in production and revenue.
There are plenty of shale companies out there which do not come close to being as viable as EOG when considering well profitability. Sanchez Energy is by no means one of the worst examples out there when it comes to profitability. There are still shale companies out there which will go bankrupt in coming months and years, even though oil prices most likely bottomed at the beginning of the year. There are in fact companies which did rally initially, but are already giving back some of the gains, as is the case of Halcon Resources (NYSE:HK), which did quadruple in price since its January low, but after hitting a high for the year in March, it has since lost about a third of its stock value, even as the price of oil continued to recover.
Sanchez Energy is also likely to see such a peak in its stock value, which will not be related to a peak in the price of oil. It is entirely possible that Sanchez's stock will not see a great deal of benefit from any further oil price increases from this point on, unless we will see a more aggressive rally in oil prices, which is not likely to happen this year.
Looking further up the shale food chain, companies like Continental Resources (NYSE:CLR) for instance will continue to rally together with the price of oil. If the rally peters out before Continental can reach profitability, it too will at some point see its stock stall out before the current oil price rally stalls out. Then we have companies near the top of the food chain, such as EOG which we expect to reach profitability at some point in the future as the price of oil will most likely return to a level which will allow most of the global oil industry to return to profits. In this company's case, we have a stock worth considering as a solid bet on a sustained oil price increase in coming months and years. It did not see the spectacular gain in stock price like we saw with companies such as Sanchez Energy since January. It only saw an increase of 35% since then. At the same time, it will not see a catastrophic drop in price if the price of oil will not perform as hoped by oil investors.
Even though we saw magnificent gains in shale stocks such as Sanchez and Continental in the past few months, which makes the gains in EOG's stock seem comparatively disappointing, it does not mean that these stocks are likely to continue to outperform a more solid name like EOG going forward. In fact, unless one believes in the prospects of a sharp oil price rally, it is more than likely that EOG will outperform less profitable shale stocks. In conclusion, there may be many people out there regretting missing out on the shale stock rally in the not-so-solid names, which may now cause them to be tempted to jump in, hoping that the rally will continue. That, however, would be a mistake. As this recent article points out, there will be a huge increase in debt maturity in the US oil & gas industry starting next year. As was the case with Chesapeake (NYSE:CHK) this year, many questions will be asked about many shale companies and their ability to issue new debt in order to deal with maturing debt. In this regard, many questions will be asked about many companies, before questions will be raised about EOG's ability to access the market in order to issue new debt. For this reason, I believe that EOG stock is a much safer and likely more profitable choice going forward. Compared with many of the stocks which may have performed very well in the initial phase of this oil price recovery, but will not necessarily continue to do so, as questions remain whether many of them will be able to keep the lights on in the longer term even if oil prices rebound to $65-70/barrel, EOG looks very good.
Disclosure: I/we have no positions in any stocks mentioned, and no plans to initiate any positions within the next 72 hours.
I wrote this article myself, and it expresses my own opinions. I am not receiving compensation for it (other than from Seeking Alpha). I have no business relationship with any company whose stock is mentioned in this article.