By S. Hasan Abid
These are heavy times for mall-based retailers as they continue to see weak consumer spending in apparel and core categories like handbags. For Q1 fiscal 2016, comp sales at Kohl's (NYSE:KSS), Nordstrom (JWM), J.C. Penney (NYSE:JCP) and Macy's (NYSE:M) fell ominously by 3.9%, 1.7%, 0.4% and 5.6%, respectively. Investors are worried this might be a sign of things to come and brick-and-mortar retailers might be put out of business by the e-commerce giant Amazon (NASDAQ:AMZN). Unsurprisingly, the stock market reflects all these sentiments. In the last 12 months, Amazon stock has gone up by a whopping 66.76%, while shares of all major companies in the department stores industry have fallen by more than 10%.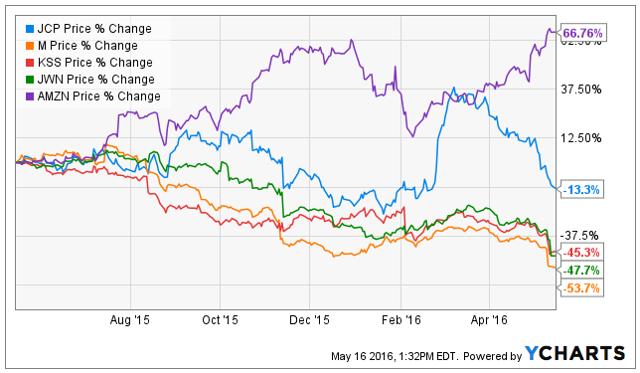 Click to enlarge
While it is true that Amazon, with its aggressive expansion in apparel and fashion-accessories offerings, is hurting traditional retailers significantly, I don't believe that brick-and-mortar retail has no future. For a substantial portion of consumers who still value the opportunity to try products in stores before making a purchase, buying clothes and other products online just isn't a viable option. I find it difficult to imagine living in a world where people don't touch or feel products before buying them.
To put things into perspective, just look at the return rates at brick-and-mortar stores versus the return rates at online retail stores. In 2016, apparel bought online is expected to be returned ~30% of the time. Apparel bought in physical stores, on the other hand, is expected to be returned only ~15%. This tells me that online shopping has its limits, and any retailer that is prepared to constantly improve customer experience can survive the heat of competition. J.C. Penney is one such retailer.
I've written about JCP previously and have a price target of $12.01 for the stock. After the first-quarter results, I added to my position in JCP, and despite the negativity surrounding retailers, as discussed above, I remain upbeat regarding the long-term prospects of this company.
As far as the top line is concerned, it was admittedly a tough quarter for JCP. Nevertheless, I was pleased to see the addition of new brands like Origins and L'Occitane in Sephora shops and growth in online SKU count. JCP is trying to expand its customer reach by opening new Sephora shops in rural locations, which is a very smart move. By the end of 2016, the number of Sephora locations will balloon to nearly 600. Sephora shops, along with Center Core initiatives and increased private brand penetration are bound to help the company achieve the much-needed differentiation in the retail space.
One of the highlights of the earnings call last week for me was JCP's decision to add appliance showrooms in more than 500 of its locations, after the success of a pilot completed in Q1 2016. Starting from this summer, customers of the company will have the option of buying appliances online from jcp.com. It is clear that this tactical shift in merchandising mix will make JCP less dependent on apparel and related categories sensitive to weather. Appliances, moreover, generate higher sales per square foot compared to the rest of JCP's home department, so I am finding it hard to be overly critical of management's decision to invest in the company's home appliance business.
JCP's detractors, nonetheless, feel that a department store management team might not have the experience required to sell appliances. I, however, don't think this is a major issue, because JCP can always hire local contractors, and Marvin Ellison himself has enough experience in this regard. After all, he spent no less than 12 years at Home Depot (NYSE:HD) overseeing the home appliance category. I believe this is a good time for JCP to penetrate the home appliance market because Sears Holdings (NASDAQ:SHLD), perhaps the biggest player in the industry, is precipitously losing market share. In addition to this, the housing market is recuperating, and as a result, by 2020, the home appliance industry could have $38 billion in revenue, a CAGR of 5.6% for the period 2015-20.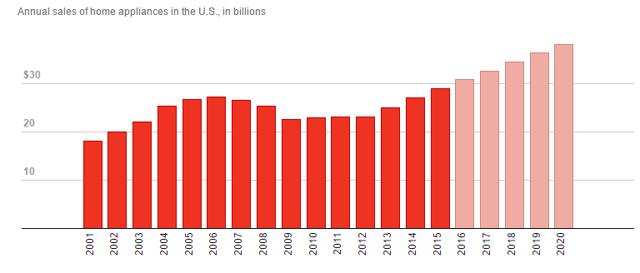 Click to enlarge
(Source: Euromonitor)
In the wake of genuine progress being made at JCP, numerous investment banks and financial services companies, most notably Robert W. Baird & Co and Cowen & Co., are expecting the company to outperform. Little wonder then, institutional ownership at JCP is rising and currently stands at 95.36%. As a shareholder, you can sleep well knowing that institutional investors are not abandoning your company.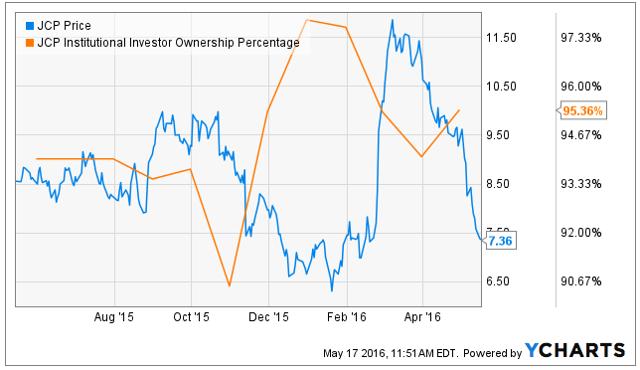 Click to enlarge
Conclusion
All in all, JCP is a great turnaround story. Interestingly, Baird and I now have exactly the same target price of $12 for the stock. As it stands, I believe the downside risk of investing in JCP is limited considering the company's well-thought out strategic initiatives.
Disclosure: I am/we are long JCP.
I wrote this article myself, and it expresses my own opinions. I am not receiving compensation for it (other than from Seeking Alpha). I have no business relationship with any company whose stock is mentioned in this article.