It has been a couple of years since I looked at Avino Silver & Gold Mines, and I have to say that I was shocked at the progress and the stock price. When I looked at the price chart, I was expecting the stock to be down 80 to 90 percent just like the other miners, but the stock was not down at all from December 2013. How is that possible? Incredible progress: Production has tripled.
In December 2013, the company was trading for the value of its plant. Today, the company is producing three times as much, but the price is only slightly higher. This is like a rocket waiting to be launched. Also, because one of the properties is technically still not in commercial production, the big increase in production is not yet flowing through the income statement. This will change when the property enters commercial production, which should happen sometime this year.
If you missed the 7x move on IMPACT Silver (OTCPK:ISVLF) and the 4x move on Energold (OTCPK:EGDFF) this year, then you had better pay attention to Avino Silver & Gold Mines, because it's "only" doubled so far this year.
Company Description
Avino Silver & Gold Mines is a Vancouver-based mining company with properties in both Canada and Mexico. However, its flagship property, Avino Property (Avino Mine, San Gonzalo Mine, Tailings), is situated near Durango, Mexico. Even though Avino has gold in its name, the firm is mainly a silver producer, and the insignificant amount of gold production is simply converted into silver equivalent ounces.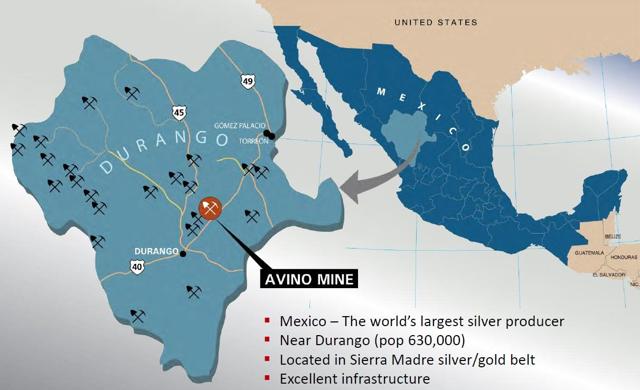 Click to enlarge
Avino Property has a very long history. The Avino deposit was discovered by Spanish nobleman Juan de Tolosa, and was later developed by Captain Francisco Ibarra of Cortez's army. This property has been mined on and off for 500 years. In the 18th Century, British investors owned it and it was listed on the London Stock Exchange. Back then, Avino Property was the largest open pit mine in the world.
The current management got involved with the property in the late 1960s. They were looking for mines that had closed during the revolution, and they found Avino Property. Consequently, they formed Avino Silver & Gold and acquired 51 percent of Avino Property in 1968. In 2006, the company acquired the remaining 49 percent of Avino Property. In the 27-year period from 1974 to 2001, the company produced 16 million ounces of silver, 96,000 ounces of gold, and 24 million pounds of copper. In 2001, operation was halted because metal prices were too low.
In 2008, when the price of silver reached $15 per ounce, management decided to refurbish the plant with the goal of restarting silver production at Avino Property. The total refurbishment of the plant was completed in August 2010. The plant's capacity is 1,500 tonnes per day. As an operating entity, the plant alone is valued at $40 million. This comes from a valuation report by H.C. Osborne and Associates dated September 19, 2006.
Today, the company owns several properties, but its flagship property remains Avino Property. When I first looked at the company in December 2013, it was producing silver at a rate of approximately 1 million silver equivalent ounces annually, but its goal was to become a mid-tier silver producer. The plan was to fully develop Avino Property in Mexico and take the cash flow from it to develop the company's other properties in Canada, Mexico, and British Columbia, which at that point were just exploration properties.
In 2015, the production was 3 million silver equivalent ounces.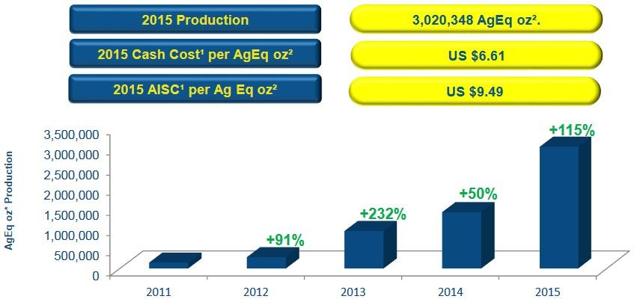 Click to enlarge
As you can see, the cash costs, which were $6.61 per ounce, were incredibly low, while the all-in sustaining costs were $9.49 per ounce. This puts the company among the lowest costs producers in the world.
The interesting thing is that the big increase in production is not showing up in the financial statements.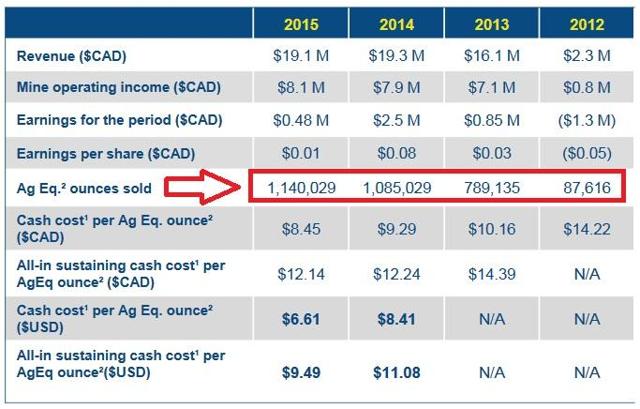 Click to enlarge
This is because the production came from two sources: San Gonzalo Mine and Avino Mine. San Gonzalo Mine is in commercial production, meaning that revenues flow through the income statement. Avino Mine is not technically in commercial production, so its revenues do not flow through the income statement.
Here is how the production was broken down: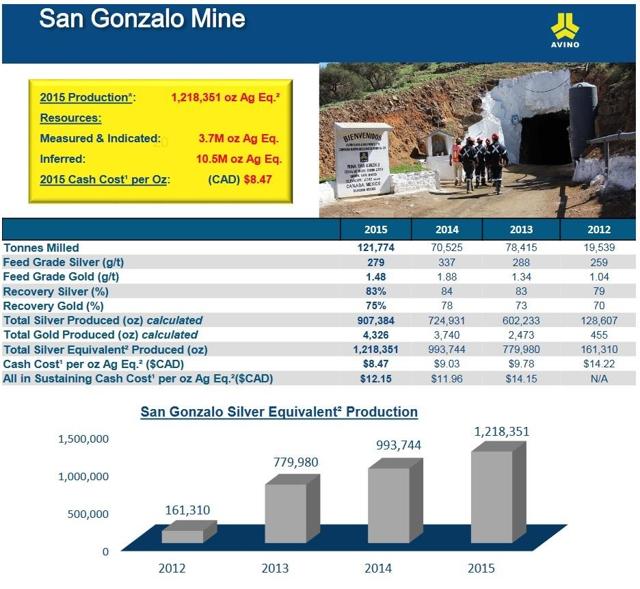 Click to enlarge
As you can see, San Gonzalo Mine's production increased significantly since 2013. This is the production that flows through the income statement.
Production from Avino Mine is as follows: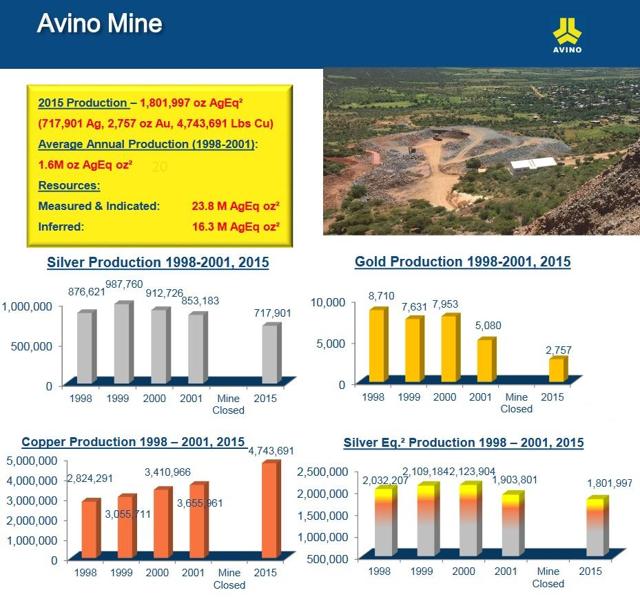 Click to enlarge
As you can see, 2015 production from Avino Mine was larger than from San Gonzales Mine, yet it was not shown on in the income statement. This is because the mine was put into production in 2015 and the management was not comfortable enough to declare its commercial production. They wanted to make sure that they can sustain consistent production. They plan to announce commercial production on Avino Mine sometime this year.
Valuation
As of the date of this report, Avino has a market cap of $75 million and the stock is trading for $1.65 per share. The company has a little bit of debt, and is profitable and growing. The following is the balance sheet.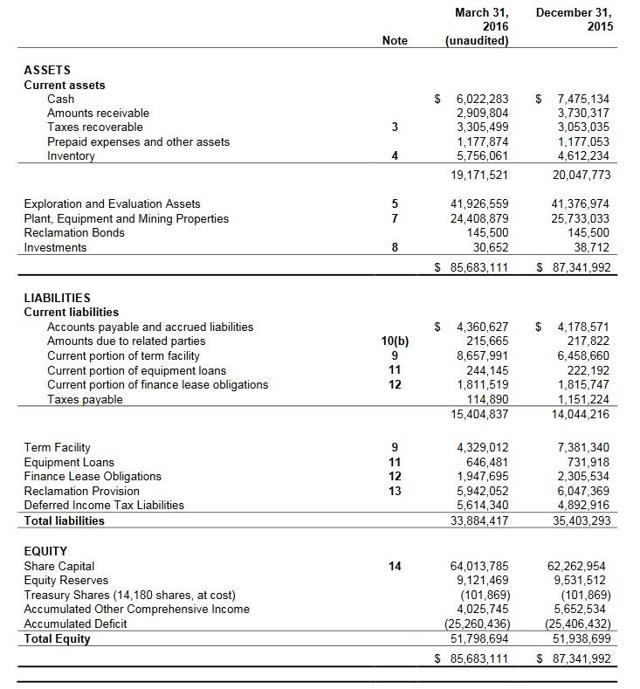 Click to enlarge
When the production of 3 million silver equivalent ounces hits the income statement, the cash flow from mining operations should be around $20 million.
Considering that the market cap is only $75 million, the risk/reward ratio looks favorable. However, as the price of silver continues to increase, the increase in the bottom line will be exponential. The pain of the last several years from owning miners is already turning into a lot of fun.
Conclusion
2016 is the first year that miners are starting to work as an investment. If you follow me, you know that I recently wrote about IMPACT Silver and Energold. Impact is up 7x and Energold is up 4x. Avino has not moved up that much yet. I think that it is about to explode. The fundamentals and news flow is there. Also Aegis Funds, a deep value investing fund, just took a position in it.
The biggest risk that I see is if the price of silver collapses again. This will most definitely have a negative impact on Avino's stock price.
Also, I just conducted an interview with Avino CEO David Wolfin:
Disclosure: I/we have no positions in any stocks mentioned, but may initiate a long position in ASM over the next 72 hours.
I wrote this article myself, and it expresses my own opinions. I am not receiving compensation for it. I have no business relationship with any company whose stock is mentioned in this article.
Editor's Note: This article covers one or more stocks trading at less than $1 per share and/or with less than a $100 million market cap. Please be aware of the risks associated with these stocks.