There is so much money invested in the equity markets of the United States, and that is why the most-watched set of indices, perhaps in the world, are U.S. major stock averages. The addressable market for stocks has increased over recent decades. As the popularity of pensions declined and self-directed accounts for retirement and savings for big expenses like buying a home or financing the education of children grew more money headed into equities. The flow of these funds created natural buying for stocks. Brokers and financial advisors have been suggesting that investors approach the stock market with average cost buying programs for decades. Investors have become periodic buyers, putting money into stocks on a quarterly, monthly, weekly or even a daily basis to achieve average costs for their investments. Market professionals and advisors approach the markets from a mindset that stocks always go higher over time.
The problem with most equity investors is that they buy at average prices but get scared when equity markets periodically fall like stones off the edge of a cliff. We witnessed this in 1987, during the tech bubble in the 1990s, during the 2008 global financial crisis and most recently on August 24, 2015, and at the beginning of 2016 as Chinese equity prices plunged. During these periods many investors become consumed with fear -- they tend to sell their equities at or close to lows.
Fear and greed drive all markets and equities are no exceptions. It is the fear aspect that causes those with limited resources saving for a goal to panic when equity prices fall. Other, sophisticated investors like Warren Buffett, take advantage of fear in markets and buy when prices are plunging. After all, they can afford to hold equities during problematic periods and add to equity exposure when prices are plummeting. They are not saving for goals, and if prices continue to fall, they will not sacrifice anything when it comes to their individual lifestyles. Unfortunately, the vast population of equity investors is not in that position which makes the fear real and their selling understandable. Right now, the equity market is facing several issues that point to another period of fear that will paralyze investors and cause them to abandon ship over the coming months.
Stocks recovered, but there is zero return
Volatility is a trader's and a billionaire's paradise, but it is an ordinary investor's nightmare scenario. Volatility creates opportunity, but if an investor is already in the market, they might not have the capital to seize the volatile moment. Stocks came out of the gate in 2016 falling like stones -- contagion from equity selling in China reverberated around the world, and U.S. equity markets were not spared the downward spiral early in the year. Over the first six weeks of 2016, the S&P 500 fell by 11.5%, and other major indices followed.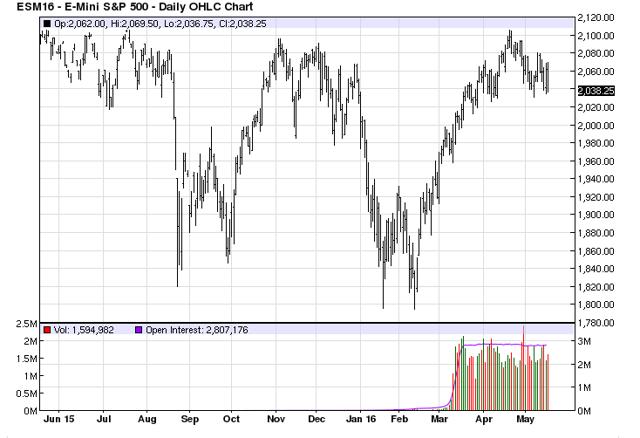 The S&P 500 closed 2015 at 2,043.94. At the close of business on Tuesday, May 17 it was at 2,047.21. While the index has gained virtually nothing this year, volatility has been brutal. Stock prices plunged 11.3% and then gained it all back but could not set a new high. It has been almost a year since the high of the S&P 500 was reached on May 21, 2015 with an intraday price of 2,134.28. The 2,100 level continues to act as a brick wall where many sellers are willing to offload their holdings. Unless one bought during the January and February price carnage, they have not made any real gains so far in 2016 but have experienced plenty of psychological pain inflicted from volatility.
The price action was impressive since February 11, but there are signs that this recovery has stalled and could give way to another wave of selling in the months ahead.
Issue one -- Brexit
The main reason for weakness in U.S. equity markets at the start of this year was contagion from abroad. In January, it was Chinese equity selling and a falling oil price that combined to push stocks lower. Issues in Europe continue to weigh on their economy, and U.S. markets are sensitive to European economic conditions.
Great Britain never totally signed up for the European Union. There is more than the English Channel that separates England from the rest of the continent and that been the case since the inception of the euro as a currency. England chose to retain the pound sterling as the nation's currency rather than switch to the euro as did all other members of the EU. However, the nation did sign up for economic unity with the rest of Europe. Many British citizens have not been pleased with decisions and directives from the EU. The economic condition of Southern European nations has created problems for the union as we saw last summer when the Greek economy fell apart, and a the ECB and EU had to scramble to put together a bailout package.
Additionally, the humanitarian refugee crisis in Europe with immigrants arriving each day from North Africa and the Middle East has come with a high price tag. Terrorist events in Paris and Brussels have caused other concerns. These issues have created a wedge between Europe and Great Britain. On June 23, citizens of Great Britain will go to the voting booth to decide whether they will end their unity with Europe. Right now, the polls indicate a close referendum for a Brexit. Prime Minister David Cameron has been campaigning to keep the nation within the European Union. A British exit could cause real issues for Europe and Britain -- those issues would likely reverberate around the world and cause uncertainty and weakness in equity markets around the globe.
As Europe and Britain's major trading partner and ally, the U.S. economy will feel the effects of a Brexit and stock prices will likely fall if the nation departs the European Union. Brexit is a line in the sand; Democracy is out of vogue in Europe, and the British people's desire to vote for their individual destiny appears to be a punishable offense for those against a Brexit. Nothing substantive is likely to happen either way regarding the June 23 vote. However, politicians on both sides in Britain as well as in the rest of Europe continue to seed fear in the lead up to the vote. It is likely that we will continue to see this fear and uncertainty in the future as there are divisions that separate the will of the British people from the rest of Europe.
Issue two -- A sheepish Fed will act
June meeting. The Fed hiked rates in December for the first time in nine years and promised 3-4 more such increases in 2016. So far in 2016, the Fed has not increased rates by one basis point. This year, the central bank has vacillated between contagion from foreign markets in Asia and Europe and questionable U.S. data as the rationale for inaction. They announced a new orientation toward future rate hikes, or "gradualism" at their March meeting. Gradualism means the Fed will take their time, but so far it has meant they have done nothing, fueling stock prices higher with accommodative juice. The Fed could be facing a heads they lose, tails they lose situation regarding equity prices at this time. If they raise rates, it is naturally bearish for stock prices as equities must compete with fixed income products for investor capital. Rising rates will increase the appeal of bonds at a time when stock prices are very high on a historical basis and earnings are declining.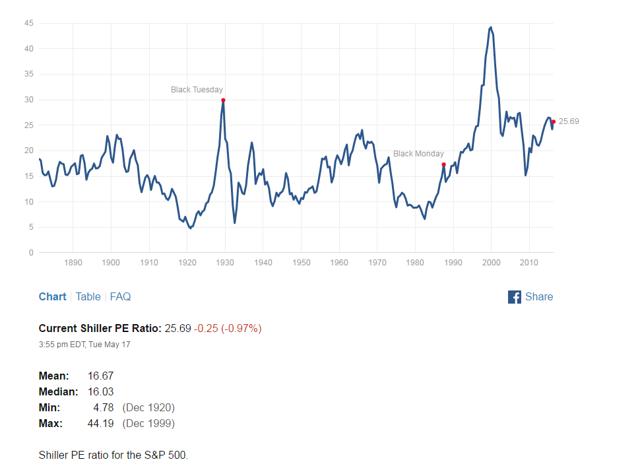 As Tuesday May 17, the CAPE index illustrates that the average price to earnings ratio of the S&P 500 is at 25.69, far above the historical average of 16.67 or the median of 16.03. The bottom line, the CAPE tells us that stocks are not cheap in an environment where the Fed is in a tightening cycle.
If the Fed chooses to leave rates unchanged, a rising potential for inflation could lead equity prices lower. I believe that the Fed is falling behind the inflation curve as the prices of commodities have started to rise in 2016 trapping the Fed in a lose-lose situation. Volatility is here to stay. If U.S. economic data worsens equity prices will react to the downside and if it improves and the Fed hikes rates, equity prices will go lower as well.
Over recent years, we had seen a win-win period where equity prices rose when the Fed left interest rates at zero -- bad new meant a continuation of cheap money and increasing equity prices. The good news was positive for stocks. However, now it appears that we are in for
Issue three -- The election from hell
If anyone told you last year that the 2016 Presidential election in the United States would pit Democrat Hillary Clinton in one corner of the ring against Republican Donald Trump in the other corner, you would have told them to have their head examined. The boxing ring analogy is quite appropriate in the case of these two bombastic candidates. It will be a match that will be entertaining and uncomfortable to watch. It will be a divisive contest, and it will be like no other that I have witnessed in my lifetime. Love him or hate him, Trump has received more Republican votes than any candidate in history. Trump's appeal to a segment of the U.S. has increased voter participation simply because of his candidacy. Hillary Clinton will be the first woman ever to receive a major party's nomination for the highest office in the U.S. and could be the first female leader of the free world. Both candidates are outspoken, and both will fight like heavyweights for the job. Decorum, etiquette and Roberts Rules of Order are not going to highlight this election.
This U.S. election will determine the course of U.S. policy around the world; the results will influence markets like no other in history. Therefore, political volatility with two extreme nominees is highly likely to translate into extreme market volatility at least until November, possibly after.
Stocks are already expensive -- No value in equities
The three issues facing markets over the next six months alone are reasons for extreme volatility in stock prices. However, these are the known issues, and there are likely to be others that we have not yet contemplated. The Chinese economy continues to shift from heavy manufacturing to a consumer orientation which is likely to cause further devaluations of the yuan and a continuation of slower growth in the Asian nation. The Japanese economy is a basket case, and North Korea continues to flex its nuclear muscle. The potential for terrorist events around the world has not abated, if anything it has increased with the attacks in Paris, San Bernardino, and Brussels over recent months. The world continues to be unstable and surprise events will not be positive for equities that are overpriced.
The Carden Smart Wealth Indices provide an emotion-free view of markets and can dampen volatility when market activity flashes warning signs. These indices may serve as market volatility insurance.
While U.S. equity prices have been on the rise since February, they seem to have run into a wall of resistance over recent week. The Carden Smart Hedge Index remains in cash since mid-December. There are many moving pieces when it comes to the direction of world markets across all asset classes. Now is a good time to take stock of portfolios and plan for a volatile future. The three major issues described in this piece are enough to cause extreme market volatility; the unknown only adds more reasons to exercise a high level of caution in approaching markets at this time.
As of the publication date of this report, Carden Capital LLC, Carden Futures LLC and their affiliates (together the "Carden Companies"), may have positions in (whether long or short) and or options positions (whether long or short) in any of the securities, futures, or companies covered herein and may stand to realize gains in the event that the price of any security, future or stock changes. Following publication of the report, the Carden Companies may transact in the securities, futures and derivatives of any company or market covered herein.
Neither I nor the Carden Companies have any obligation to continue offering reports regarding the securities, futures or companies covered herein. Reports are prepared as of the date(s) indicated and may become unreliable because of subsequent market or economic circumstances.
Any investment involves substantial risks, including, but not limited to, pricing volatility, inadequate liquidity, and the potential complete loss of principal. This document does not in any way constitute an offer or solicitation of an offer to buy or sell any investment, security, or commodity discussed herein, or any security in any jurisdiction in which such an offer would be unlawful under the securities laws of such jurisdiction.
Disclosure: I/we have no positions in any stocks mentioned, and no plans to initiate any positions within the next 72 hours.
I wrote this article myself, and it expresses my own opinions. I am not receiving compensation for it (other than from Seeking Alpha). I have no business relationship with any company whose stock is mentioned in this article.