Introduction
By now you have witnessed the bloodbath that started late last week with a host of retailers missing estimates and seeing their stocks plunge 10-20%.
Kohl's (NYSE:KSS) was not immune to the sell off and in some ways lead it when they reported on May 12.
Let's see what happened in the most recent quarter and what the long term trend looks like for Kohl's and whether they are close to turning things around.
First Quarter Results
Sales fell 3.7% year over year in the latest quarter ended April 30, 2016. Comparable store sales fell 3.9% versus a positive 1.4% gain in the 2015 comparable quarter.
Margins declined 139 basis points which according to management was "managing our gross margin". Net income fell 55% which was mostly due to impairments related to restructuring and store closures.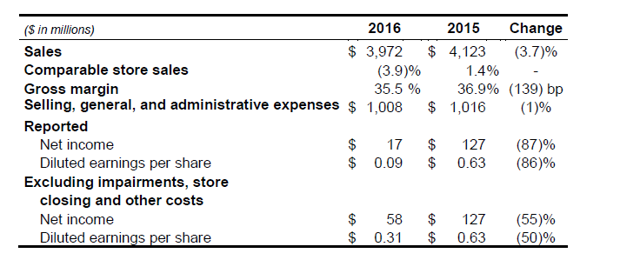 Click to enlarge
The company ended the quarter with 1167 stores, up from 1164 despite much recent chatter the past few quarters about how they plan to close a host of stores. On the call they did mention that 18 stores are set to close later this year and that was the source of the impairment mentioned above.
The company purchased 2.8 million shares of stock during the most recent quarter but hindsight shows us that maybe they should have waited a few days and got a 22% discount on their purchase.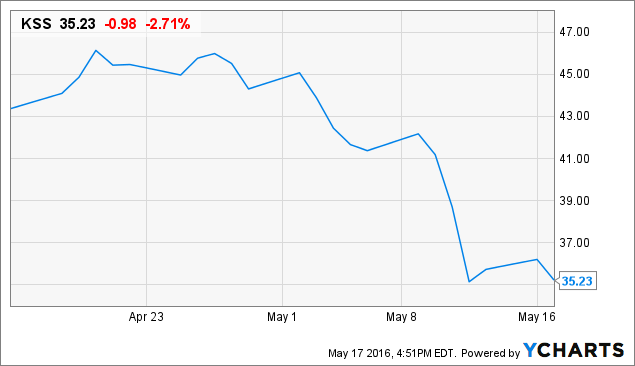 Think Long Term?
I would very much like to say that this quarter is just temporary, just a fluke in a long term upward trend.
Unfortunately I am not able to say that, the recent weakness in overall retail notwithstanding, Kohl's numbers have been degrading for some time.
Sales have only grown 2.1% over the past 5 years for a CAGR of .42%.

Click to enlarge
Net income has fallen from $1.167b in 2011 to $673m in 2015.

Click to enlarge
At this point year over year and comparable store sales is of extreme importance for Kohl's. They are not expanding to China or other emerging markets. They are not acquiring cloud software providers and I do not see any sign of explosive 50% e-commerce growth anywhere.
The company cited 15% sales growth of their ship to home business and 3% growth in their pickup in store business, hardly thrilling numbers and well behind Amazon and even other traditional retailers that are trying to up their e-commerce game.
I am not ringing the death bell for the company, however, as their balance sheet is far from stretched at this point and they have avoided adding on a tremendous amount of debt to buyback stock.
Usually a dividend is able to offer a floor of support but it is not clear when that yield level is. The stock currently yields 5.52%, more than double the S&P500 index yield.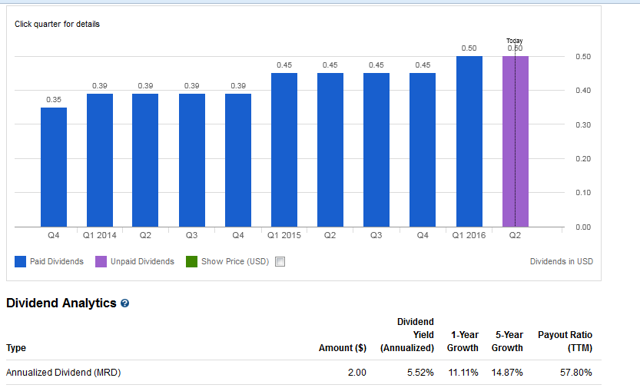 Click to enlarge
The Way Forward
At this point Kohl's needs to take the reigns and try everything they can to get bodies in the store and transactions up.
As someone who shops occasionally at Kohl's I was fairly unimpressed with their Kohl's Cash program. Basically the way it works is when you spend a certain amount you will get these certificates for $10 that you must use within a week or two.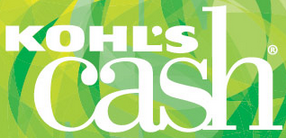 The problem with these, at least from my limited perspective, is that I always get them after I purchased everything I wanted. The super small time frame seems like it is trying to get me to come back relatively soon but in reality I end up going back in a few months when I need new socks or a new tie for a job interview.
I have a pile of these expired certificates laying around the house and they might cause me to impulse purchase something the next time I went if only they did not expire months ago.
Whether it is putting those inflatable car dealerships men in front of the stores, bringing the clothes to your car, having personal shoppers in store to help you design a wardrobe for a monthly fee, or some other crazy idea they need to come up with something to separate themselves from the rest of the retail circus.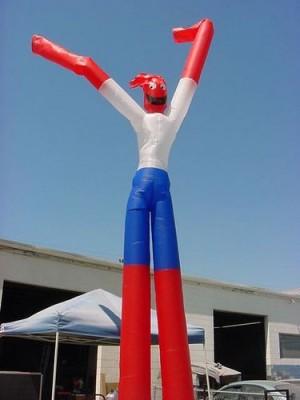 Conclusion
While I do not yet believe every traditional retailer is dead on arrival, it is clear to me that Kohl's has been going the wrong direction for some time now.
Their may be an opportunity with easy comps in 2017 along with the benefit of having completed closing their worst stores to beat the numbers and see a bounce, but the overall trend does not make me confident this is something I can invest in and hold for a long period of time.
Disclosure: I/we have no positions in any stocks mentioned, and no plans to initiate any positions within the next 72 hours.
I wrote this article myself, and it expresses my own opinions. I am not receiving compensation for it (other than from Seeking Alpha). I have no business relationship with any company whose stock is mentioned in this article.