By Addison Quale
Despite some good numbers in April, a look at the fundamentals indicates the rout in retail will likely continue long-term.
Mainstream media wants us to think that our economy is still humming along. With the stock market recovering from a recent drop, unemployment numbers staying steady and other areas of the globe dealing with much greater issues than the US, most people can be forgiven for nodding their heads in agreement.
But there are clearly serious issues plaguing the economic health of this nation. Take for instance the area of retail.
The retail sector has suffered mightily, as this so-called recovery, the weakest on record, has not delivered as advertised. Consumers are clearly in no mood to spend these days. Instead, they are tightening their belts and paying off credit cards.
Retail sales jumped last month, with higher gas prices and auto sales, along with Amazon non-store retailers helping push things along. But there is no indication this is sustainable. The April numbers are in stark contrast with the utter collapse of retailers' earnings, as well as their outlooks.
ZeroHedge reported that Macy's (NYSE:M) stock took a big tumble recently after the company missed earnings targets and lowered its outlook, citing "the uncertain direction of consumer spending." Comp store sales are down over 6.1% and inventories are reported to be at record highs. High inventories mean that while products are being manufactured, customers aren't buying them off the shelves.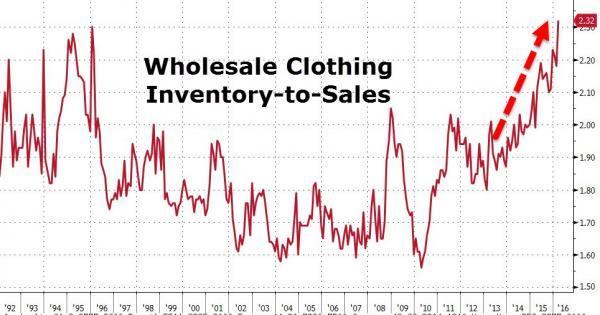 All of this bad news comes after Macy's was forced to cut over 4,000 jobs following dismal holiday sales.
Macy's isn't the only retailer suffering. Sports Authority recently declared bankruptcy. Its assets will be liquidated.
Not surprisingly, it's recently been reported by CNBC that 1 in 3 malls in America is likely to close in the near future, according to retail analyst Jan Kniffen:
About 400 of America's 1,100 enclosed malls will fail in the coming years. Of the survivors, about 250 will thrive and the rest will struggle. Likewise, Macy's probably needs 500 of its roughly 800 existing stores."
As large retail companies suffer through this zombie-like economic recovery, many are being pressured to merge in order to cut costs. Staples (NASDAQ:SPLS) and Office Depot (NYSE:ODP) fall into this category. Combining forces would be a great way for them to weather the economic malaise and continue operating. Unfortunately, Uncle Sam doesn't like this sort of collaboration between companies - especially the two largest office companies. No matter that Amazon (NASDAQ:AMZN) and Wal-Mart (NYSE:WMT) have encroached on their space. As such, this plan to help two struggling companies continue operating has been quashed. Perhaps one of them will be the next retail giant to declare bankruptcy.
Some might say all of these structural changes are merely millennials expressing their desire to shop more online than at brick-and-mortar stores. Perhaps they are right. As Amazon seems to be thriving.
In any event, it seems likely that there is a severe oversupply in retail space - likely encouraged along by pathologically falling interest rates. As such the evisceration of the American retail sector continues with nary a peep from mainstream media. We wonder what it will take to make them realize that all is not well at the mall.