Welcome to the May 18 edition of Seeking Alpha's Eye on Tech newsletter.
Notable Tech News
Reports: Google is launching an Amazon Echo rival, Amazon is prepping home assistant with touchscreen - The NYT reports Google Home, a voice-activated home assistant that will square off against Amazon's (NASDAQ:AMZN) increasingly popular Echo line, will be unveiled today at the Google's (GOOG, GOOGL) I/O developer conference (runs from Wednesday to Friday), but won't be available until this fall. The WSJ, meanwhile, reports Amazon is prepping a home device that (like existing Echo hardware) is powered by its Alexa voice assistant, but which sports a touchscreen that can be used to browse the web of view photos/videos.
Amazon has a clear head start in this space, and his strengthened its hand by opening up the platform to third-party developers and hardware vendors - the WSJ notes Alexa can now be used to "dim the bedroom lights, summon Uber rides, play song lists, check bank balances and... order merchandise," among many other things. But Google already has much of the groundwork in place to create a quality alternative, thanks to its mobile voice search/assistant service (activated by saying "Ok, Google"), and its big investments over the years in machine learning and natural language processing.
Separately, USA Today reports Google plans to unveil a platform that will allow developers to create chatbots for running inside messaging apps. Microsoft (NASDAQ:MSFT) and Facebook (NASDAQ:FB) send their regards.
Google adds shopping ads to image results, expands ad options for local retailers - Eric Schmidt once called Amazon Google's largest search rival, given the tendency of Amazon customers to go directly to its site/apps and bypass Google search (and with it, Google search ads). Two new ad formats - shopping ads included within Google image search results, and ads for local retailers that let shoppers opt for in-store pickup and check inventory directly via search results - continue Google's battle with its fast-growing rival.
The options follow last year's launch of Purchases on Google, which lets mobile shoppers buy advertised items directly on Google's site. They also come as the EU reportedly preps a $3.4B fine on Google for allegedly giving its shopping results preferential treatment. Along with YouTube ads, Google Shopping growth was a big reason paid ad clicks on Google sites rose 38% Y/Y in Q1.
HP details its first 3D printers, claims unmatched performance/cost/features - HP Inc.'s (NYSE:HPQ) Jet Fusion 3D 4200 and 3200 printers are meant for industrial-class prototyping and short-run production. HP claims the printers, the first of which (the 3200) will be delivered in late 2016 and sell for $130K, can print items 10x as fast as rival hardware, thanks to the company's proprietary Multi Jet Fusion inkjet technology, and at half the cost. It also promises an unmatched ability to customize parts and transform their properties.
The list of partners supporting the hardware includes Nike (NYSE:NKE), BMW (BAMXY), Johnson & Johnson (NYSE:JNJ), Jabil (NYSE:JBL) (a major contract manufacturer), Siemens (OTCPK:SIEGY), and Autodesk (NASDAQ:ADSK) (the top provider of CAD software used to design 3D-printed objects). One can expect industrial 3D printing incumbents such as 3D Systems (NYSE:DDD), Stratasys (NASDAQ:SSYS), and ExOne (NASDAQ:XONE) to quibble with HP's claims regarding its performance and cost advantages. And as Gartner observes, the printers work only with black plastic - HP will need to launch printers supporting additional colors, as well as ceramic and metal, to fully take on the likes of 3D Systems and Stratasys.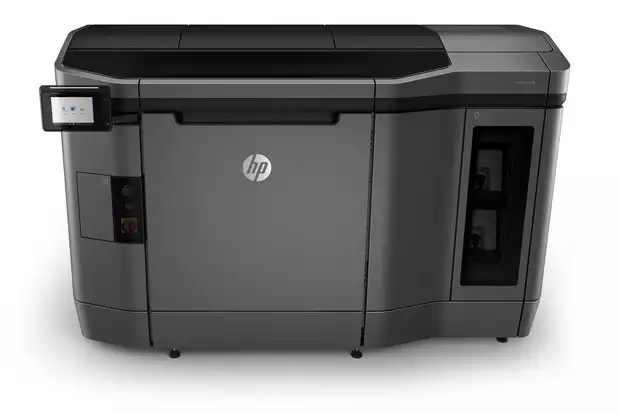 HP's Jet Fusion 4200 3D printer
Still, between Multi Jet Fusion, a strong set of partners (bound to grow in time), and HP's brand and distribution, the company should be a major force in the burgeoning 3D printing/additive manufacturing space over the long term. In the near term, 3D printing is unlikely to significantly move the needle for a printing division that saw revenue drop 17% Y/Y in the January quarter to $4.64B.
Apple hires wireless charging experts - The Verge observes Apple (NASDAQ:AAPL) has hired two engineers from wireless charging startup uBeam, and "more than a dozen staffers with expertise in wireless charging." This follows a January Bloomberg report stating Apple is working with U.S. and Asian partners to develop over-the-air wireless charging technology that could be deployed as soon as 2017. Energous Corp. (NASDAQ:WATT) has surged since the Bloomberg report on speculation (no confirmation at this point) the company is an Apple wireless charging partner.
Microsoft partners with SAP on high-speed cloud databases, Office 365 integration - Microsoft's Azure cloud platform now supports SAP's (NYSE:SAP) Hana in-memory database - Hana is widely used by enterprises for demanding analytics and transaction processing workloads, and already supports Amazon Web Services (AWS) and SAP's own cloud platform. In addition, Office 365 will integrate with several SAP cloud software product lines.
The tie-up is just one of many Microsoft has announced with rivals over the last two years as the company embraces a platform-agnostic mindset for both its mobile and cloud apps/services. The in-memory features within Microsoft's SQL Server database (will soon run on Linux) compete with Hana, and Microsoft's Dynamics ERP and CRM apps compete with SAP offerings geared towards SMBs.
For SAP, the Microsoft alliance follows an iOS-focused partnership with Apple, and coincides with a Hana update that provides new pattern recognition and workload testing tools. SAP's annual Sapphire Now conference runs from Tuesday to Thursday.
Twitter tests ads in Timelines contained in third-party iOS/Android apps - Twitter (NYSE:TWTR) has long argued its registered monthly active user count (310M in Q1) doesn't signify its true reach, as its content is also seen (often on other sites/apps) by hundreds of millions of logged-out users. It's now looking to better monetize those users by letting third-party developers show Promoted Tweet ads within Twitter timelines found in their apps.
Twitter has already been testing Promoted Tweets for logged-out users on its own site/apps. It has also struck deals to run ads on Yahoo Japan and Flipboard's properties. The company is coming off a Q1 in which ad revenue growth slowed to 37% from Q4's 48%. Q2 guidance implies 19% total revenue growth at the midpoint.
IBM announces phase-change memory breakthrough, takes on Intel/Micron and HP/SanDisk - IBM Corp. (NYSE:IBM) has demoed a type of phase-change memory ("PCM") - it aims to provide much better performance and endurance than NAND flash memory, and much higher densities and lower costs than DRAM, while (like NAND) retaining its data when power is lost - that can store three bits per cell. Previously, IBM and others had only been able to store one bit per PCM cell.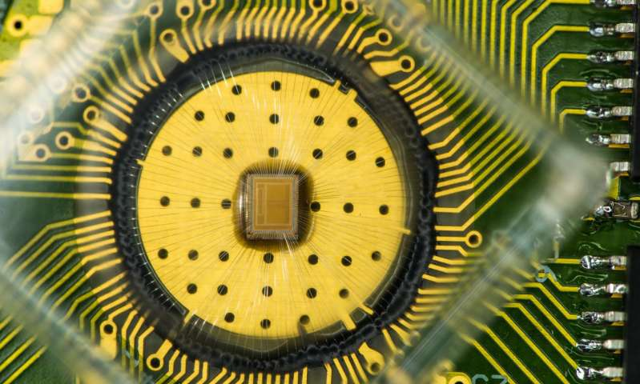 Click to enlarge
IBM's experimental 3 bit/cell phase-change memory chip
Big Blue asserts PCM could allow smartphones to boot in a few seconds, as well as enable high-speed enterprise databases and boost the performance of machine learning algorithms. Intel (NASDAQ:INTC) and Micron (NASDAQ:MU) have spelled out similar enterprise use cases for 3D XPoint, a next-gen memory due to ship in 2016 and ramp in 2017. HP and SanDisk (SNDK) are also working on a next-gen memory solution. IBM has a potential density/cost edge, but for now, Intel/Micron have a clear lead in bringing a next-gen memory solution to market.
Bloomberg: Investment firms eye ~$1B portfolio of Intel VC assets - Two months after reporting Intel is thinking of selling a portion of its venture capital investment portfolio, Bloomberg reports a slew of investment firms have shown interest, and (according to sources) that the assets are worth ~$1B. First-round bids are expected by June. The asset sale would strengthen a balance sheet that had $1.1B in domestic cash, $14B in offshore cash, and $25.4B in debt at the end of Q1.
Mobileye partners with STMicroelectronics on next-gen vision processor for autonomous driving systems - Driver-assistance system ("ADAS") leader Mobileye (NYSE:MBLY) asserts its EyeQ5 processor, which will be developed with chipmaker STMicro's (NYSE:STM) help, will deliver 8x the performance of the EyeQ4 (announced last year and due to enter mass production in early 2018), and will thus be capable of powering self-driving cars by 2020. The announcement comes shortly after rival NXP Semiconductors (NASDAQ:NXPI) demoed its BlueBox autonomous driving system, and Mobileye forecast major Chinese growth thanks to a government mandate requiring ADAS features be installed within buses and trucks.
Fully-fledged self-driving cars will clearly need more processing power than what's delivered by present-day ADAS offerings enabling features such as lane detection and emergency braking. That, in turn, should spell an increase in dollar content for chip suppliers. The driving data collected by Mobileye-powered ADAS solutions could help the company keep rivals at bay.
Disclosure: I/we have no positions in any stocks mentioned, and no plans to initiate any positions within the next 72 hours.
I wrote this article myself, and it expresses my own opinions. I am not receiving compensation for it. I have no business relationship with any company whose stock is mentioned in this article.