Last week I wrote an article pointing out the issues with the updated 2016 guidance provided by Fossil, Inc. (NASDAQ:FOSL). Its wide-ranging EPS forecast of $1.80 to $2.80 builds in a significant margin boost and a turnaround of declining revenue by Q3 of this year. This is based on management's belief that Fossil will grab sufficient market share in the wearables market as several new brands are expected to be released in the latter half of the year. I already went through the dubious aspect of the company's forecast that assumes increased sales AND increased margins, in my previous article. It looks like analysts agree with my stance as FOSL has had several downgrades since Q1 results were released: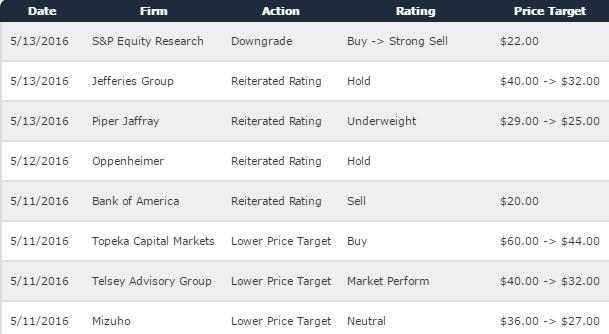 Of the eight analyst opinions listed above, four of them have price targets which are below Tuesday's closing price. While Oppenheimer has no target, it slashed its EPS estimate on FOSL to $2.05 in 2016 and $1.50 in 2017, showing little faith in the company's ability to profitably enter the wearables market beyond a spike in sales when the new brands are launched. I believe Oppenheimer's $2.05 EPS estimate is generous given that Fossil is going to have to spend a ton in marketing to have any shot at its new wearable watch brands succeeding in a market that is getting saturated fairly quickly. Keep in mind that FOSL only achieved $0.12 EPS in Q1 and expects $0.00 to $0.15 in EPS for Q2, so the company is expecting over $2.00 in EPS for the final two quarters of 2016 while in this uncertain environment.
The most telling part about FOSL's trying times is the downgrade of its debt to junk status by the bond rating agencies. While Moody's kept the company's debt rating at Baa3, it changed its outlook on the company to negative as Fossil's debt becomes due in May 2018 and its business prospects are too uncertain to guarantee that it will have the cash flow to pay off or refinance the debt at good terms by that time. Standard & Poor's lowered FOSL's bond rating from BBB- to BB+, citing the following:
The downgrade reflects Fossil's steep decline in earnings over the past five quarters, which resulted in a meaningful deterioration of the company's credit measures. The rating action also reflects our expectation that the weak operating trends will continue through the most of 2016 because of the difficult retail environment, intensified competitive pressures from wearable technology devices (a segment Fossil was late in entering), and slowing economic growth in its key markets.
With Fossil's debt being downgraded from investment grade to non-investment grade, this could have further negative repercussions on the company's stock price as large institutions holding FOSL may be compelled or forced to sell if their investment policy is to avoid holding equities with junk bond status.
Institutional ownership on FOSL is nearly 98% which would normally be a positive sign for shareholders but recent blow-ups from other fund darlings with leveraged balance sheets and shaky operations like SunEdison, Inc. (OTCPK:SUNEQ) and Valeant Pharmaceuticals International, Inc. (NYSE:VRX) have shown that funds are just as susceptible as anyone to severe investment mistakes. I believe that the sensitivity surrounding FOSL's collapsing share price, weak operations and looming debt maturity will trigger selling by some funds before they have to report their holdings at quarter-end.
While FOSL's institutional ownership is high and widespread among many firms, there is one fund's activity that investors should pay particular attention to because its potential dumping could crater the stock. Vulcan Value Partners, LLC owns 10.56 million shares of FOSL or about 22% of the company's float. Vulcan has relatively concentrated holdings of 76 total positions with FOSL ranking in the top 20; however it ranked as high as the fund's third highest position in terms of overall value in March, when the stock was trading at over $50. Since Q1 quarter-end, FOSL has been responsible for about $180 million in losses for Vulcan. Vulcan is used to the volatility as both its Q4 2015 and Q1 2016 letters to investors made reference to FOSL's decline as a big disappointment in 2015, and subsequent increase as a big contributor in Q1 to Vulcan's investment performance.
Vulcan stressed to its investors to have a long-term view while paying little mind to short-term volatility. However, its investment thesis in Fossil appears to not be playing out as well as it had hoped, and one must wonder how much longer the fund will tolerate admitting that Fossil has been a "material detractor to performance" as it has in the past and will have to once again in its Q2 2016 letter. Vulcan's initial investment thesis suggested that concerns over the Apple Watch are what weighed down the stock price. Well that thesis appears questionable as the Apple Watch hasn't been an outstanding performer, but Fossil's revenues are still eroding from decreased legacy brand sales and overall weakness in fashion retail.
Vulcan and FOSL management now pin the hopes of the company on strong acceptable of its new wearables brands. That is what I call speculating. There's nothing wrong with speculating and I do it all the time, but a fund should not try to pass off a losing investment as a blue-chip to its investors when the business fundamentals have declined to the extent where the investment should now be considered speculative with its debt at a junk bond rating.
I take issue with Vulcan's description of Fossil in its Q4 2015 letter to investors:
Fossil Group has been a disappointing investment for us throughout 2015. We forecasted that 2015 was going to be a down year when we purchased Fossil and factored it into our valuation. It now looks like 2016 is going to be a down year as well, which we did not expect. While we would prefer to have been more accurate in our forecast for Fossil, we understand the reasons why and remain supportive of Fossil's management team. Fossil has a very strong competitive position in the watch industry with global distribution and scale, strong internally developed brands, and a broad portfolio of third party brands. Fossil is the preferred partner for leading lifestyle brands including Michael Kors, Burberry, Armani Exchange, DKNY, Diesel, Tory Burch, Kate Spade, Adidas, and others. We think Fossil's competitive strengths will enable it to compete effectively in the rapidly expanding wearables market. Fossil is investing heavily to participate in the wearables market, which is the main reason we expect 2016 to be a down year. If Fossil fails in wearables and retreats to traditional watches, it is extremely discounted. If Fossil is modestly successful in wearables, it is one of the cheapest companies we have ever owned.
Vulcan admitted that 2016 is going to be a down year for Fossil, contrary to its original investment thesis. This is a very reasonable expectation given that Fossil is in the midst of an overhaul to its business, which is going to take a lot of marketing dollars and is not guaranteed to succeed. However, Vulcan is pointing to FOSL's history as a strong watch brand and using that as a factor to determine its likelihood of future success in the wearables market. That's akin to someone developing an investment thesis on a legacy car manufacturer with the premise that it will compete directly with Tesla (NASDAQ:TSLA). Fossil's brand name is far less important to younger generations who will be more likely to buy wearables than older ones. The company can certainly leverage its traditional distribution channels, but it will have a tough time competing in consumer electronics distribution channels, including those online.
But the most egregious overstatement made by Vulcan is about FOSL's value. At the time of the release of this letter early in 2016, FOSL was trading around $30-35 with management guidance of a $2.80 to $3.60 EPS for the year. That translates to about a 10 P/E. While a 10 P/E is not expensive, it is hardly the "cheapest company I have ever owned," especially considering the deterioration of its business metrics that have taken place since. With a newly lowered midpoint EPS guidance of $2.30 that is looking rather dubious, FOSL at $27 is not looking very cheap at all. Assuming Oppenheimer's $1.50 EPS for 2017 holds, the stock looks downright expensive at an 18 P/E considering that you can buy competitors in the wearables space like Fitbit Inc. (NYSE:FIT) or Apple Inc. (NASDAQ:AAPL) for around a 10 forward P/E. Neither of those companies has the burden of owning a declining legacy watch business when no one wears "simple" watches anymore.
Perhaps Vulcan strays away from publicly available valuation metrics like P/E and EV/EBITDA and makes reference solely to its internal "price to value" metric, which it stands on as the backbone for its above average returns since the fund's inception in 2007. The problem with that is the fund can easily mask a dud like FOSL, which is clearly not cheap when considering its deteriorating sales and business prospects and just throw out the idea that it is. Vulcan owns 22% of FOSL's float and FOSL is one of its larger holdings. It's stuck between a rock and a hard place because the fund can't dump FOSL unless it is willing to crater the stock price and simply move on. Until then, Vulcan has absolutely every incentive to present Fossil in the most positive light possible to calm its investors, and to try to slow the bleeding on the stock while it tries to exit. I saw the exact same song and dance before with Ackman on Valeant and Einhorn on SunEdison.
If Fossil fails in the wearables market, it's not "extremely discounted" as Vulcan claims. It's a stock that would have a ton of worthless inventory and quickly eroding cash flow on lower sales in a legacy business that's in perpetual decline at a time when debt matures. As in other words, Fossil is a highly speculative investment. If it fails to capture the wearables market, the company turns to survival mode just like Blockbuster, Circuit City, Dex Media and any other numbers of retail or other businesses which the world left behind. Add in a relatively concentrated investment fund which owns a substantial percentage of the float and is the company's biggest cheerleader and Fossil has an added tinge of SunEdison or Valeant on top of that.
Disclosure: I am/we are short FOSL.
I wrote this article myself, and it expresses my own opinions. I am not receiving compensation for it (other than from Seeking Alpha). I have no business relationship with any company whose stock is mentioned in this article.