On Wednesday, Seadrill (NYSE:SDRL) announced that it had entered into a voluntary and privately negotiated debt for equity swap in which it has agreed to exchange $55 million in par value of its 2017 5.625% coupon senior notes for 8,184,340 million common shares. Based upon Tuesday's closing price the equity portion of deal is valued at $30.45 million and gives these creditors roughly 55.4 cents on the dollar in equity in exchange for their debt. This senior note is one of the company's more significant maturities due in the next few quarters. The exchange comes weeks after Seadrill announced simultaneous extensions and covenant waivers for two of its secured credit facilities and one North Atlantic Drilling (NYSE:NADL) secured credit facility in order to enhance its liquidity position as the company seeks to restructure its massive debt load amidst an ongoing weak offshore drilling market. Seadrill maintains one of the largest fleets of offshore drilling units in the industry, however as E&P firms have drastically cut back CAPEX especially in high cost UDW regions. Seadrill's chairman and major shareholder John Fredriksen has been rumored to have been raising cash to participate in a Seadrill restructuring, although the company remains quiet on what a potential restructuring would take.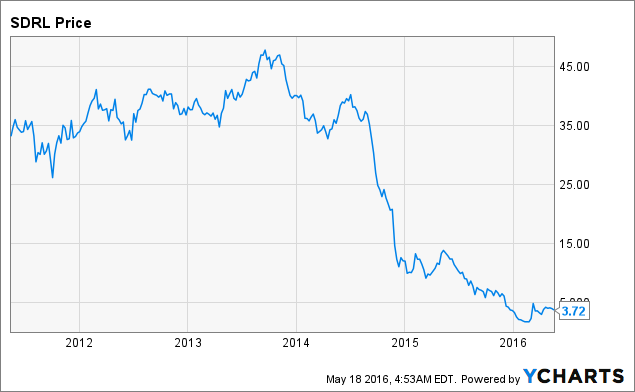 In early March, shares of Seadrill experienced heightened volatility, including a 121.5% one-day surge as rumors surrounding Fredriksen's possible involvement in restructuring encourage investors. As I argued in a Seeking Alpha article, Fredriksen has experienced a similar downturn just a few years ago with Frontline (NYSE:FRO) and undertook a major debt restructuring program where a new entity, Frontline 2012, purchased some of Frontline's newer ships and newbuild contracts. Frontline 2012 was later merged back into Frontline. Wednesday's debt for equity swap is encouraging for the longevity of the company, but highlights a real risk of dilution for common shareholders.
$55 million in debt is a small figure for a company of Seadrill's size, however the firm appears intent on a more substantiate debt restructuring plan later this year. There may be an opportunity in Seadrill's debt, specifically as its 6.125% coupon 2020 senior notes have traded between 30 and 40 cents on the dollar in recent weeks, which is a level that signals major financial distress. The latest voluntary debt for equity exchange (at the equivalent of just over 55 cents on the dollar) enhances Seadrill's liquidity and balance sheet position, however if a more substantive exchange offer is made, the company's bonds could rally as incremental debt is taken off of the balance sheet and these creditors are given the option to convert to equity. There have been no communicated plans for a mandatory conversion of debt to equity but Wednesday's move indicates that the company voluntary debt for equity exchanges may be the direction that Seadrill is headed. Seadrill's focus will likely be on its more near term maturities as it seeks to avoid tapping the already energy-reluctant capital markets.
Seadrill reports its Q1 earnings next Thursday and the company will likely give more clarity on its restructuring plans and what investors can expect over the next few months. Dilution risk should be a major concern for Seadrill's equity holders and a potential deal with Fredriksen similar to Frontline and Frontline 2012 could provide immediate liquidity but take away some valuable upside in a market turnaround. Seadrill's debt could be an attractive play as the more outstanding debt that is converted into equity enhances the company's financial position. The next few months are critical for Seadrill and while the offshore drilling market shows few signs of a turnaround, a potentially larger debt for equity swap in the coming quarters could go a long way to supporting the company's financial state and its ability to make it through this downturn.
Jordan Flannery has been a contributor to Seeking Alpha since 2012 and has covered a wide range of companies including Seadrill. To stay up to date with his latest Seeking Alpha articles, please click on the "Follow" button at the top of this article and consider subscribing to real-time alerts. Thanks
Disclosure: I am/we are long SEADRILL'S 6.125% COUPON 2020 SENIOR NOTES.
I wrote this article myself, and it expresses my own opinions. I am not receiving compensation for it (other than from Seeking Alpha). I have no business relationship with any company whose stock is mentioned in this article.
Editor's Note: This article covers one or more stocks trading at less than $1 per share and/or with less than a $100 million market cap. Please be aware of the risks associated with these stocks.