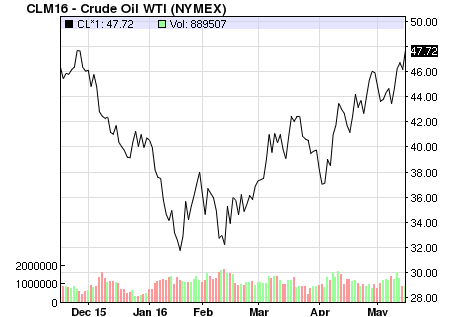 Nasdaq.com
On February 19 we wrote about how three very successful investors (Bass, Hall and Berkowitz) were all expecting that the price of oil (then near $30 per barrel) had to rebound. The reasoning given by all three men was that the price of oil (NYSEARCA:USO) was unsustainably low and that market fundamentals were already much tighter than most observers believed.
We thought Fairholme's Bruce Berkowitz summed it up well in his annual letter to investors with this quote:
Supply increases have led to an oil and gas price collapse. Energy companies now sell for huge discounts from historic values, and related service businesses are trading at record lows as well.

When the Fund last purchased large amounts of securities in the energy sector, no one thought that the world would function if oil exceeded $40 per barrel. We sold our positions when oil eclipsed $100 per barrel and few thought a return to $80 possible.

Now, experts believe a price of $10 is possible and $50 per barrel a long way off. We again disagree. Prices cannot stay below marginal costs when demand grows and supply depletes -- at least, not for too long.

In the immortal words of Yogi Berra, 'It's déjà vu all over again.'
Since then the price of oil has bounced by nearly 50%, and now some of the reporting agencies and analysts are coming around to the bullish camp. We thought it would be interesting to look at what a couple of the most visible of these agencies and analysts were saying about oil prices back in February.
The International Energy Agency Then
As far as we can tell, the entire purpose of the International Energy Agency is to provide intelligence to the OECD nations that fund the IEA's operations.
We aren't sure if this would qualify as intelligence, but here is what the IEA said back in February about where oil prices were headed.
"It is very hard to see how oil prices can rise significantly in the short term." For oil prices, the "short term risk to the downside has increased."
Immediately before what is now getting close to an 80% rally from the lows the IEA said that it could not foresee that oil prices could rise in the short term. In fact the IEA thought that there was a much better chance of oil prices falling.
The International Energy Agency Now
Fast-forward to today which is only three months later and the IEA is singing a very different tune despite much higher oil prices. Here is a quote from the most recent IEA Monthly Oil Market Report which came out in early May:
Changes to the data in this month's Report confirm the direction of travel of the oil market towards balance. The net result of our changes to demand and supply data is that we expect to see global oil stocks increase by 1.3 mb/d in 1H16 followed by a dramatic reduction in 2H16 to 0.2 mb/d.
The IEA now sees oil supply and demand back in balance in the second half of this year.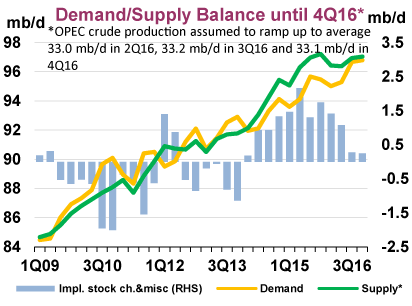 IEA May Oil Market Report
We can't help but wonder how much this analysis is going to need to be revised once the IEA incorporates the fact that both OPEC producers Nigeria and Venezuela have major production problems that are not going to be short-term in nature.
Goldman Sachs Then
The dog with the biggest bark when it comes to making bearish oil news has undoubtedly been Goldman Sachs (NYSE:GS). Goldman's analyst Jeff Currie has certainly been front and center on the financial markets often enough acting as though Goldman nailed this oil collapse right from the beginning.
The reality is that Goldman wasn't all that bearish when the oil price collapse started back in 2014.
Back in late October 2014 when we were only two months out from the start of 2015 Goldman was far too optimistic about 2015 oil prices. At that point in time Goldman released a report calling for the 2015 WTI oil price low to be $70 per barrel.
Goldman's call for $70 per barrel being the low was 62% too high. That is a big miss, and remember this call was made with only two months to go in 2014.
Currie and his team did much better in the spring of 2015 when he warned that the then rally in oil prices were to prove short-lived. He was correct in that instance.
Then in February of this year Currie reversed some of the credibility he had earned from the spring 2015 prediction when he said on February 9 that oil price volatility, already at multi-year highs, will probably increase in 2016 and that he wouldn't be surprised if oil dipped below $20 per barrel.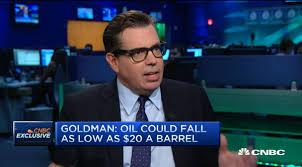 CNBC
Like the IEA, Currie and Goldman Sachs were still very bearish at the moment in February which is likely to be the point in time when oil will prove to have been a generational buying opportunity.
Goldman Sachs Now
The bearish Goldman Sachs from February was replaced with a reluctantly bullish Goldman Sachs this week. Instead of saying that oil was headed under $20 per barrel Goldman said this:
With each of these shifts significant in magnitude, the oil market has gone from nearing storage saturation to being in deficit much earlier than we expected and we are pulling forward our price forecast, with 2Q/2H16 WTI now $45/bbl and $50/bbl.

A sudden halt to the oil market surplus

The 2Q16 deficit that we now forecast is occurring one quarter earlier than we expected mid-March, driven by both sustained strong demand as well as sharply declining production. The shift in OECD stocks will be further exacerbated by the ongoing strong Chinese inventory builds.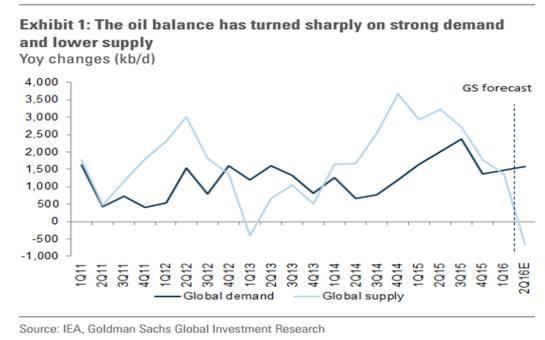 What Is An Investor To Do
The reality is that predicting short-term moves in the price of oil is a fool's errand. Like Currie and Goldman Sachs, if you are willing to make short-term predictions you are going to get some short-term predictions right and some of them wrong.
The successful bearish Goldman call was fully dependent on Saudi Arabia continuing to flood the market with oil which was not something that anyone outside of Saudi royalty could predict with any accuracy.
For the next couple of years we are still in agreement with Bass, Hall and Berkowitz. The price of oil has just dipped too far and the damage to oil producer balance sheets too severe to see a swift reversal in the rate of drilling.
There has been a huge amount of supply destruction done by this crash. Anything can happen in the short term, but for the next couple of years we will be happy to have exposure to oil.
Where that specific exposure will come from will be ideas that we find in the portfolios of the greatest investors in the world. We firmly believe that the best risk-adjusted investment ideas can be found in the portfolios of the world's best investors.
Thanks for reading.
Note: Our goal is to be Seeking Alpha's top source of investment ideas from the world's hedge fund stars of today. Click the follow button at the top of this article so that we can keep these ideas from the best in the business flowing to you.
Disclosure: I/we have no positions in any stocks mentioned, and no plans to initiate any positions within the next 72 hours.
I wrote this article myself, and it expresses my own opinions. I am not receiving compensation for it (other than from Seeking Alpha). I have no business relationship with any company whose stock is mentioned in this article.