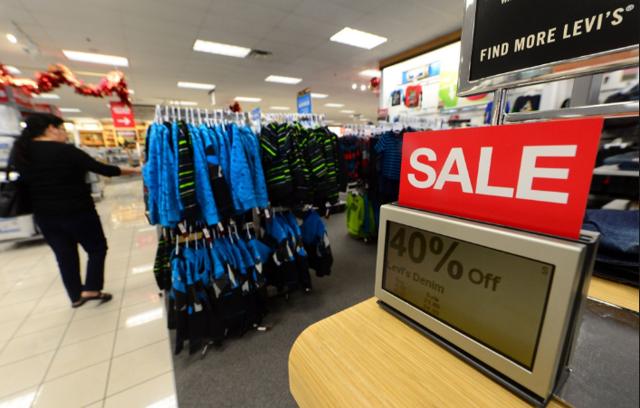 Click to enlarge
Kohl's (NYSE:KSS) has had a rough go of it lately. The company's shares have been more than halved from their prior highs about a year ago as very few, virtually meaningless rallies have taken place within the downtrend. If you're a KSS shareholder, you're likely searching for answers these days and to be honest, I'm not sure anyone has them. The company's results continue to deteriorate and after a Q1 report that really couldn't have been worse, pessimism abounds on the shares. At multi-year lows and a nearly 6% yield, is KSS finally a buy or is the stock going to continue to meltdown?
I'll be using some charts from Simply Wall St. to help me out.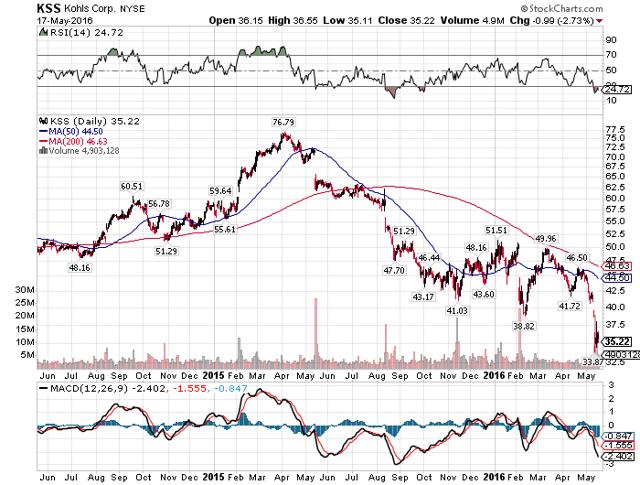 Click to enlarge
I'll admit that when I heard of KSS' plan to buy back shares at or below the $50 level, I thought it would produce a line in the sand where bulls would step in and defend shares, knowing full well that management was out there buying as well. That clearly has not happened as the line in the sand was $15 ago and there is no respite in sight for KSS in terms of selling pressure. Given the amount of firepower KSS put on the line to defend the share price, the rapidity with which it has fallen has surprised me to be sure. But is the business really bad enough to warrant $35?
We all know apparel stocks have been absolutely dreadful for the past few months as many headwinds have taken their toll. Kohl's is certainly not immune from this and in Q1, it produced the worst quarter I've seen in the time I've been following the stock. Absolutely nothing went right for Kohl's in Q1 and that is why shares are getting hammered; nobody knows where the bottom is and that's scary.
Total revenue fell during the quarter again as KSS continues to struggle to get people in the door despite its "everything is on sale" strategy. Generally, sales resonate with consumers even though the sales Kohl's produces aren't real; it still gives consumers a sense that they are getting a good deal. But in recent quarters, that hasn't been enough. Comp sales were down 3.9% as transactions fell 4.1% during the quarter. Both of those numbers are inexcusably weak and with comps like that and traffic that is falling off a cliff, it is no wonder KSS is getting hammered. In addition, it isn't as though last year was a gangbusters, unqualified success for KSS. Comparables this year should be relatively easy to at least match so the fact that KSS missed so badly in Q1 is really quite alarming.
And on top of terrible sales, markdowns to clear dead inventory took a toll on gross margins, which fell 140bps in Q1. In addition, the lower sales number meant that SG&A costs were significantly deleveraged in Q1 despite the fact that on an absolute basis, they were slightly lower. This combination of lower sales and lower margins is absolutely devastating to the company's profits and that is why KSS missed so badly in Q1. Operating margins plummeted from 6.8% in last year's Q1 to just 2.7% this year, meaning that things are so bad at KSS right now that it is barely profitable. I didn't think I'd be saying that about Kohl's after Q1 but here we are.
Given the enormous, widespread weakness from Kohl's in Q1, let's take a look at what analysts think the company will do over the next few years. This chart will start us off with revenue.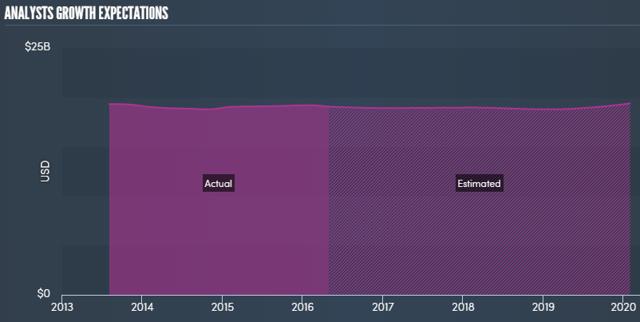 Click to enlarge
There are no surprises here as KSS is slated to produce flat revenue for the foreseeable future. No one should be expecting more than this as KSS has demonstrated terrible weakness in its comps for a few quarters now and the fact that its store base is roughly flat means no meaningful revenue growth from that either. There are no catalysts for higher sales for KSS for the foreseeable future and in fact, the flat trajectory of sales depicted may be too optimistic, as sad as that is. If anything, the bias to these numbers is down, although probably slightly. But regardless, the revenue picture for Kohl's isn't exactly inspiring to bulls.
On the profit side, there are so many variables yet to be determined that the range of estimates is enormous.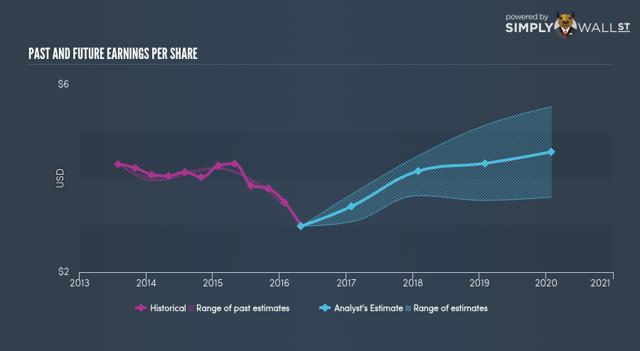 Click to enlarge
We can see the complete collapse of EPS in the past few quarters from what was a fairly steady level. The problem is that the company's EPS isn't really expected to retake even former levels until at least 2018. In addition, if the more pessimistic analysts are right, it may be five years or more until KSS hits $4 in EPS again. Given the horrendous results of Q1, it seems the pessimistic analysts may be onto something as sub-3% operating margins simply won't get it done for Kohl's. On the bright side, Kohl's is buying back stock at about 2% of the float per quarter so that should help keep the EPS losses more muted than they otherwise would be. If you hold the stock, that is little comfort but it should help soften the blow a bit.
At this point, however, KSS is so broken that hoping for some sort of earnings recovery anytime soon seems imprudent. This company has a long slate of problems that will certainly not be easy to fix. Shoppers are moving online and apparel in general has been very weak. Indeed, even management said on the call that shoppers are spending money on things other than apparel and while we won't know if that's necessarily true, we do know for a fact that one thing they aren't doing is going to Kohl's. That's a huge problem and one that cannot be solved overnight, if at all, so an EPS recovery looks doubtful right now to say the least.
But one thing that KSS has that is unlikely to change for the worse anytime soon is its prodigious dividend.

Click to enlarge
We can see that KSS' yield has shot up in recent years through a combination of both payout increases and horrendous performance by the stock. At this point, the company's $2 dividend is good for an eye-popping yield of 5.7%. That kind of yield is impossible to find in retail and is scarce regardless of which sector you're examining. Of course, the yield is that high because the stock has been so terrible but the point stands that if you are looking for income, KSS is still a safe choice as the dividend isn't going anywhere. In fact, I wouldn't be surprised to see more raises in the coming years whether EPS crests $4 or not. KSS still has ample room to grow the payout at current levels of earnings.
And that, my friends, is the only reason to own KSS right now. There are far too many headwinds to earnings for this company and the sector in general right now to put money to work hoping for a recovery. But if you need income, you can do much worse than KSS' enormous yield that is 100% safe for the foreseeable future. It would take a gargantuan, prolonged collapse in earnings for the dividend to be put at risk and I don't see that happening. KSS should be able to hit $3 in EPS forever and as long as that happens, the dividend is safe. I've been out of KSS for some time now because even at single-digit PE ratios, no one knows if it is really cheap yet. But for income seekers, you can do much worse.
Disclosure: I/we have no positions in any stocks mentioned, and no plans to initiate any positions within the next 72 hours.
I wrote this article myself, and it expresses my own opinions. I am not receiving compensation for it (other than from Seeking Alpha). I have no business relationship with any company whose stock is mentioned in this article.